The corporate insolvency resolution process for Essar Steel, going on for 603 days and still counting, is likely to spill over to another financial year.
The committee of creditors of Essar is yet to take a final call on whether it would pay heed to the suggestions of a lower and the appellate company court to apportion more funds to the operational creditors.
With four more days to go before 2018-19 comes to an end, it looks slim that ArcelorMittal (AM), whose Rs 42,202-crore plan has been approved, will be able to transfer the fund to the lenders and conclude the transaction.
Appearing before the National Company Law Appellate Tribunal (NCLAT), senior counsel Ravi Kadam, who represented the CoC, said the creditors were holding a meeting and the outcome would be known only on Friday.
"We have to see the outcome of the CoC meeting," the two-member bench headed by Justice S.J. Mukhopadhaya said before adjourning the matter to April 9.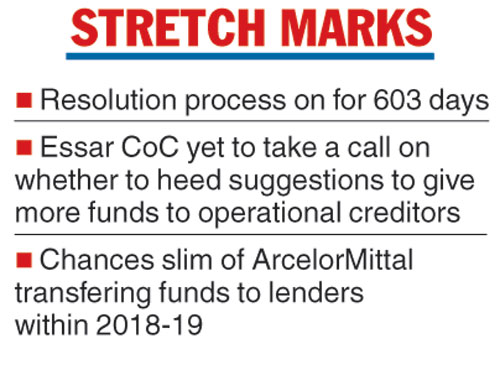 The Telegraph
Previously, the lenders had indicated they may test the suggestions of the NCLT, Ahmedabad, which on March 8 had asked the CoC to consider paying 15 per cent of ArcelorMittal's bid value to the operational creditors and distribute the rest among all class of financial creditors, including Standard Chartered Bank.
On March 18, the NCLAT upheld the plan submitted by Mittal but said it would continue to hear the matter on the apportionment of Rs 42,202 crore among creditors "without interfering with the viability and feasibility of the resolution plan, and the total upfront payment, as suggested by the resolution applicant (AM)".
On Wednesday, the bench said it would not be acceptable if OCs get only 4 per cent of the due. A counsel for the Insolvency & Bankruptcy Board of India (IBBI), who appeared before the tribunal, presented a startling fact.
In 88 cases that have seen a successful resolution, financial creditors have received 48.24 per cent of their claims. In the same number of cases, the operational creditors have received 48.41 per cent of their claims. The NCLAT asked the IBBI to submit an affidavit on this.
Some of the lenders were hoping to conclude the transaction by March 31 to avoid provisioning for Essar loans.