Reliance Industries posts 43 per cent jump in net profit
The oil-to-telecom (O2C) and the retail businesses drove profit growth even as telecom disappointed on subscriber additions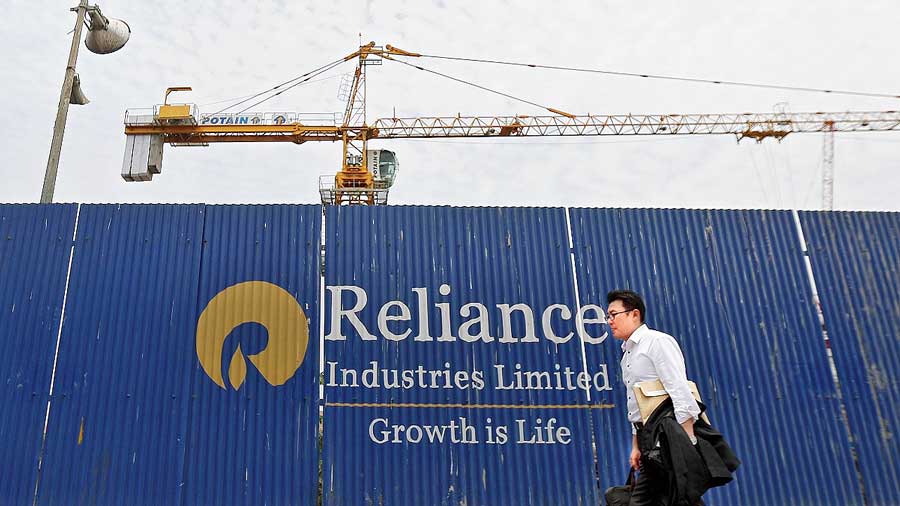 Representational image.
File photo
---
Mumbai
|
Published 23.10.21, 01:37 AM
|
---
Reliance Industries silenced its doubters to post a 43 per cent jump in net profit to Rs 13,680 crore in the second quarter of the fiscal against Rs 9,567 crore a year ago, much ahead of analyst estimates of profits of around Rs 12,500 crore.
The oil-to-telecom (O2C) and the retail businesses drove profit growth even as telecom reported lower net  subscriber additions.
Reliance's topline at over Rs 1.74 lakh crore for the quarter also beat estimates.
Concerns have been raised  among analysts over  the steep valuation of the Reliance stock. The scrip was a laggard over the past few trading sessions after outperforming the broader indices this year.
The O2C business stole the show with a 58 per cent leap in revenues to Rs 120,475 crore compared with Rs 76,184 crore a year ago.
In telecom, average revenue per user (ARPU) at Rs 143.6 beat estimates of Rs 140 per user but there was some disappointment in additions.
RIL said it added 23.8 million subscribers (net) in the quarter to raise its user base to 429.5 million by the end of the second quarter, much lower than the 42.3 million added in the preceding quarter.
Digital services business Jio Platforms posted a 15.2 per cent growth in gross revenues at Rs 23,222 crore in the second quarter against Rs 21,708 crore a year ago. Net profit stood at Rs 3,728 crore  against Rs 3,019 crore a year ago, with the share of Jio Infocomm at Rs 3,528 crore an increase of 24.05 per cent.
It was the O2C business which was the star of the show reporting a nearly 44 per cent rise in earnings before interest, taxes and depreciation (EBITDA) to Rs 12,720 crore. The sharp rise in revenues was largely because of improved realisation on the back of an increase in oil prices and higher volumes. However, higher feedstock prices affected the margins of some items.
Reliance said it benefited from the rise in the prices of  polypropylene by 30 per cent, polyethylene by 26 per cent and poly vinyl chloride (PVC), 54 per cent. But on a sequential basis, their margins softened because of a rise in feedstock prices.
The retail business also contributed to the good performance by clocking a 10.5 per cent growth in revenues to Rs 45,426 crore compared with Rs 41,100 crore a year ago. Net profits of the business grew 74 per cent to Rs 1,695 crore.
According to RIL, revenues in retail are higher than the pre-Covid period. With the relaxation of restrictions, business recorded higher store operating days at 89 per cent compared with 61 per cent last quarter even as
footfalls recovered to 78 per cent of pre-Covid levels compared with 46 per cent in the preceding three months.
Retail witnessed  a strong growth across all consumption baskets following a revival in sentiments amid festivities, lesser curbs and a rise in the pace of vaccinations. Reliance saw growth momentum getting re-established in fashion & lifestyle with sales closing above pre-Covid levels. Further, consumer electronics and grocery maintained strong growth momentum.
Meanwhile, RIL continued to be net debt free. While the outstanding debt as on September 30, 2021 was Rs 255,891 crore, the cash and cash equivalents were higher at Rs 259,476 crore.
"I am pleased that Reliance has posted a strong performance in the second quarter of 2021-22. Our operational and financial performance reflects sharp recovery in the retail segment and sustained growth in O2C and digital services business,'' Mukesh Ambani, chairman and managing director of Reliance, said.