Reliance Industries net up 31%, refining slips
Company reported an exceptional gain from the divestment of shares in its oil retail business to BP, a reason for the profit surge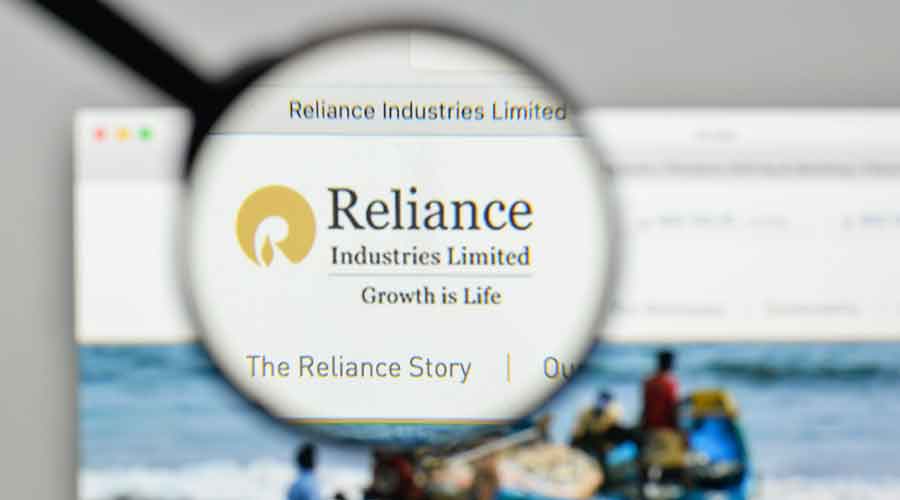 ---
|
Mumbai
|
Published 31.07.20, 01:21 AM
---
Reliance Industries Ltd (RIL) on Thursday beat Street estimates to record a 31 per cent rise in consolidated net profit for the first quarter ended June 30, riding on the performance of the telecom business along with a one-time gain from a stake sale.
The oil-to-telecom conglomerate posted a net profit of Rs 13,233 crore in a quarter that saw the Covid-19 pandemic affecting its core refining business and organised retail.
The gross refining margin (GRM) of the company proved to be a disappointment. Reliance earned $6.3 per barrel as GRM against $8.1 a year ago and $8.9 per barrel in the preceding quarter. Brokerages such as Motilal Oswal had expected the GRM to be around $9 per barrel while others had pencilled in a much lower figure of around $6 per barrel. RIL said the regional benchmark Singapore complex margins turned negative for the first time in two decades and averaged at (-)0.9 per barrel.
Analysts had estimated RIL to post a net profit of around Rs 7,000 crore. RIL had recorded a net profit of Rs 10,104 crore in the same period a year ago.
The company reported an exceptional gain of Rs 4,966 crore from the divestment of shares in its oil retail business to BP, which was a reason for the profit surge.
Reliance Jio Infocomm once again put up a good show, with both operating revenue and earnings before interest, taxes, depreciation & amortisation (EBIDTA) beating estimates.
Operating revenues rose almost 34 per cent to Rs 16,557 crore from Rs 12,383 crore a year ago, while EBIDTA increased 55 per cent to Rs 7,231 crore from Rs 4,686 crore a year ago. Jio net profit jumped 183 per cent to Rs 2,520 crore against Rs 891 crore a year ago.
Average revenue per user (ARPU) was Rs 140.3 during the period against analyst projection of Rs 135.
RIL reported a fall in toplines in all the other major businesses, including oil refining & marketing, petrochemicals and organised retail.
The refining business was the worst hit with revenues plummeting more than half to Rs 46,642 crore from Rs 101,721 crore in the same period of the previous year. The segment EBITDA also fell 26 per cent to Rs 3,818 crore. RIL attributed the poor performance to lower crude oil price and lower throughput.
Petrochemicals saw its topline falling 33 per cent to Rs 25,192 crore and segment EBITDA taking a hit of 50 per cent.
The impact on the topline was less severe in organised retail though it fell 17 per cent to Rs 31,633 crore from Rs 38,216 crore in the year ago period. The segment EBITDA showed a drop of 47 per cent to Rs 1,083 crore
During the period, close to 50 per cent stores of the company were fully shut and 29 per cent operated partially. Chairman Mukesh Ambani had recently said in the AGM that Reliance will induct strategic partners in the organised retail business in the next few quarters.
"The severe demand destruction due to global lockdowns impacted our hydrocarbons business but the flexibility in our operations enabled us to operate at near normal levels and deliver industry-leading results," Ambani said on the results.