Reliance Industries investors keep fingers crossed
RIL stock settled at Rs 1,426.20, a loss of 0.13% over the previous close, after it opened at Rs 1,446 and hit a day's high of Rs 1,453.05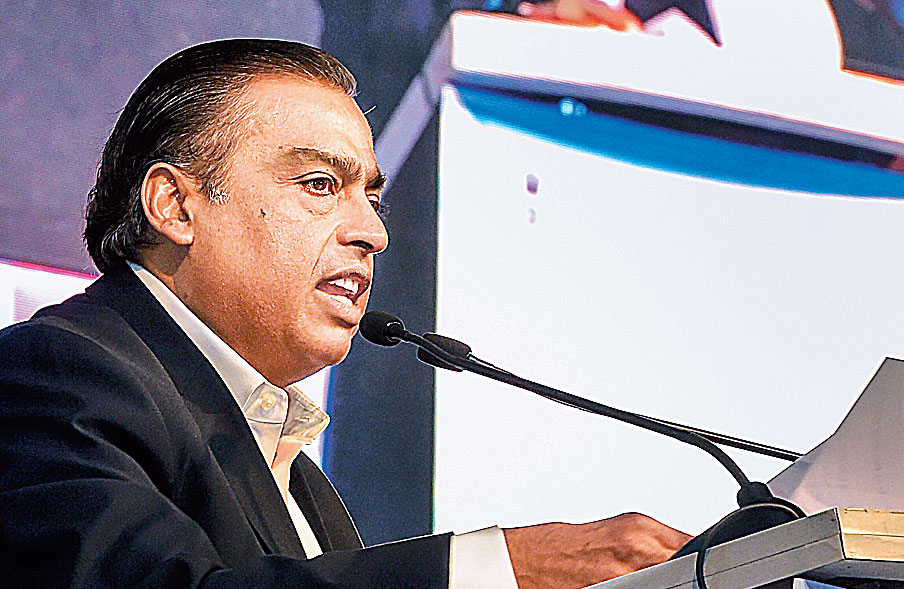 Mukesh Ambani in New Delhi.
PTI
---
Mumbai
|
Published 29.04.20, 10:55 PM
|
---
The Reliance Industries Ltd (RIL) stock on Wednesday closed with minor losses as investors waited on the sidelines on the eve of its board meeting to decide on a rights issue apart from considering the results for the fourth-quarter ended March 31, 2020.
The RIL stock settled at Rs 1,426.20, a loss of 0.13 per cent over the previous close, after it opened at Rs 1,446 and hit a day's high of Rs 1,453.05.
Brokerages have given varied estimates on the amount of dilution and discount to the market price. Some concurred that if the proceeds are used to bring down debt, it would not have an adverse impact on its earnings per share (EPS).
Some market experts also feel that the rights issue is an indication from RIL that the proposed deal with Saudi Aramco will not happen soon. However, analysts point out there will be a major upside to the stock if the transaction happens over the next 12-18 months.
The RIL board will be meeting on Thursday to consider a rights issue. This will be its first such issuance in nearly three decades. It is largely felt that the main objective of the issue will be to bring down its net debt that stood at Rs 1.53 lakh crore as on December 31, 2019.
Brokerages, however, differ on the size of the rights issue, ranging from a 2-12 per cent dilution and a discount of up to 25 per cent to the current market price. Incidentally, the promoter stake at RIL stands at 50 per cent. If they were to subscribe based on their shareholding, half of the capital raising will be contributed by Mukesh Ambani.
"We believe the potential magnitude could be in range of $5-10 billion — Rs 37,500 crore to Rs 75,000 crore, although it would depend on market conditions — as it does not lead to material dilution and would help in reasonable deleveraging. Our sensitivity analysis shows a 5-9 per cent EPS dilution for a $5-10 billion rights offering at 20 per cent discount," analysts at BofA Securities said in a report.
S&P affirms rating
Rating agency S&P Global has affirmed its BBB+ rating with a stable outlook on RIL, saying the company's leverage is poised to improve and stabilise over the next 12-24 months owing to disciplined spending, asset monetisation, and resilient earnings.
Last week, Facebook agreed to take 9.99 per cent stake in Jio Platforms Ltd, RIL's wholly-owned subsidiary. 'We expect RIL to use the proceeds of Rs 43,574 crore (USD 5.7 billion) to reduce its net debt,' Standard and Poor's (S&P) said
They added that based on their discussion with investors, most of them do not have any expectation of an announced 20 per cent stake sale at RIL's oil & gas business under the current market conditions given the poor demand and low oil prices.
The analysts, however, pointed out that there will not be much downside (to the RIL stock) if the transaction does not go through but there will be an upside if this happens over the next 12-18 months.
According to a note from Centrum Institutional Research, a dilution of 2.5-5 per cent at a discount of 20-25 per cent of the current market price would mean that RIL can raise Rs 16,600 crore-35,600 crore. Their analysts added that this would imply a dilution of 2020-21 (estimated) EPS by 2.4-4.8 per cent.
However, they added that if the money is used for debt, the net EPS impact would be non-material. "We believe that the other key message the rights issue sends is that the promoters are solidly invested in the business irrespective of the moves to gradually unlock value in each business segment via strategic sales or investments," they noted.