RBI slashes lending rate to cushion 'destructive' Covid-19
3-month moratorium on EMIs, credit card payments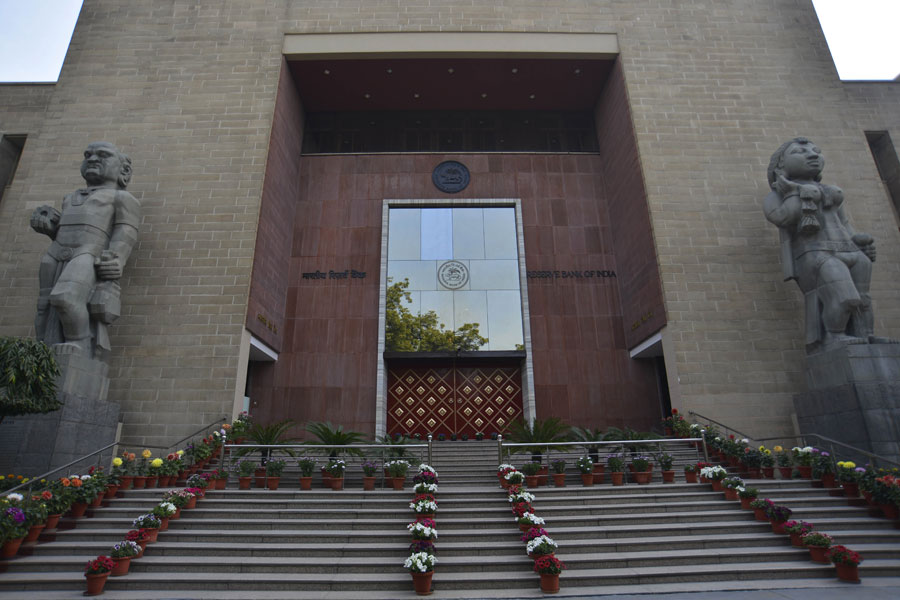 The Reserve Bank of India
(File photo)
---
Published 27.03.20, 01:40 PM
---
India's central bank slashed its key lending rate Friday by three-quarters of a percentage point to 4.4 per cent, citing worries about the economic fallout from Covid-19's "destructive force." The bank also offered relief to financially stressed homeowners, farmers and credit-card holders by announcing a three-month moratorium on loan repayments.
The measures, aimed at shoring up India's badly sagging economy, were announced after an emergency meeting of the bank's monetary policy committee which was held after a string of ratings agencies and banks sharply lowered their economic growth forecasts.
The aggressive rate cut was "warranted by the destructive force of the coronavirus. It's intended to mitigate the negative effects of the virus; revive growth; and above all, preserve financial stability,' Reserve Bank of India (RBI) governor Shaktikanta Das told reporters.
In addition, the monetary policy panel adopted other liquidity measures to boost the economy. The bank said the debt repayment moratorium would run from March 1 to May 31 and would apply "to all term loans," including agricultural, retail and crop loans. Without loan relief, many borrowers who have seen their earnings dry up as a consequence of social distancing and a nationwide lockdown to curtail the highly contagious coronavirus, might have fallen into default.
The moratorium will apply to "installments (which) will include principal and/or interest components; bullet repayments; equated monthly installments (EMIs) and credit card dues,' the central bank said in a statement.
"We are living through an extraordinary and unprecedented situation. Everything hinges on the depth of the Covid-19 outbreak, its spread and its duration. Clearly, a war effort has to be mounted," Das said.
The emergency monetary policy package was put together while 150 RBI staff members were under quarantine for coronavirus.
Economists praised the bank's actions, saying the RBI was delivering on its pledge to "do whatever it takes" to support economic growth which had already slowed to multi-year lows before the pandemic.
Investors unimpressed
India is now in the third day of the three-week shutdown imposed Wednesday. But investors were unimpressed by the RBI's actions and the S&P BSE Sensex index fell 0.44 per cent to 29,816 points.
Global economic activity "has come to a near standstill" due to the pandemic and initial expectations "of a shallow recovery in 2020 from 2019's decade-low in global growth have been dashed," the RBI noted. Macroeconomic risks, both on the demand and supply sides, "could be severe," the bank warned. The bank added it would keep its stance "accommodative." meaning more rate cuts could be on their way, "as long as necessary" while also keeping a lid on inflation.
Not unexpectedly, Das said India's economic growth, initially forecast to be 5 per cent for the financial year 2019-20 was "now at risk." The outlook "is now heavily contingent upon the intensity, spread and duration of the pandemic," he added. Meanwhile, the State Bank of India, the country's biggest lender, reduced its GDP growth forecast for the upcoming financial year 2000-2021 to 2.6 per cent, the lowest in nearly three decades, from its estimate of 5.2 per cent earlier. Ratings agency Crisil lowered its 2000-21 growth projection to 3.5 per cent from a previous 5.2 per cent.
Das promised the RBI would take whatever steps are necessary to mitigate the impact on the economy of COVID 19. "All instruments -- conventional and unconventional -- are on the table,"
"An emergency situation deserved an emergency response and the RBI did the right thing by bringing forward its rate decision by a week when central banks all over the world are taking proactive measures," said Kunal Kundu, Societe Generale's India's economist. "The RBI has surpassed expectations -- delivering more than what the market anticipated, and its promise to "do whatever it takes" has come good," Barclays chief India economist Rahul Bajori said.
Money safe in banks
Separately, the central bank chief also sought to reassure depositors their money was safe in the nation's banks and appealed to them not to make any "panic" withdrawals of their funds. "The Indian banking system is safe and sound, despite loan strains on balance sheets," Das said. Macroeconomic fundamentals -- in terms of the fiscal and current account deficits and inflation -- are stronger than they were after the (2008) global financial crisis," he added.
Many economists projected that the central bank in the coming months would lop a further 40-to-50 basis point off the repo, which is the rate at which commercial banks borrow from the central bank. Reducing the repo rate is aimed at creating cheaper credit. With India's lockdown expected to hammer consumption and investment, some economists forecast India's repo rate cuts would total as much as 90 basis points by around mid-year.
Right now, though, "the RBI has surpassed expectations by delivering more than what the market anticipated, and its promise to "do whatever it takes" has come good, said Barclays' Bajori, who sees the repo rate at 3.50 per cent by August. "The steps to ease working capital pain, reduce liquidity costs and provide moratorium on term loans will alleviate stress across various sectors," he said.
The bank also slashed the rate at which banks lend money to the central bank, known as the reverse repo, by 90 basis points to 4 per cent. In a further move to get more cash into the system, the bank reduced its Cash Reserve Ratio, the percentage sum of deposits commercial banks must keep aside as reserves, by a significant 100 basis points to 3 per cent.
"The announcements will improve liquidity, reduce cost of funds, help the middle class and businesses," tweeted Prime Minister Narendra Modi.
Fear of increase in NPAs
Economists cautioned, though, that after the 90-day loan payment moratorium ends, there could be an increase in non-performing assets. Overall, though, while the central bank's steps "would not necessarily promote growth but (they will) avert a collapse, boost sentiments, which is a big positive," cautioned Sujan Hajra, Mumbai's Anand Rathi Securities chief economist.
Kotak Bank senior economist Upasna Bhardwaj described the RBI's moves as a "comprehensive bazooka covering all aspects of the economy by taking measures system-wide both through liquidity, rates and regulatory forbearance."
"COVID-19 is upon us but this too shall pass. We need to remain careful and take all precautionary measures," the RBI governor concluded to reporters. Despite the "very challenging environment, I remain optimistic," he said.
The writer is a New Delhi-based journalist