Central bank sees three-speed recovery
RBI projects economy to contract 9.5 per cent this fiscal
Recovery would be a three-speed one with revival different across sectors, governor Shaktikanta Das said after the monetary policy committee held the repo rate constant as widely expected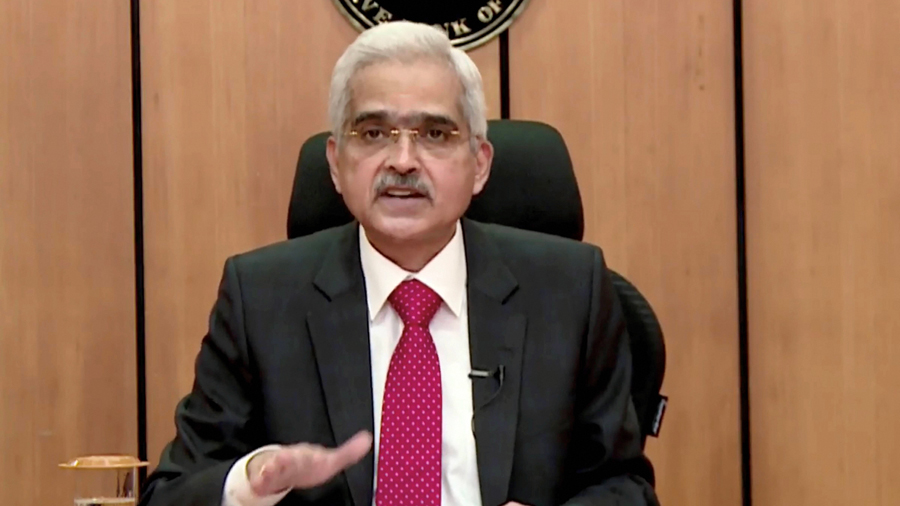 ---
Mumbai
|
Published 10.10.20, 01:33 AM
|
---
The Reserve Bank of India (RBI) on Friday projected the economy to contract 9.5 per cent in this fiscal with risks tilted to the downside — the first forecast by the apex bank since the onset of the pandemic which almost matches that of the World Bank (9.6 per cent contraction) made 24-hours ago.
RBI governor Shaktikanta Das also refused to buy into projections of a V-shaped recovery made by finance ministry mandarins a month ago or any of the other U, L, of K shaped figures speculated by economists.
Recovery would be a three-speed one with revival different across sectors, the RBI governor said after the monetary policy committee (MPC) held the repo rate constant as widely expected.
Surprisingly, the RBI governor's statement doesn't square with the forecasts in the 100-page monetary policy report.
In his statement, Das said: "There is currently an animated debate about the shape of the recovery. Will it be V, U, L, or W? More recently, there has also been talk of a K-shaped recovery. In my view, it is likely to predominantly be a three-speed recovery, with individual sectors showing varying paces, depending on sector-specific realities."
However, the monetary policy report paints a very different picture, clearly pointing to a very sharp V-shaped recovery.
In its baseline forecast, real GDP is projected to contract by 9.5 per cent this year but then bounce back to a positive 10.1 per cent in 2021-22.
It lays out two other scenarios. In Scenario 1 — which assumes a faster normalisation of supply chains — the RBI forecasts a contraction of 7.5 per cent this fiscal and a strong 11.6 per cent growth next year.
In Scenario 2 — an adverse case — real GDP growth this year will shrink by 11.5 per cent this year before rebounding to 7.2 per cent next year which it characterises as a "tepid growth".
In all three scenarios, there is a clear V-shaped recovery with the only difference being in the trajectory of the second arm.
The newly constituted MPC, while keeping rates intact, has maintained an accomodative stance that led to analysts projecting rate cuts not very far ahead as  financial stocks advanced on the bourses with the Sensex rising more than 300 points.
Inflation watch
In a "decisively" dovish commentary, the MPC said they would await the easing of inflationary pressures to use the space available for supporting growth further since the revival of the economy from the Covid-19 pandemic assumes the highest priority in the conduct of monetary policy. The growth oriented committee also decided to look through the current inflation hump as transient.
Economists feel that the RBI will bring down the repo rate by 25-50 basis points in the coming months. "We currently have a pause in December followed by a 25 basis points rate cut in February and we maintain that call. The assurance that policy will stay accommodative is likely to help anchor market pricing as well as markets-based borrowing cost," Radhika Rao, economist, DBS Group Research, said.
Edelweiss Research said it continued to expect another 25-50 basis repo rate cuts, but potentially a much sharper fall in long-end rates as well over the next 6-12 months. 
The monetary policy committee  also came out with an inflation forecast for the first time after January. CPI (consumer price index) inflation is projected at 6.8 per cent for the second quarter and at 5.4-4.5 per cent during the second half and 4.3 per cent in the first quarter of next fiscal with risks broadly balanced.  The Reserve Bank's target inflation range is 4 per cent plus/minus 2 per cent.