Das raps banks for risk aversion
Being overly risk averse would be 'self-defeating', according to the RBI governor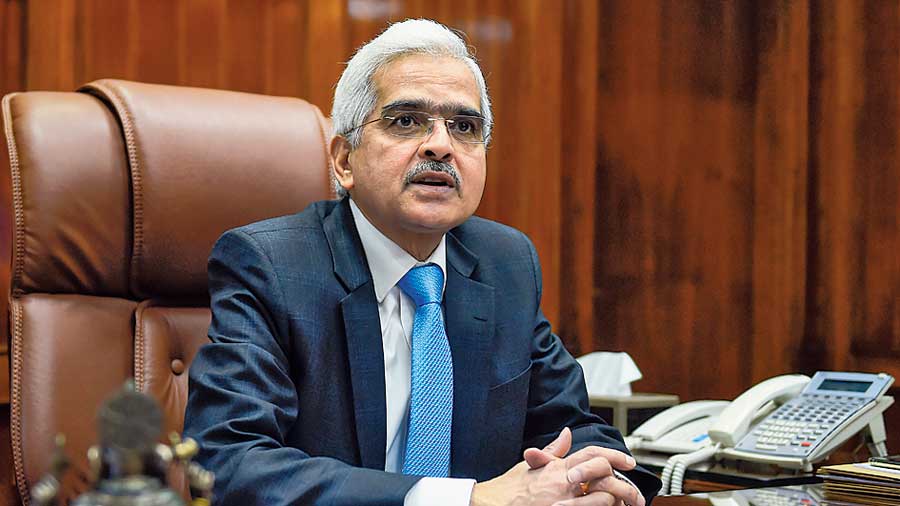 Shaktikanta Das
File picture
---
Mumbai
|
Published 28.08.20, 12:55 AM
|
---
Reserve Bank of India (RBI) governor Shaktikanta Das on Thursday warned banks that being overly risk averse would be "self-defeating", even as he said that the new debt restructuring scheme will provide more durable relief to borrowers affected by the pandemic.
Das also disclosed that the central bank was not unwinding the Covid-19 steps now and that once the pandemic is contained, the measures will be unwound in an orderly manner.
"Unwinding of the Covid-19 measures must be calibrated and cautious. We will have a non-disruptive exit plan for these steps," the governor said, adding that the length and intensity of the pandemic is uncertain.
The RBI governor was speaking at a webinar organised by a financial daily. Though the central bank has brought down the policy repo rate by 135 points since March, the fear of rising bad loans has prompted banks to be extremely selective in disbursing fresh loans and they are instead buying government securities despite a robust growth in deposit mobilisation.
Latest data from the RBI show that for the fortnight ended July 31, bank credit was at 5.5 per cent, while the growth in aggregate deposits was 11 per cent.
"Extreme risk aversion can be self-defeating, banks will not be able to win their bread," Das said amid the sharp slowdown in credit growth in the system, which is essential to push up the economy.
He told banks that remaining overly risk-averse may seem to be a measure of self-immunisation, but it will affect their bottomlines adversely.
According to the RBI governor, rather than turning averse to lending, banks have to improve their risk management and governance frameworks and also build sufficient resilience.
Besides, the risk propensity should be in alignment with the individual bank's measured risk appetite.
Further, the risk management system should be sophisticated enough to smell the vulnerabilities brewing within the various businesses well in advance. It should also be dynamic enough to capture the looming risks in sync with the changes in external environment and best practices.
To enable borrowers to cope with Covid-19 challenges, the RBI had earlier announced a loan moratorium that will end this month.
The central bank has now come up with a one-time restructuring scheme under which customers can also avail take a loan holiday.
"While the moratorium on loans was a temporary solution in the context of the lockdown, the resolution framework is expected to give durable relief to borrowers facing Covid-related stress," he said.
Senior bankers across the country have taken umbrage against the RBI governor's remarks of risk aversion. Soon after the governor spoke, Aditya Puri — MD & CEO of HDFC Bank — said, "There is no risk aversion but there is prudent banking. If we give money, we expect to get it back. If somebody gives loan now then someone can say later that it was imprudent lending," he said.
At another webinar, Punjab National Bank MD and CEO S.S. Mallikarjuna Rao said, "I can categorically say there is no risk aversion at all. The real problem is lack of demand."
"What we are doing is trying to get business from the right customers while ensuring we aren't throwing good money after the bad money," Axis Bank MD and CEO Amitabh Chaudhry said.