Qatar keen on IndiGo stake, overlooks Air India
IndiGo is India's largest airline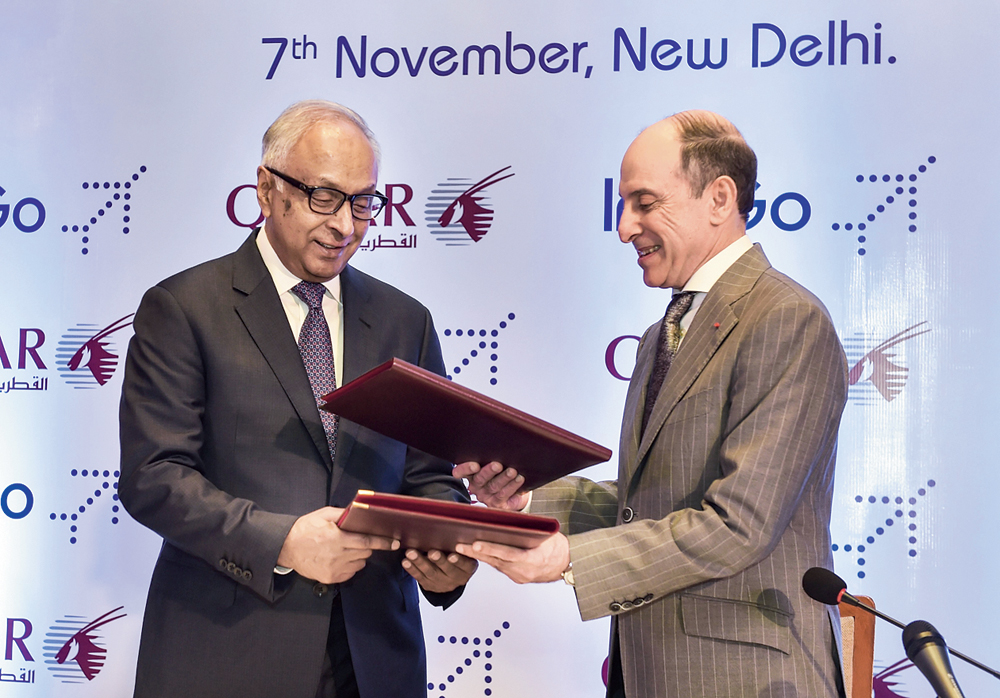 ---
---
Qatar Airways is interested in a stake in budget carrier IndiGo but wants to wait till the promoters sort out their differences.
However, it has no plans to participate in the divestment process of Air India even as the government plans to hold roadshows in Singapore and London to evince investors interest in the national carrier.
Qatar Airways group chief executive Akbar Al Baker said the Doha-based airline is interested in investing in IndiGo, but only after the issues between the promoters are resolved.
The Qatar Air chief was speaking at an event where a one-way codeshare agreement was signed between Qatar Airways and IndiGo.
On whether Qatar Airways will be interested in participating in Air India's upcoming divestment process, Al Baker replied: "We have no interest in buying stake in Air India. We are interested in buying stake in IndiGo, but this is not the right time as the issues among the promoters are yet to be resolved."
The differences between IndiGo promoters Rahul Bhatia and Rakesh Gangwal came to the fore in July after the latter sought market regulator Sebi's intervention to address alleged corporate governance lapses at the company.
Al Baker said, "I know there are some disagreements within the airline between the stakeholders so we would not like to comment on our future plans with IndiGo until these issues are resolved".
With around a 48 per cent share in the domestic air passenger market, IndiGo is India's largest airline.
Bhatia, his relatives and his family company own around 38 per cent of the low-cost carrier. Gangwal, his relatives, and his family trust own around 37 per cent.
While the Centre is planning to invite bids for the national carrier next month, its employee unions on Wednesday decided to oppose the divestment process as there is no clarity regarding salary arrears and pensions.
Codeshare deal
Qatar Airways on Thursday signed a one-way codeshare agreement with IndiGo that will allow its passengers to book seats on the latter's flights connecting Doha with three Indian cities — Delhi, Mumbai and Hyderabad.
A codeshare agreement allows two airlines to sell seats on each other's flights .
Qatar Airways operates 102 weekly flights between Doha and 13 destinations in India.