Capital market regulator Sebi on Friday announced a slew of reform measures, including changes in offer norms for companies facing debt restructuring, which would allow their takeover without open offers.
However, the exemption will be restricted to scheduled commercial banks and all-India financial institutions. Among others, this could help the cash-strapped Jet Airways which is looking for investment from lenders.
The market watchdog met here on Friday and decided "such exemptions will not be available for acquisition of shares by persons other than lenders by way of allotment by the target company or purchase from lenders". Sebi's takeover code says any firm acquiring control in a listed company, or when its stake crosses 25 per cent, must make an open offer to the minority investors.
Sebi's takeover regulations do allow exemption from open offer for any merger or acquisition in the event of a restructuring but under the order of a court or a tribunal. However, this exemption had to be ratified by a "competent authority", in this case Sebi. Officials said the regulator dropped this rule.
"Allowing takeovers under the Insolvency Code without open offers will make the firms offered for auction under the code far more attractive and this could trigger many more takeover bids, especially by global funds," said Amit Bannerjee, an independent merchant banker specialising in East Asian Funds.
Mutual funds and portfolio managers have been allowed to trade in commodity derivatives, a move which is expected to boost commodity trade and provide a hedge.
The Sebi board also eased the norms to raise funds through instruments such as real estate investment trusts (REITs) and infrastructure investment trusts (InvIT), raising the leverage limit for investment trusts to 70 per cent from 49 per cent. Allotment by InvITs should be made in multiples of Rs 1 lakh and REITs in multiples of Rs 50,000.
Sebi also said it would create a separate framework for privately placed unlisted InvITs to provide flexibility both to the investors and the issuer. The issuer will have the flexibility to choose the minimum number of investors, including the maximum holding by one investor.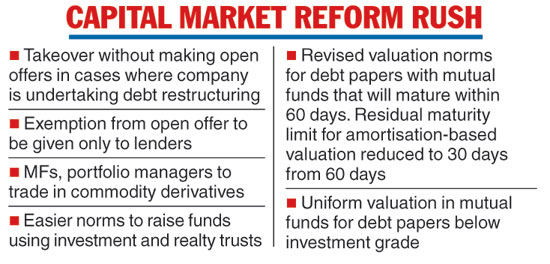 Source: The Telegraph
Valuation of securities
The regulator will amend its norms for valuation of money market and debt securities by mutual funds to make the process fairer and uniform across the industry to safeguard investors from default-like scenarios as witnessed recently in the wake of the IL&FS crisis .
The proposal seeks to make the valuation practices more reflective of the realisable value of money market and debt securities with residual maturity up to 60 days.
Accordingly, the residual maturity limit for amortisation based valuation by mutual funds will be reduced from 60 days to 30 days.
The threshold maintained between reference price and valuation price would be plus or minus 0.025 per cent, while the reference price will be taken as security level price given by the valuation agencies.
The board also approved a proposal to bring uniformity and consistency across the mutual fund industry on valuation of money market and debt securities rated below investment grade, Sebi said.
The valuation agencies appointed by the Association of Mutual Funds in India will provide valuation of money market and debt securities rated below investment grade, the regulator added. As the asset management companies are responsible for fair valuation, they may deviate from the valuation provided by the agencies subject to recording of detailed rationale for such deviations, appropriate reporting to the Board of AMC and Trustees and appropriate disclosures to investors, it noted.