Nothing sacrosanct about 6% yield for 10-year govt bond: RBI governor
However, bond market circles are of the view the central bank will continue to keep the yields at least under a tight leash given its impact on corporate bonds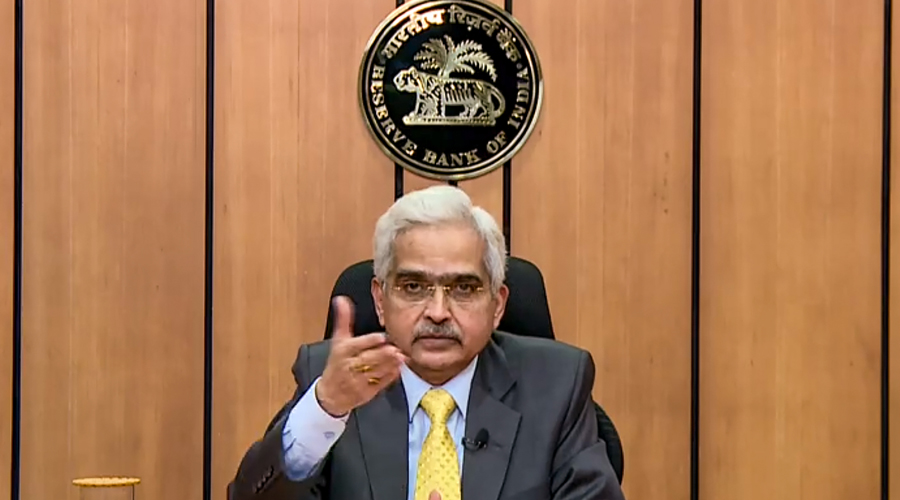 Reserve Bank of India Governor Shaktikanta Das during his addresses on decisions of Monetary Policy Committee in Mumbai on Friday.
PTI Photo
---
Mumbai
|
Published 05.06.21, 01:06 AM
|
---
RBI governor Shaktikanta Das on Friday said there was nothing "sacrosanct" about the 6-per-cent yield for the 10-year government bond as he sought to dispel the widespread belief that the central bank will not let the yields on the benchmark 10-year paper to rise above 6 per cent.
However, bond market circles are of the view the central bank will continue to keep the yields at least under a tight leash given its impact on corporate bonds amid a huge Rs 12 lakh crore borrowing programme of the government in this fiscal.
At the press conference after the meeting of the monetary policy committee, Das parried a question on whether the RBI was fixated on the 10-year bond even as the yield curve remained steep.
He said there was a misconception in this regard as the RBI was looking at the entire yield curve.
He said in the two bond purchased auctions, the RBI not only put up the 10-year paper but also other securities.
"We are focussed on the entire yield curve across the maturities, its not just the 10 year. Somehow there is a perception… If you see the G-SAP auctions... For instance in the last auction, we had included across the maturity profile,'' the RBI governor said.
The bond yield curve looks inverted as the abundant liquidity in the system has led to rates at the short end falling much more than the longer tenor rates such as the 10 or 14-year papers.
"So is it because of abundant liquidity that short end rates go down, so curve looks steep... if you look at 10 year or 14 year, the rates haven't really gone up. G-SAP is focused across maturities... there is nothing like 6 per cent is sacrosanct. We have talked about orderly evolution of the yield curve and focusing on that,'' Das said.
Market experts are, however, of the view that the RBI will be keen on reining in the benchmark bond to below 6 per cent or at least ensure that it remains in a tight range.
"There is no doubt in our mind that the Reserve Bank of India wishes to see bond yields trending down. The RBI governor's comments during the speech today that it expects the market to respond appropriately to the announcement of G-SAP 2.0 highlights that point," Dhawal Dalal, CIO-fixed income, Edelweiss AMC, said.
"We believe that the RBI will continue in its efforts of some sort of yield curve control until there are clear signs of revival of economic growth while seeing through recent increase in supply-side inflationary pressures,'' he said.