Narendra Modi pitches for greater foreign investment in the country
He said the country faced many challenges when the coronavirus outbreak happened but it kept on moving ahead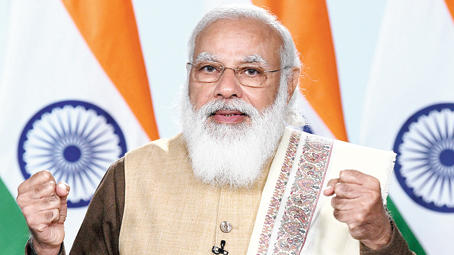 Narendra Modi.
File photo
---
New Delhi
|
Published 29.01.21, 01:43 AM
|
---
Prime Minister Narendra Modi on Thursday has pitched for greater foreign investment in the country's  infrastructure, while promising more vaccines to fight the coronavirus.
"India has in these times of crisis fulfilled its global responsibilities from the beginning by setting up infrastructure related to vaccination. So far only two made-in-India vaccines have been introduced, but in the future many more vaccines will be made available… We are not only fulfilling our needs for PPE kits and masks, but also exporting and helping other countries," Modi said at a virtual meeting hosted by the World Economic Forum (WEF).
He said the country faced many challenges when the coronavirus outbreak happened but it kept on moving ahead. 
"In just 12 days, we have inoculated more than 2.3 million of our health workers. In a few months, we will inoculate around 300 million senior citizens," he said.
The Prime Minister said India needed $4.5 trillion in infrastructure by 2040 and invited global businesses to participate in the exercise. 
This target will be achieved by both the government and the industry. The government is working tirelessly to provide an enabling environment.
Modi said at the WEF meeting, attended by global business leaders, that infrastructure is one of the foremost priorities of the government. About $1.5 trillion worth of projects will be implemented in the next five years.
Modi said the reforms to increase competitiveness were an ongoing process and announced the government has completed work on the logistics policy.
Inviting global CEOs to participate in the productivity linked incentive scheme, the Prime Minister said his government has made rapid strides in improving the conditions for doing business.
The government has improved the infrastructure and adopted latest technologies  in various fields.
Even as he cited the various measures taken up by the government, the Prime Minister gave a miss to the recent farm laws, termed as major reform. 
The recent laws and amendments in the farm sector bills have been highly controversial and led to massive protests by farmers in the national capital.
"Our Atmanirbhar Bharat Abhiyan is committed towards global good and global supply chain. India has the capacity, capability and reliability to strengthen the global supply chain," he said. "Industrial Revolution 4.0 is not meant for robots, but humans. It should become a tool for ease of living, not a trap. Structural reforms are being supplemented by production-linked schemes. In India, from tax regime to tax norms, all are in a predictable and friendly manner," he said.
The government has continuously taken several majors steps to boost manufacturing in India. Corporate Tax brought down to 15% for new manufacturing units. GST rates have been reduced. Through GST and Faceless Assessment tax structure has been simplified. Labour laws have been reformed. Several points have been decriminalised in Company Law. To raise competitiveness, connectivity infrastructure is being strengthened, he said.