Modi government bars PSUs to bid in selloffs
The move is likely to prevent a repeat of ONGC buying out HPCL or Oil India and Engineers India buying out Numaligarh Refinery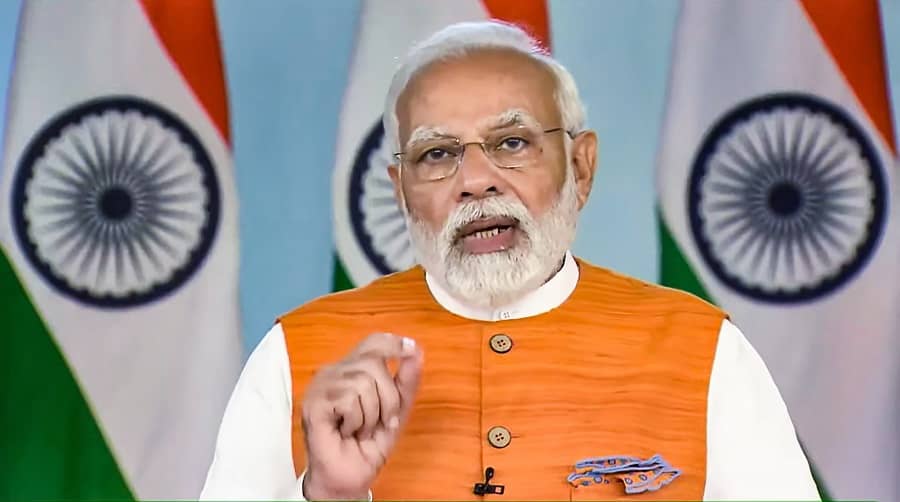 Narendra Modi
File picture
---
New Delhi
|
Published 22.04.22, 02:07 AM
|
---
The Modi government has barred both central- and state-owned firms from bidding for a central PSU.
The move is likely to prevent a repeat of ONGC buying out HPCL or Oil India and Engineers India buying out Numaligarh Refinery.
"It is decided that as a general policy, PSEs (Central/State/Joint)/State Government/Co-operative Societies controlled by the governments are not permitted to participate in the strategic disinvestment/privatisation of other PSUs as bidders unless, otherwise specifically approved by the Central government in public interest," said an office memorandum of the finance ministry.
Analysts said this would enable the government to find out the true value of the PSU that is on the block as a sale to another state-owned firm was merely a book transfer. Besides, the Centre can adopt innovative selloff strategies.
State-owned ONGC had acquired the government's entire 51.11 per cent stake in oil refiner HPCL for Rs 36,915 crore.  Similarly BPCL had sold its entire 61.5 per cent stake in Numaligarh Refinery in Assam to a consortium of Oil India Ltd, Engineers India and Government of Assam for Rs 9,876 crore.
Between 2000-01 and 2019-20, the government has sold its entire stake in nine CPSEs to other similarly placed public sector enterprises, garnering a cumulative Rs 53,450 crore.
This reworking has been done keeping in mind the new PSE policy. However, a relaxation can be given in the public interest, said the  memorandum issued by the Department of Investment and Public Asset Management (Dipam).
The memorandumn said the new policy wants to minimise the presence of  government and make available opportunities for the private sector.
The memorandum said PSUs are commercially risk- averse and lack adaptability in a dynamic business environment. Useful productive assets remain locked in such PSEs resulting in sub-optimal realisation of valuable economic opportunities.
The memorandumn said the new PSU policy wants to minimise the presence of the government and make available newer investment opportunities for the private sector.
"Transfer of management control from the GoI to any other Government Organisation/State Government may continue the inherent inefficiencies of the PSEs, and this will defeat the very purpose of the New PSE Policy," said the memorandum.