Mukesh Ambani makes his debut on Forbes richest list's Top 10
The Bloomberg Billionaire index ranks Adani ahead of Ambani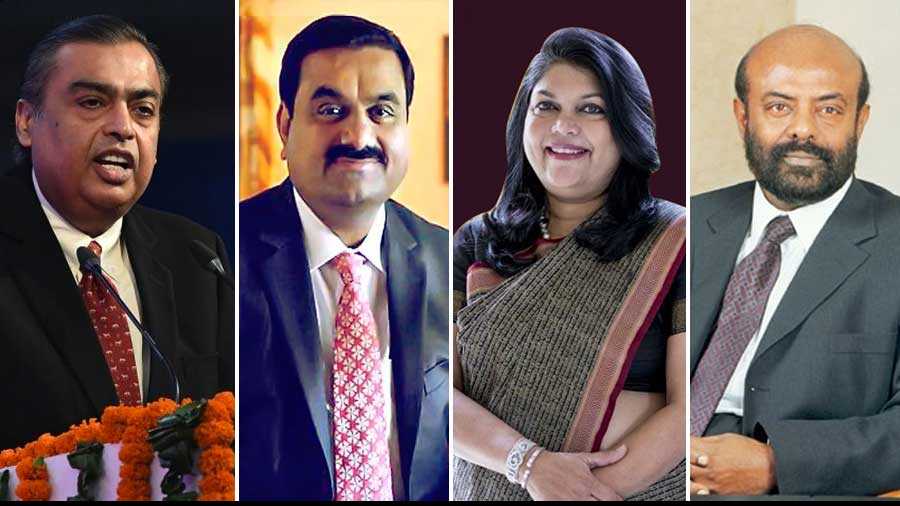 Mukesh Ambani, Gautam Adani, Falguni Nayar and Shiv Nadar.
File Picture
---
New Delhi
|
Published 07.04.22, 08:57 AM
|
---
It's that time of year again when we ask who's the richest of them all? Is it Mukesh Ambani whom Forbes magazine has just declared the wealthiest Indian of all and who makes his debut into the crème de la crème of wealth taking last spot on the Forbes Richest List's Top Ten?
Or is it Gautam Adani, declared by Bloomberg on Tuesday, to be India's first centi-billionaire worth an eye-popping $108 billion? Bloomberg's Billionaire Index puts Adani at 9th on its list of the world's richest people. 
Ambani, according to Bloomberg's calculations, is nearly $10 billion behind at $98.5 billion and is 11th spot in the global wealth tables, according to the news service.  But Forbes reckons Adani's worth at a more lowly $89 billion and puts him in 11th position in the list of the world's richest people.
Ambani is only one of two non-Americans to make it to the Forbes Top Ten. Bernard Arnault, chairman, LVMH, the ultimate purveyor of the world's most desirable brands like Louis Vuitton and Moet Hennessy, is the other with $173.5 billion. 
Adani's wealth has zoomed in recent years. He was reckoned to be worth $74.8 billion in the Forbes 2021 Indian Rich List.
Sky-rocketing share prices
The meteoric speed of his rise is explained by the rocketing share prices of his companies. The stock value of Adani Enterprises, the group flagship, has shot up steeply even in the last few days from Rs 1,997 on March 31 to Rs 2,154.95 on April 6. It was at Rs 1,564 one month ago on March 7 and Rs 1,165 one year ago on April 7, 2021.  
There are 166 Indian billionaires in this year's list, an impressive number, but still far behind the 765 US billionaires.
Another huge winner this year is Serum Institute's Poonawalla who has simultaneously produced most of the Covid-19 vaccines that this country desperately needed and also come out richer as a result. Forbes estimated that Poonawalla was worth around $11 billion in 2020, $19 billion in 2021 and currently $24 billion.
Nykaa stars in list too
Another star to make her first appearance in the Richest List 2022 is Falguni Nayar, who made a startling transition from being a senior banker at Kotak Bank to becoming the country's leading beauty and fashion entrepreneur with online retailer store Nykaa. Nayar is worth $4.5 billion after her highly successful IPO. Nayar is the second richest woman on the list after Savitri Jindal, of the Jindal Group who is worth $17 billion. The Nykaa IPO has pushed Nayar ahead of pharma industry stars Kiran Mazumdar Shaw and Leena Tiwari, chairperson of pharmaceutical maker USV.
The Forbes Richest once again shows how India's economy has altered beyond recognition and newer stars have overtaken older giants like Kumar Birla who just misses out on making it to the Top 100. In 106th position Birla is reckoned to be worth $16.5 billion.
Others ahead of him are software services giant Shiv Nadar of HCL who makes it to 47th position and is worth $28.7 billion. Nadar began his ascent to great wealth making PCs and microprocessors back in 1976. Retail king Ramakrishna Damani continues his impressive rise and is now worth $20 billion. Banker Uday Kotak clocks in at $14 billion.
China presence down 
China's presence on the Richest List has diminished because of the government's crackdown on tech companies. There are 87 fewer Chinese billionaires, Forbes calculates. Russia's war on Ukraine has knocked 34 fewer Russian billionaires off the list.  
The combined wealth of the tycoons on the Richest List adds up to a spectacular $12 trillion.
Leading the Richest List pack is Tesla's CEO Elon Musk who is worth $217 billion and who has just bought a stake in Twitter with what may be pocket-money for him. A considerable distance behind is Amazon's Jeff Bezos, who was once ahead of Musk and who is now in second position with $171 billion. 
Microsoft, Google founders
Other names in  the List's Top Ten are familiar faces like Bill Gates who's only worth $120 billion after giving a huge tranche of shares to his Bill Gates Foundation and Larry Page and Sergei Brin of Google.  
The 36th annual list of the world's wealthiest lists 2,668 billionaires. That's 87 fewer than a year ago. It's been a rough year for the mega-rich with "war, pandemic and sluggish markets" hitting their rankings. If it's any consolation for those who are still on the list, 1,000 billionaires of them are wealthier than they were a year ago.