Move to boost Afghan trade ties
India and Afghanistan will build two air corridors - one between Delhi and Kabul and the other Kandahar to Delhi - to carry goods at subsidised rates.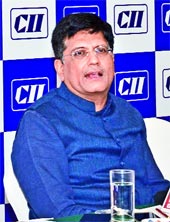 ---
---
New Delhi, June 13: India and Afghanistan will build two air corridors - one between Delhi and Kabul and the other Kandahar to Delhi - to carry goods at subsidised rates.
This is being done to overcome the obstacle set up by Pakistan which does not allow the trucks of these two countries to use its land corridor for trade.
While the Delhi-Kabul service will be launched by Ariana Airlines on June 15, the Delhi-Kandahar service will start next week.
Traders will pay 20 cents per kilogram as transport cost for importing from Afghan-istan and 40 cents a kilogram to export to Afghanistan.
At present, bilateral trade between India and Afghan-istan roughly stands at $685 million a year. While India's exports to Afghanistan in 2014-15 were valued at $423 million, its imports from that country were worth $262 million.
Pakistan, so far, used to allow Afghan trucks to come up to Lahore. But it did not allow these trucks to go up to Wagah nor did it allow them to load Indian goods on their return journey.
Even this facility has been stopped by a recent decision that severely restricts truck movement across the Durand Line, the border between Pakistan and Afghanistan.
In April, Afghanistan had complained to the World Trade Organisation (WTO) against Pakistan's "unilateral" move to block goods traffic across the Durand Line.
Besides the Ariana flights, Air India on its part has increased its cargo hauling capacity to Kabul by pressing into service Boeing 747-400 aircraft on select days, said civil aviation ministry officials.
During his visit to India last September, Afghan President Mohammad Ashraf Ghani had said, "The ancient silk route concentrated on high value, low weight goods ... we need to do that again."
His plan was to airlift Afghan semi-precious stones - emerald, rubies and lapis lazuli - and gold to India's vibrant gems and jewellery industry as well dry fruits and carpets to Indian traders.
He had suggested that India, on the other hand, could ship medicines and high value consumer goods by the return flight.
"We have world class airports...if just four to five Indian supermarkets do a deal with us the entire produce (of dry fruits) of the Kandahar valley can be airlifted at nominal cost to Indian markets," the Afghan president had observed.
Ghani's government wants to catapult the two-way trade and investment flows to $10 billion a year within the next five years.
Despite the lack of direct land access, India is the second-largest destination for Afghan exports.
India has been trying to break the deadlock on connectivity between the two countries posed by Pakistan by joining hands with Iran to build the Chabahar port there.
This will help India to circumvent the Pakistan land route to trade with Kabul. However, threat of US sanctions on firms supplying port equipment have slowed down the Chabahar project.