Mother's nudge helped Purnendu Chatterjee defy convention
The chairman of his eponymous group The Chatterjee Group was in conversation with Aniruddha Lahiri, former president of the Bengal Chamber of Commerce & Industry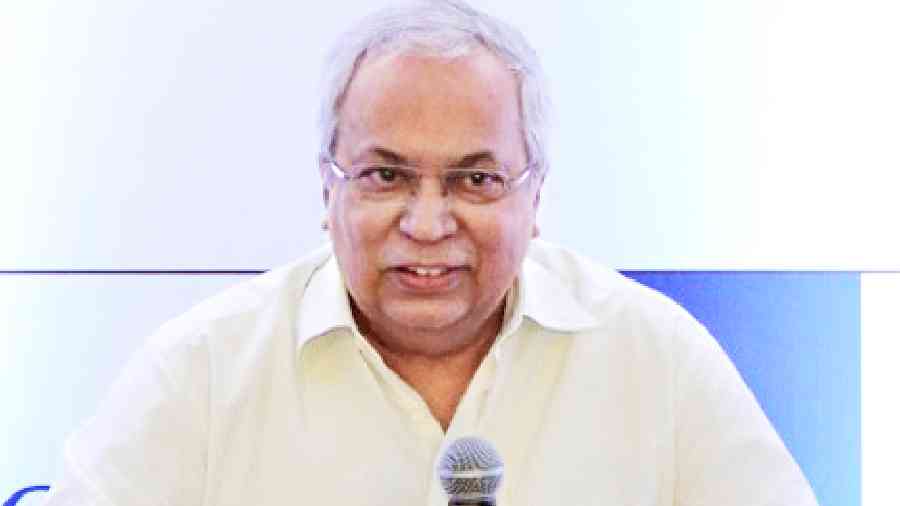 Purnendu Chatterjee in Calcutta on Friday.
Telegraph picture
---
Calcutta
|
Published 27.08.22, 02:28 AM
|
---
A 'soft nudge' from the mother who had a big influence on the youngest of her six children made sure that her son would defy all conventional business wisdoms to ride a tumultuous journey spanning over two decades.
Many had advised Purnendu Chatterjee, inarguably the most successful Bengali businessman today, to walk away from the battle he fought with the Bengal government for Haldia Petrochemicals, once hailed as the beacon of industrial resurgence in Bengal. Chatterjee did not budge and wrested control of the company he co-founded in 1994.
It all started with a photo which showed Chatterjee appearing to be in conversation with the then chief minister Jyoti Basu about the project.
"My mother saw the photo and she said this is something I can do — that triggered a different utility function in my mind than other utility functions that are required to make a decision," Chatterjee recalled.
The chairman of his eponymous group The Chatterjee Group was in conversation with Aniruddha Lahiri, former president of the Bengal Chamber of Commerce & Industry, at the BCCI Leadership Lecture Series, presented by JIS Group, in association with The Telegraph.
The hour-long freewheeling chat between Lahiri, who had worked with PC, as his friends and close associates often call him, offered rare nuggets of the life and career of the Bolpur-born, Berkley-trained reclusive technocrat turned industrialist.
Chatterjee recalled how he took the plunge to build a greenfield petrochemical plant in a communist state which had not seen such an investment before with a hedge fund as his partner, even though he had never built a greenfield before and remembered chief minister Basu and industrialist Sadhan Dutta's efforts to rope him in.
All the headwinds he faced in building the unit and then during its operation from 1994 to 2014 when the present government agreed to sell its stake allowing TCG to be majority partner and take control is not usually a part of a businessman's career.
"Conventional wisdom would have been to walk out and refocus on something else, but maybe for the soft nudge from my mother," PC recalled.
Since 2014, it has been a remarkable journey for the Group. After turning around HPL, which had closed down due to the want of working capital, PC acquired the PTA plant from Mitsubishi and turned it around, too. 
Then came the $2.725 billion acquisition of Lummus Technology, a giant in process technology with several patents, followed by the acquisition of Garden Silk Mills and Nagarjuna Oils among others.
Lahiri described PC as the master of juggling many balls in the air and someone who revels in complexities. True to these attributions, Chatterjee has now set his eyes on developing a university in Calcutta to do frontier research which can also find applications in real life. But why did he choose industry over academics?
"Bhogoban ja koren mongoler jonyoi koren (whatever God does, he does it for good)," he says.
It appears so far God has kept Chatterjee in good stead.