M&M net profit jumps to Rs 1,291.94 crore
The over five-fold growth in net profits came on the back of a strong performance by its automotive division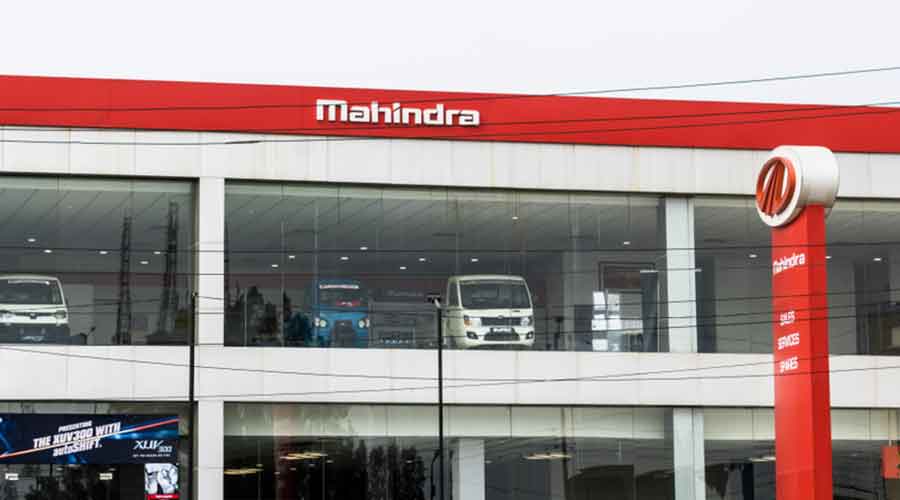 A consensus estimate of analysts tracked by Bloomberg had pegged the net profit at Rs 1,211 crore.
File picture
---
Mumbai
|
Published 29.05.22, 12:42 AM
|
---
Mahindra & Mahindra (M&M) on Saturday met Street expectations when it reported a standalone March-quarter net profit of Rs 1,291.94 crore against Rs 245.19 crore in the same period of the previous fiscal.
The over five-fold growth in net profits came on the back of a strong performance by its automotive division. A consensus estimate of analysts tracked by Bloomberg had pegged the net profit at Rs 1,211 crore.
On a consolidated basis, net profit rose to Rs 2,237.26 crore from Rs 1,513.49 crore in the year-ago period.
M&M's standalone income increased to Rs 17,123.98 crore from Rs 13,355.87 crore a year ago. On a consolidated basis, the revenues rose 21 per cent to Rs 25,934 crore from Rs 21,456 crore a year ago.
The performance was led by its auto division with the total number of vehicles sold rising 43 per cent to 1,52,204 units from 1,06,333 a year ago. However, tractor sales in volume terms fell 23 per cent at 72,058 (93,044).
"Our performance underscores the resilience of our business model," said Anish Shah, managing director & CEO, M&M Ltd.
Despite significant challenges due to various factors like Covid, commodity prices, semi-conductor shortages and the Ukraine conflict, we have delivered strong results at the consolidated level. All of our group companies are well positioned to capitalize on growth opportunities.'
The company added that during the period, it saw strong bookings which was led by XUV700 with more than 78,000 open bookings. Further the semi-conductor supplies improved in the fourth quarter resulting in highest ever quarterly utility vehicle (UV) volumes. According to the company, it was also able to maintain the leadership position in light commercial vehicle of below 3.5 tonnes for the 8th consecutive year, even as it also witnessed the highest ever quarterly sales of Treo in the electric vehicle 3 wheeler segment.
"We recorded our highest revenue for auto and farm segment in 2021-22. M&M became No.1 in SUV revenue market share in the fourth quarter Q4 and in the second half of 2021-22. With 170,000 plus bookings, the demand for the automotive product portfolio remains strong. Given the recent fiscal and monetary measures by Government of India and Reserve Bank of India (RBI), we foresee the cost pressures in the economy to ease out'', Rajesh Jejurikar, Executive Director, M&M Ltd, said.