Lakshmi Niwas Mittal's ambition to build a sizeable presence in his home turf moved a step closer to reality when National Company Law Appellate Tribunal gave a go-ahead to the Rs 42,200 crore offer by ArcelorMittal to acquire Essar Steel.
The NCLAT asked the resolution professional in charge of Essar to implement the plan submitted by AM, the world's largest steelmaker, where Mittal, who studied in Calcutta, is the chairman and the largest shareholder.
It is not immediately clear if the Ruia family, the existing promoters of Essar, will challenge the decision at the Supreme Court (SC). So far, the Ruias have put up a spirited legal defence to keep the family jewel and stretched the 270-day mandatory deadline to find a new buyer for Essar to 594 days.
The implementation of the plan would mean AM taking control of Essar's management and paying off all classes of creditors .
However, the two-member bench headed by Justice S J Mukhopadhaya said it would continue to hear the matter on the sharing of Rs 42,202 crore among creditors "without interfering with the viability and feasibility of the resolution plan, and the total upfront payment, as suggested by the resolution applicant (AM)".
This indicates that Mittal would not have to raise the offer to accommodate the demand made by operational creditors and Standard Chartered Bank, unless the SC intervenes.
As of now, StanChart is getting 1.7 per cent as per the AM plan compared with the financial creditors who are getting 85 per cent of their total admitted claim. OCs are getting just about 4 per cent of their claim.
Posting the matter for hearing on March 27, the bench in the order wrote: "It is made clear that in these appeals that we are mainly considering the question of distribution between financial creditor and operational creditor and have not stayed the resolution plan."
Indian lenders, especially the nation's largest commercial bank State Bank of India, are in a hurry to receive the money from AM and book into their account before the financial year closes on March 31.
While approving the plan earlier this month, NCLT Ahmedabad had suggested 15 per cent be set aside for OCs and an equal treatment for StanChart along with the other lenders. The NCLAT had suggested 10 per cent be set aside, while hearing the matter.
The order on Monday said it would take up three matters for consideration in the future. Whether StanChart, who received bank guarantee from Essar, can claim any amount payable as debt without invoking the guarantee on the date of admission.
It will also consider to classify OCs in two groups on the ground that one is related party (to the existing promoters) and the others are not.
It will also seek to find if the plan as approved by the committee of creditors is fair to all or discriminatory.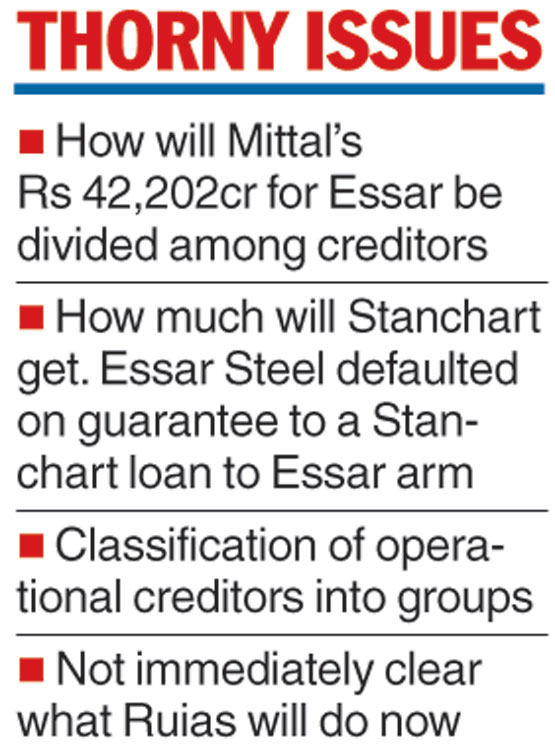 The Telegraph