Merchandise exports fall 5.4 per cent to $24.82 billion in October
After contracting for six straight months, India's exports rose 5.99 per cent to $27.58 billion in September for the first time in 2020-21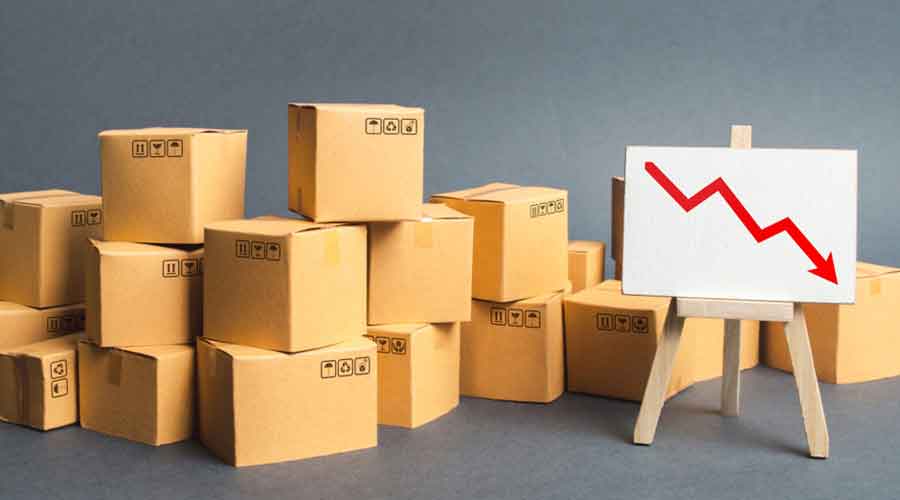 Imports also fell 11.56 per cent to $33.6 billion during October
Shutterstock
---
New Delhi
|
Published 04.11.20, 03:40 AM
|
---
Merchandise exports fell 5.4 per cent to $24.82 billion in October because of a fall in shipments in sectors such as petroleum products, gems and jewellery, and leather, according to preliminary trade data released by the government on Tuesday. Exports stood at $26.23 billion a year ago.
Imports also fell 11.56 per cent to $33.6 billion during October. "India was thus a net importer in October 2020 with a trade deficit of $8.78 billion compared with a trade deficit of $11.76 billion a year ago, an improvement of 25.34 per cent," it added.
After contracting for six straight months, India's exports rose 5.99 per cent to $27.58 billion in September for the first time in 2020-21.
"The October exports show a nominal single-digit negative growth of 5.4 per cent because of supply side challenges with signs of revival as both order booking positions and manufacturing PMI have risen," Sharad Kumar Saraf, president of FIEO, said.
Saraf said the nominal decline in exports during the month has been mainly because of the huge container shortage and hike in sea freight which has upset exports, particularly for those who have negotiated on CIF (Cost, Insurance, Freight) or C&F (Cost & Freight) basis.
During April-October 2020, exports declined 19.05 per cent to $150.07 billion, while imports fell 36.28 per cent over the same period last year.