Luxury properties find buyers during pandemic
Uptick comes on the backdrop of an overall slump in real estate, especially in the affordable segment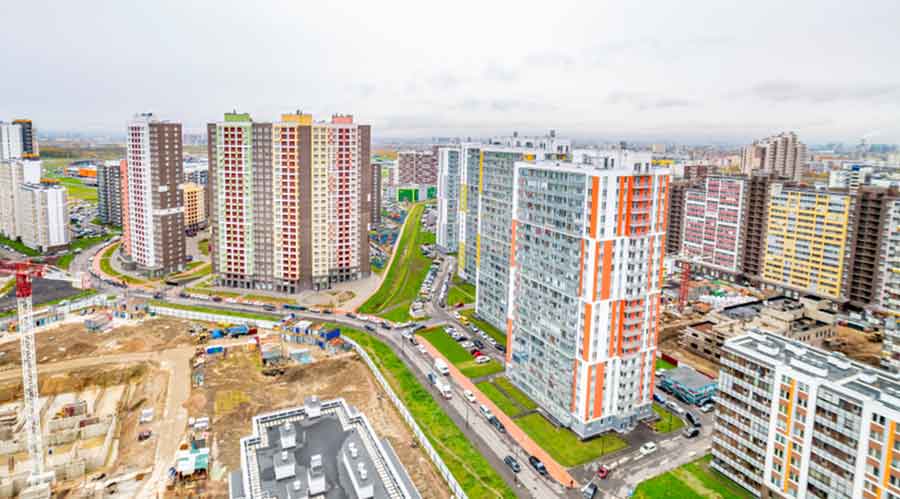 Newly constructed luxury apartments in New Delhi.
Shutterstock
---
Calcutta
|
Published 30.11.20, 03:57 AM
|
---
A building in the heart of Alipore stood vacant after receiving a completion certificate from the civic authority for about two years. The tide turned when the builder had least bargained for a revival: buyers began to show interest just after the lockdown was eased.
Six months down the line, 12 of the 20 units at the tony address stand sold, reflecting a renewed appetite for luxury properties across the world, including India, as the super-rich look for a bigger pad for their primary residences or holiday homes tucked away in the hills and around beaches.
While the overall real estate sector is showing early signs of recovery, coming after two calamitous quarters of sales, the traction for the luxury segment — which was in the dumps in the aftermath of demonetisation four years ago — stands out, in part because a few expected the big-ticket properties to get going when the going gets tough.
In a city such as Delhi, there is a demand for farm houses and bungalows. In Mumbai, a place known for vertical developments, high and ultra high net worth individuals are looking at bigger apartments. 
For Calcutta, it is a mix of both; while locations at Alipore and Ballygunge are seeing traction for bungalows, interest is being shown in standout projects on Chowringhee and EM Bypass.
Sotheby's International Realty, which primarily focuses on luxury properties, claimed they were expecting to close more big-ticket deals this fiscal than ever before. 
"From June, we have done transactions worth Rs 500 crore so far and there is a pipeline for another Rs 1,000 crore for the rest of the year in Delhi, Mumbai, Calcutta, and holiday homes and Goa and the hills of north India," said Ashwin Chadha, president, India, Sotheby's International Realty.
The uptick comes on the backdrop of an overall slump in real estate, especially in the affordable segment (price up to Rs 50 lakh), the choice of the middle class. India Ratings & Research in a note on November 27, says overall residential demand would decline about 40 per cent year-on-year in 2020-21, with the affordable segment being the worst hit because of the higher-than-anticipated slowdown caused by the Covid-19 pandemic.  
The turmoil in the economy, however, has not deterred the HNIs to splurge on a bigger home: having spent days and weeks without stepping out has made them realise the need for extra space. Chadha says this section of buyers want to be prepared for the next black swan event, having suffered this one.
"A businessman or an executive would have spent more time in office during their working life than home. The ratio completely overturned since lockdown. They realised the worth of the home," Sanjay Jhunjhunwala, managing director of Mani Group, said.
Mani has built branded residency Vivara, adjacent to JW Marriott on EM Bypass, while it is a partner in The 42, the tallest building in Calcutta, on Chowringhee overlooking Maidan.
NK Realtor, a Calcutta-based realty brokerage firm, confirmed that there is an uptick in Rs 5-crore-plus properties in the city. There are about 200 such units available in that big-bulge bracket and another 100 units may hit the market in 6-8 months, it noted.
"We are seeing 20-22 such units getting sold in a month now, which is the highest after demonetisation," Biplab Kumar, vice president of NK Realtor, said. 
Off-the-book transactions, which are often part of a big-ticket realty deal, was dealt  a major blow when 86 per cent of the legal tender became worthless in a matter of four hours on the evening of November 8, 2016.
This segment has been a slow grind since then, admitted Rahul Saraf, managing director of Forum Group, credited with the development of the iconic Atmosphere on EM Bypass, which sells upwards of Rs 10 crore. He now says luxury home is also seeing an uptrend with increased enquiries and sales.
Brokers say "adjustment in price" — an euphemism for a decline in asking rates — helped in clicking deals. There has been at least a 10 per cent reduction in the price of apartments — the price for the Alipore property slashed to Rs 11,500-per-square-foot from 13,000-per-square-foot — depending on cities and locations.
A new breed of buyer has also come to the market. Chadha pointed out that people who made capital gains out of selling unlisted equities find real estate a good place to save tax.
"While most of the buys are for self use, an element of investment is there in this case," he said.
While it may be too early to wager if the buoyancy in the luxury market is here to stay, when the affordable segment bounces back, the pandemic may just have widened the chasm between HNIs and the middle class a little more, at least for the foreseeable future.