Pilots at Jet Airways are understood to have indicated their unwillingness to perform additional duties from next month if their salary dues are not cleared by November 30.
This development comes after 1,600 pilots of the airline along with some other officials have been paid only 50 per cent of the September salary. They are yet to receive the remaining salary for September and the full salary of October.
The pilots' body of the airline, the National Aviator's Guild (NAG), is understood to have communicated to the management verbally that that they will not perform any additional duty and adhere only to the roster from December 1 if all salary dues are not cleared by the end of this month.
PTI quoting sources said the pilots' guild is likely to meet on Tuesday to discuss the prevailing financial situation of the carrier. Reportedly, the Jet Airways' pilots have been flying up to 90 hours per month by taking up overtime duties against 75-80 hours in the roster.
Jet Airways, which is the country's largest full-service carrier, has been witnessing financial difficulties because of the challenging conditions faced by the industry.
While crude oil prices were rising (and the rupee depreciating) until recently, tough competition saw the airline being unable to fully pass on the rising input costs to consumers.
During the second quarter ended September 30, Jet Airways reported its third straight quarterly loss. The airline posted a standalone net loss of Rs 1,297.46 crore compared with a profit of Rs 49.63 crore in the same period last year.
Though this loss was lower than the Rs 1,323 crore posted in the preceding three months, it came as fuel expenses shot up to Rs 2,419.76 crore from Rs 1,525.66 crore in the year-ago period.
Revenue from operations was, however, higher at Rs 6,161.15 crore.
Last week, the Tata group confirmed its interest in the airline, but pointed out that it has held only "preliminary" discussions and no proposal has been made to Jet Airways.
The announcement by Tata Sons had its impact on the Jet Airways stock, which slumped around 7 per cent on the bourses on Monday.
On the BSE, the Jet Airways scrip settled lower by Rs 23.85, or 6.88 per cent, at Rs 323. Similarly, on the NSE, shares of the company ended with losses of 6.92 per cent to close at Rs 322.50.
In terms of equity volume, 36.37 lakh shares of the company were traded on the BSE and over 3 crore shares changed hands on the NSE during the day.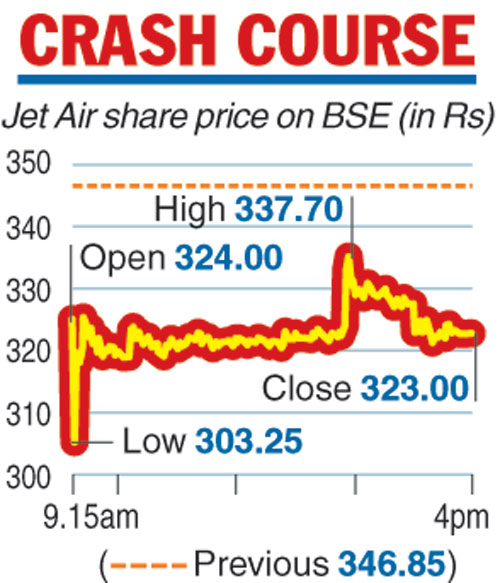 The Telegraph