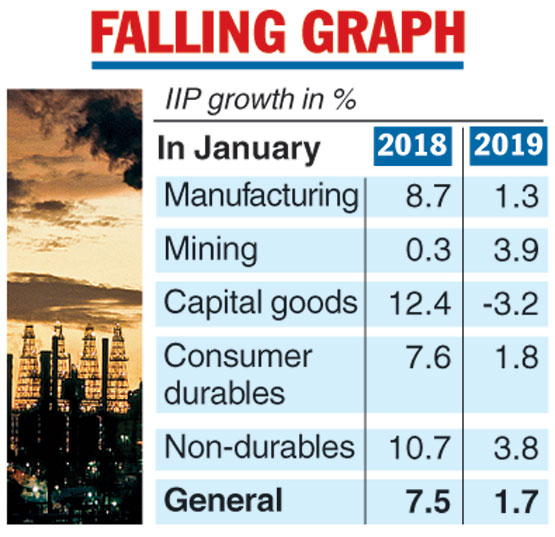 The Telegraph
Data showed 11 of the 23 industry groups in the manufacturing sector witnessed positive growth, with apparel, food products, and printing performing the best. However, furniture, paper products and fabricated metal products, excluding machines and equipment, declined the most.
Data on use-based classification of goods suggest growth has slowed down in capital goods and intermediate goods. Primary goods output rose 1.4 per cent in January against a 1.2 per cent fall in December. Capital goods output contracted 3.2 per cent in January compared with a 12.4 per cent rise in January 2018.
The production of infrastructure goods rose 7.9 per cent compared with 10.1 per cent in December. The output of intermediate goods contracted 3 per cent in January compared with a 5.4 per cent rise in the year-ago period.
Consumer durables output rose 1.8 per cent compared with a 7.6 per cent rise in January 2018. Non-consumer durables output rose 3.8 per cent compared with a 10.7 per cent expansion a year ago.
IIP growth during the April-January period of the current fiscal stood at 4.4 per cent compared with 4.1 per cent in the same period a year ago.
Economic growth slowed to a five-quarter low of 6.6 per cent in the October-December period. The government estimate for the financial year ending this month has been revised down to a five-year low of 7 per cent from 7.2 percent.
The IIP numbers come ahead of the RBI's monetary policy statement on April 4 and may increase the clamour for a cut in interest rates to boost economic activity.
The growth in the index of industrial production (IIP) fell to 1.7 per cent in January compared with 7.5 per cent a year ago. The growth fell because of a subdued performance by the manufacturing sector, especially capital and consumer goods. The growth was also lower on a sequential basis from 2.4 per cent in December to 1.7 per cent in January, according to CSO data.
Manufacturing output expanded 1.3 per cent on a yearly basis, mining grew 3.9 per cent and electricity generation rose 0.8 per cent in January. Electricity had grown 7.6 per cent in the year-ago period.
Rating agency CARE said lower growth in manufacturing was expected because of a high base effect. Besides, production was less because of a higher stock built-up from the second quarter as demand did not materialise fully in the third quarter.
CARE expects IIP growth for the year "to be around 5 per cent from 4.4 per cent cumulative till January. While base effect will be there, it will diminish in size as companies also expand on production to meet annual targets".