India post 13.5% first quarter growth but it's downhill from here, say economists
Rising interest rates, global slowdown, geopolitical tensions set to cool growth going foward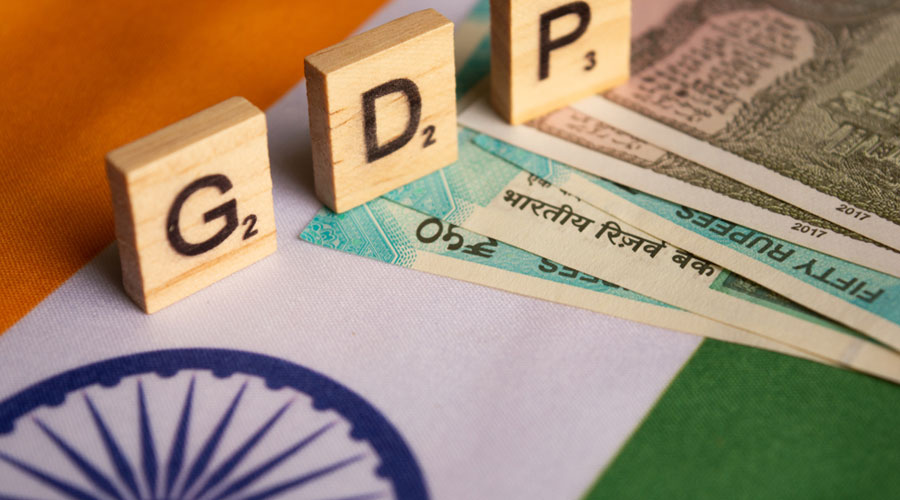 Representational image.
Shutterstock
---
Published 01.09.22, 03:28 PM
|
---
India's first-quarter double-digit growth figure looks great -- but looks can be deceiving. 
At one level, we can say that we're the world's fastest-growing economy. At another, we must remember that the 13.5 per cent figure represents a rebound in demand from the January-to-March quarter when the economy was reeling under the impact of the most recent Omicron wave.
Under these circumstances, high growth during the first quarter was a given. But India undershot the Reserve Bank of India's forecast of 16.2 growth and financial market projections of 15.3 per cent expansion. 
And the 13.5 per cent growth in the first quarter is as good as it's going to get, analysts say. It's all downhill from here. 
Already brokerages like Goldman Sachs, Citi and Kotak have cut their projections for India's annual growth in response to Wednesday's data to as low as 6.7-6.8 per cent. Analysts say even that relatively healthy-seeming growth masks how fast the economy is seen losing pace in the coming months.
"The reading was materially below our expectations," said Santanu Sengupta, India economist at Goldman Sachs, saying the investment house now sees downside risks to its growth estimate of 7.2 per cent for this current financial year. 
Recall that back in February, the Economic Survey forecast that growth in the current fiscal year would be 8 per cent to 8.5 per cent. The RBI says it now expects growth in the 7.2 range.
Successive Covid waves
Bear in mind the negative impact of successive waves of Covid-19. Economic growth, which was already slowing before the coronavirus struck, is still playing catch-up. In the first quarter of 2020-21, the economy shrank by 24 per cent. In the same first quarter the following year, the economy recovered to expand by 20 per cent – but that wasn't enough to make up for the 24 per cent contraction in the same year-earlier quarter.
In actual fact, as one economic commentator noted, when crunching the numbers India's economic growth has been less than 2 per cent per year over a three-year period from the April to June 2019 quarter to the April to June 2022 quarter.
Analysts expect growth numbers to be lower from here for the Indian economy with expansion cooling in the face of rising interest rates and a worldwide economic slowdown. There are serious fears that the slowdown could potentially become a global recession. Geopolitical tensions also aren't helping matters.
RBI plans further action
The Reserve Bank of India has hiked the benchmark policy rate by 140 basis points since May and plans further action to corral inflation and bring it under its 6 per cent target ceiling.
But given the rising global headwinds, economists say the central bank is unlikely to be ultra-aggressive in hiking interest rates and will move with smaller 25 basis point rate increases going forward.
So what's gone into the latest GDP number? First of all, it's been flattered by the quarter's weak growth that was due to the knock-on effects of Covid-19. If economic activity had been a lot stronger in the previous quarter, we wouldn't be looking at such a high first quarter figure this time round – and bear in mind it wasn't as high as economists expected.
Low statistical base effect
The GDP growth of 13.5 per cent "is essentially a reflection of a rather low statistical base effect," says Societe Generale's India economist Kunal Kundu.
Going on from there, the GDP numbers for the three months from April to June were buttressed by firm domestic demand especially in the services sector as the economy opened up in the wake of the most recent Covid-19 wave. 
Private consumption shot up by 25.9 per cent in the first quarter from a year ago; trade, hotels and transport grew by 25.7 per cent while investment jumped by 20.1 per cent. But manufacturing expanded by an anaemic 4.8 per cent.
"It's a reflection of pent-up demand following the exit from the Omicron wave during the March quarter," said Kundu. What is clear is a distinctive shift in demand toward services, particularly for contact intensive services."
'Signs of a waning'
But, he added, "We are seeing signs of a waning of the intensity of tailwind generated by economic reopening."
For the rest of the year, analysts are pencilling in growth estimates of around 6.2 per cent for the second quarter, 4.5 per cent for the third and 4.2 per cent for the fourth.
The quarterly growth figures "will be much lower from the second quarter onwards as the base effect wears off," said Suvodeep Rakshit, senior economist at Kotak Institutional Equities.
"While growth until now has held up as services sector has been seeing some rebound, the downside risks will increase from the second half of the year as the global economy risks lose steam," Rakshit said.
Inflation pressure from weak rupee
Bringing inflation under control will be difficult as the economy is also facing inflation pressure from a weak rupee, a consequence of a strong dollar.
For this current financial year which runs to next March 2023, analysts are forecasting growth of around 7 per cent but they say a lower figure wouldn't surprise them.
Seven per cent growth would still make India the fastest-growing Asian economy and potentially the best-performing major economies worldwide with stronger growth than the European Union, the US and the rest of the globe.
China lockdowns
The Russian war against Ukraine, the upsurge in global financial market volatility, the lockdowns in China to fight Covid-19, and the rapid tightening of interest rates to fight inflation are all taking their toll on global economies. Supply logistics due to Ukraine war and Covid-19 lockdowns in China are also impacting growth.
One of the big problems for India is that this country is not generating enough jobs to absorb the 12 million young people who flood each year into the workforce. Also, real wages are at a record low level, economists note. 
India's economic recovery will likely continue to be weighed down by "a rather weak labour market recovery and quite a benign wage outlook" that suggests "a weak domestic consumption outlook," Kundu said.
Economists' forecasts
Still, we can always console ourselves with a bit of whataboutery. Economists are downgrading their growth forecasts further for China for 2022 as upheaval in the property market and Covid-19 lockdowns drag on. 
China's economy is now projected to grow by only 3.5 per cent this year, down from a previous forecast of 3.9 per cent.
And in another piece of gloomy news, India's current account deficit – which records imports and exports – deteriorated sharply in the last quarter. It's expected to end the fiscal year at its widest in a decade as ballooning trade imbalances combine with a decline in foreign investment and a weak rupee, a just-released Reuters poll of economists forecasts.