Hindalco Industries reports 48 per cent jump in consolidated net profits
The company's revenue from operations in the AprilJune period increased to Rs 58,018 crore compared with over Rs 41,358 crore in the year-ago period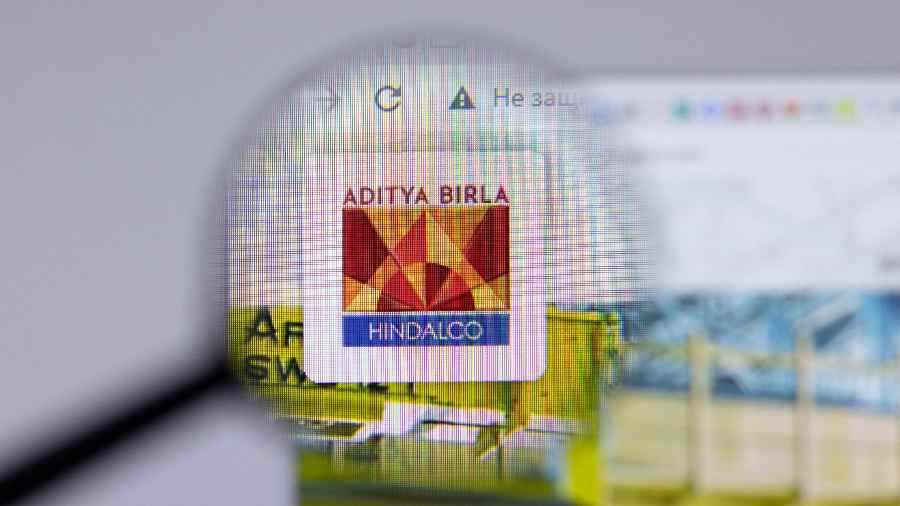 Hindalco added that the results were driven by an excellent performance by Novelis.
Shutterstock
---
Mumbai/Calcutta
|
Published 11.08.22, 04:01 AM
|
---
Hindalco Industries on Wednesday reported a 48 per cent jump in consolidated net profits for the first quarter ended June 30, following strong performance in its overseas arm Novelis. Net profits of the Aditya Birla group firm rose to an all time high of Rs 4,119 crore as against Rs 2,787 crore in the corresponding period of the previous year.
The company's revenue from operations in the April-June period increased to Rs 58,018 crore compared with over Rs 41,358 crore in the year-ago period.
Hindalco added that the results were driven by an excellent performance by Novelis, and a robust performance by aluminium downstream and copper businesses, supported by operational efficiencies and higher volumes.
"After the record profitability of the fourth quarter, I am pleased to share that we delivered an even stronger first quarter despite rising input costs and inflationary pressures. Our performance was backed by strong operational efficiencies and pre-emptive sourcing of critical raw material, thus ensuring stable operations and higher margins," said Satish Pai, managing director of Hindalco Industries.
TCPL profit up 38%
Tata Consumer Products Ltd (TCPL) on Wednesday reported a 38.2 per cent rise in consolidated net profit at Rs 276.72 crore for the June quarter, helped by cost control initiatives and price increases during the period.
The company had posted a net profit of Rs 200.24 crore for the April-June period a year ago, said TCPL, earlier known as Tata Global Beverages Ltd, in a BSE filing.
Revenue from operations was up 10.58 per cent to Rs 3,326.83 crore during the quarter as against Rs 3,008.46 crore in the corresponding period last fiscal year.
TCPL Group CFO L Krishnakumar said: "Overall strict cost control and pricing action led us to this performance."
"We have a good quarter with a topline growth of 10 per cent and group net profit of 38 per cent. Yes, we also have inflation and impact in the food business, salt and overseas market but we were able to take up the prices to a large extent and apart from that we were very tight on the cost," CESC net up 6%
The CESC has recorded 6 per cent rise in profit in the first quarter to Rs 297 crore on a consolidated basis, compared to Rs 280 crore earned in the same period of the last fiscal. Revenue from operations went up by 27.5 per cent to Rs 4,102 crore in Q1, compared to Rs 3242 crore reported in the Q1 of 2021-22. The company was hit hard by the cost of electrical energy purchased and coal cost in the Q1.
SAIL profit plunges
Public sector steel major SAIL India's profit plunged by 79 per cent to Rs 776.3 crore in the Q1, compared to Rs 3,850.02 crore recorded in the same period last year as higher coking coal prices squeezed margin.
The company's revenue from operation stood at Rs 24,028.59 crore in the first quarter, up by 16.4 per cent from Rs 20642.38 crore reported in the same period of the last fiscal said.