High prices are hurting, PM tells oil majors
Saudi oil minister, CEOs and industry experts in audience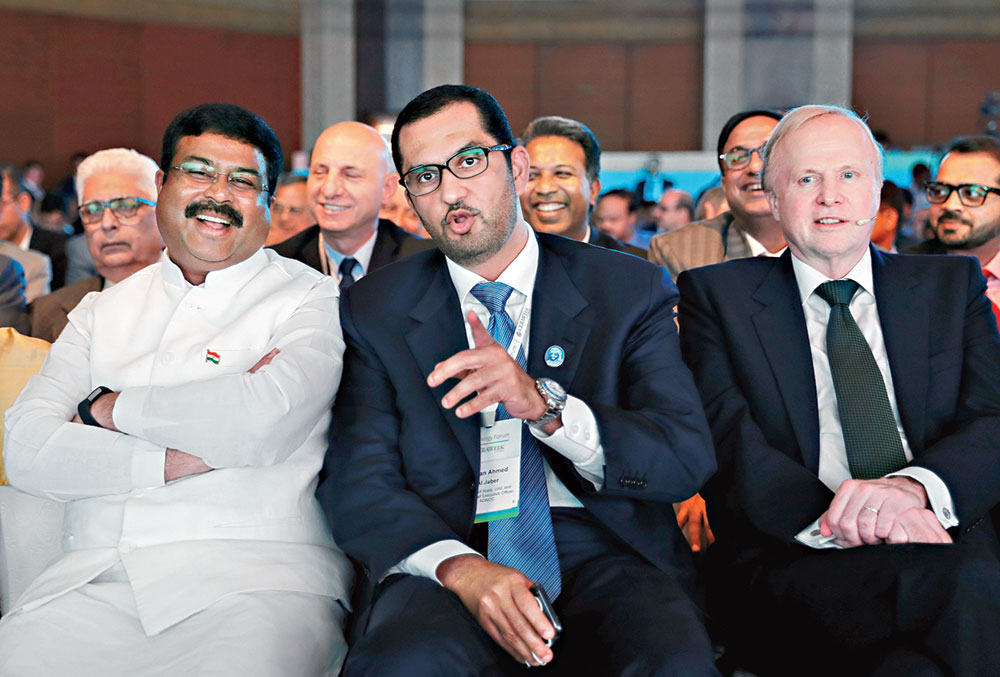 ---
---
The Prime Minister on Monday warned global oil producers that high crude prices were hurting world economic growth and could slow down demand for their produce.
While brainstorming with the chief executives of top oil producers here, Modi flagged growing oil prices as a concern for the global economy and warned that it could "kill the hen that lays the golden egg".
Among his audience was Saudi oil minister Khalid A Al-Falih, who is in India to ink deals to partially replace cheaper Iranian oil with costlier Saudi crude.
Last month, US President Donald Trump had accused the Saudi-led Opec oil cartel of "ripping off" the world in a speech at the UN General Assembly. Separately, Trump had tweeted, "We protect the countries of the Middle East, they would not be safe for very long without us, and yet they continue to push for higher and higher oil prices! We will remember. The Opec monopoly must get prices down now!"
Modi also made a case for fresh investments in the Indian oil and gas sector, pointing out that India had implemented suggestions which they had given him earlier.
Besides the Saudi minister, CEOs and experts from Saudi Aramco, Adnoc, BP, Rosneft, IHS Markit, Pioneer Natural Resources Company, Schlumberger Ltd, Wood Mackenzie, World Bank, the International Energy Agency, NIPFP and Brookings India were present.
Finance minister Arun Jaitley, petroleum minister Dharmendra Pradhan and Niti Aayog vice-chairman Rajiv Kumar attended the meet. BP CEO Bob Dudley, Total head Patrick Fouyane, Reliance Industries director P.M.S. Prasad and Vedanta chief Anil Agarwal were also present at the meeting.
A statement issued by the Prime Minister's Office stated that "he highlighted the liberalisation in gas pricing and marketing and about the ongoing commercial exploitation, and made a special mention of extension of production sharing contracts".
Modi made a strong case for a partnership between the producers and consumers, in the oil market, as it exists in other markets.
The Prime Minister also asked energy producers to review payment terms to provide temporary relief to the local currency, the statement said.
Speaking at the India Energy Forum, oil minister Dharmendra Pradhan said India was "facing severe headwinds from rising oil prices" which have risen 50 per cent in dollar terms and 70 per cent in rupee terms in the last one year.
Iran sanctions
India is unlikely to be hit by the crude supply shortfall because of the US sanctions on Iran as it can be sourced from Saudi Arabia and Iraq as part of the annual trade contract, officials said.
"Optional volumes are built in with all our term suppliers and they can be taken any time of the year and would be more than sufficient to make up for any shortfall that may arise because of US sanctions against Iran," industry officials said.