Push for digital currency, local defence production
Growth-oriented Budget boosts infrastructure spending by 35% but offers 'nothing for common man'
Sitharaman announces plans for digital currency, puts stress on local defence manufacturing; MSMEs disappointed, notes Kiran Mazumdar Shaw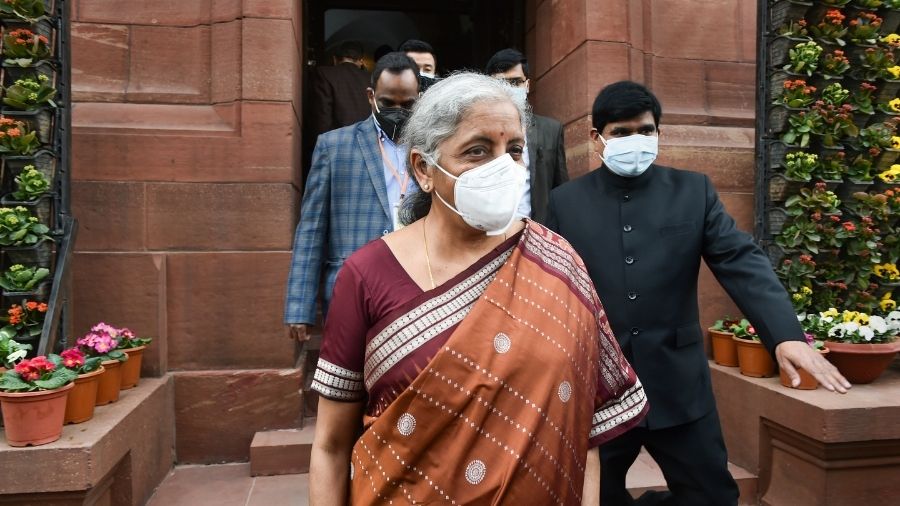 Union Minister of Finance Nirmala Sitharaman leaves after the presentation of the Union Budget 2022-23 at Parliament in New Delhi on Tuesday.
PTI
---
New Delhi
|
Published 01.02.22, 06:37 PM
|
---
The government has announced a budget fired by "seven engines" of growth that boosts spending on highways, affordable housing and mass transport to move the economy into high gear as the country recovers from the pandemic.
But despite looming elections in five states including Uttar Pradesh, there were no big-bang announcements for the "common man" or farmers, no changes to income tax slabs or any measures to tackle widespread unemployment. There were also no steps to boost consumption, key for driving growth. "The budget has zero for common people, who are crushed by unemployment & inflation. Govt is lost in big words signifying nothing," tweeted West Bengal Chief Minister Mamata Banerjee. Rajya Sabha member Derek O'Brien also piled on, saying "Diamonds are this government's best friend. For the rest— farmers, middle class, daily earners, unemployed— this is a PM (Does Not) Care."
BUDGET HAS ZERO FOR COMMON PEOPLE, WHO ARE GETTING CRUSHED BY UNEMPLOYMENT & INFLATION. GOVT IS LOST IN BIG WORDS SIGNIFYING NOTHING - A PEGASUS SPIN BUDGET

— Mamata Banerjee (@MamataOfficial) February 1, 2022
But investors cheered the budget, driving the S&P BSE Sensex up 1.46 per cent or 848.40 points to 58,862.57 points, with infrastructure firms and private banks rising strongly.
The government is projecting growth of 8.0 to 8.5 per cent in the coming year starting April. That's slower than this year's forecast expansion of 9.2 per cent, but the Government emphasised that India's economy will still be the fastest-growing among major countries of the world.
Seven engines
The budget's driven "by seven engines" that include spending on highways, railways, mass transport, energy and logistical infrastructure, Finance Minister Nirmala Sitharaman told parliament in a 90-minute speech.
The government is planning a hefty 35.4 per cent in capital expenditure spending to Rs 7.50 lakh crore. That's the same percentage increase as in last year's budget. "Capital markets love a budget big on spending, and the budget 2022-23 has delivered on this front. We believe infrastructure will perform well, clearly because of the great impetus," said B. Gopkumar, managing director, Axis Securities.
"All seven engines will pull forward the economy in unison," Sitharaman said as she unveiled the Rs 39.45 trillion budget for the financial year starting April 1 that will boost government spending by nearly 5 per cent from the current year. She said the budget lays the foundation to steer the economic developments for the next 25 years, preparing for "India at 100."
M0di G0vernment's Zer0 Sum Budget!

Nothing for
- Salaried class
- Middle class
- The poor & deprived
- Youth
- Farmers
- MSMEs

— Rahul Gandhi (@RahulGandhi) February 1, 2022
Pushing mirage of achhe din even farther away'
Senior Congress leader Shashi Tharoor said, though, that the budget had missed tackling the biggest problems confronting the economy, "We are facing terrible inflation and there's no tax relief for the middle class. This is a Budget that seems to be pushing the mirage of 'achhe din' even farther away. Now it's India at 100, we'll have to wait for 25 more years for 'acche din' to arrive," Tharoor said.
The budget includes plans for record government borrowing of some Rs 15 trillion rupees, up from Rs 12 trillion in the current year. There will also be the issue of sovereign green bonds to finance public sector projects to help India reduce its carbon emissions.
Putting the stress on growth over fiscal consolidation, the government will be trimming the deficit to a higher-than-expected 6.4 per cent of GDP from 6.9 per cent this year, banking on increased tax revenues and revenue from the sale of state-owned assets. (Markets had been expecting the government to reduce the deficit to 6.1 per cent of GDP). Sitharam said the disposal of a possible 5 per cent stake in insurance behemoth LIC is coming "soon."
Lack of tangible measures: Moodys
Moody's rating agency took a dim view of the government's budget plans, saying they lack "any tangible measures to increase revenue generation even though the capital expenditure plans have gone up significantly and the fiscal deficit estimate suggests that the government is relying too much on strong growth to help drive fiscal consolidation."
Reflecting the lack of privatisation success, the government has slashed its expectation for revenues from asset sale targets for the current year to Rs 780 billion this year. That's way below the original Rs 1.75 trillion it projected earlier in the fiscal year. In the coming year, it is expecting to raise Rs 650 billion. The government is aiming to cut the fiscal deficit to 4.5 per cent for 2025-26.
"The overall sharp rebound and recovery of the economy are reflective of our country's strong resilience," Sitharaman told lawmakers.
The government will be spending on improving physical and digital infrastructure to modernise the economy and make it more attractive to investors.
"The touchstone of the master plan will be world-class, modern infrastructure and logistics synergy among different modes of movement of both people and goods, and location of projects," Sitharaman said.
Digital currency
Among the key initiatives will be the introduction of a digital currency spearheaded by the central bank that "will give a big boost to the digital economy. A digital currency that will help India keep up with the shift internationally to using virtual financial tools will also lead to a more efficient and cheaper currency management system," Sitharaman said. She noted there has been a "phenomenal increase in transactions in virtual digital assets," making it vital to introduce a digital rupee.
China, for instance, has launched trials of a digital currency. But India plans a 30 per cent tax on income from transferring virtual assets which analysts said could prompt traders to shift to other countries, thereby lowering the potential tax earnings for India from crypto-trading.
The government is extending the Emergency Credit Line Guarantee Scheme to March 2023 to help companies weather liquidity crunches stemming from the impact of Covid-19. The government said it is aiming for the creation of 60 lakh jobs being targeted over the next five years and that it is planning to "upskill" workers.
Defence budget up 9%
The government is boosting the defence budget by 9 per cent to Rs 5.25 trillion. The government said it is committed to reducing the import of defence supplies and increasing self-reliance in the sector, allocating 68 per cent of capital expenditure in the sector for local firms.
"Our government is committed to reducing imports and promoting Atmanirbhar in equipment for the Armed Forces. 68 per cent of the capital procurement budget will be earmarked for the domestic industry in 2022-23, up from 58 per cent in 2021-22," Sitharaman said.
The minister announced big plans for investments in roads, urban transit and 400 new energy-efficient "Vande Bharat trains" to be made over the next three years. The government is also earmarking funds to bring piped water to 38 million homes. "Every poor person must have a home, access to tap water, cooking gas. We have taken care of all these aspects in the budget," said Prime Minister Narendra Modi
Boost for clean energy
As part of its clean energy initiatives, there will be Rs 95 billion in incentives for the solar manufacturing sector as the government seeks to reduce its reliance on Chinese solar equipment. There will also be more houses for people on low incomes. Data storage will be a big winner with the plan for 5G auctions in 2022.
Kiran Mazumdar Shaw, the executive chairperson of Bangalore-based Biocon, voiced disappointment over the budget, saying there was nothing to boost consumption. "The sector which is the most disappointed in the MSMEs and service sector because they do need help because they were impacted very badly (by the pandemic). I also was expecting some incentives in R&D in pharma."