GDP growth dips to 6.3 per cent in second quarter
A major area of concern is falling government consumption expenditure, which shrank 4.4 %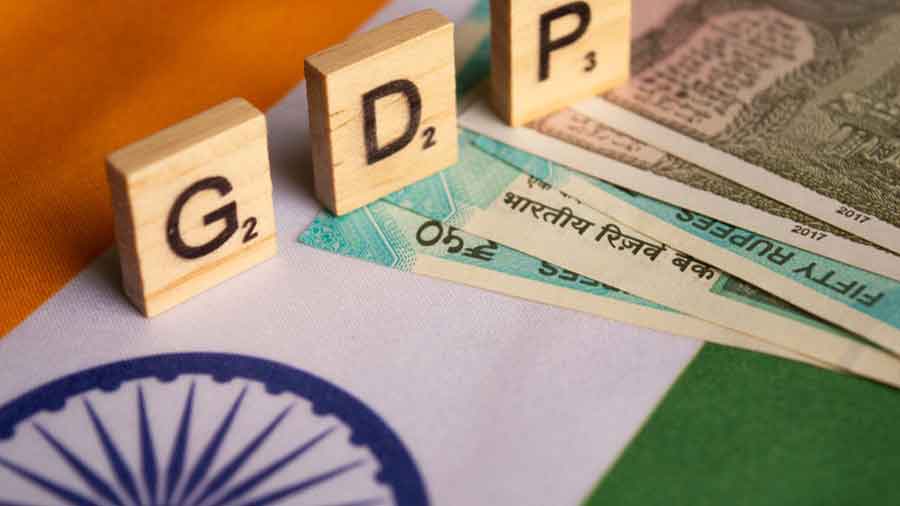 Representational file image
---
New Delhi
|
Published 01.12.22, 02:26 AM
|
---
The Indian economy grew 6.3 per cent in the second quarter of the current fiscal against 8.4 per cent a year ago, dragged down by contraction in the manufacturing and mining sectors.
Economists expect growth to ease further in the December quarter because of higher interest rates and slowing exports. The gross domestic product (GDP) expanded 13.5 per cent in the April-June quarter this fiscal.
A major area of concern is falling government consumption expenditure, which shrank 4.4 per cent. The second quarter GDP growth is almost at par with the RBI's projection of 6.1 per cent to 6.3 per cent released earlier this month.
The data, however, showed that "discrepancy" in the second quarter at Rs 111,114 crore compared with Rs (-) 6,738 crore in the corresponding period.
Aditi Nayar, chief economist, Icra, said: "Discrepancies stood at a 10-quarter high, which suggests substantial revisions in the sectoral growth prints may lie ahead."
"Real GDP or GDP at constant (2011-12) prices in Q2 2022-23 is estimated at Rs 38.17 lakh crore against Rs 35.89 lakh crore in Q2 2021-22, showing a growth of 6.3 per cent compared with 8.4 per cent in Q2 2021-22," the NSO statement said. The economy is on track to achieve a 6.8-7 per cent growth in this fiscal, chief economic advisor V. Anantha Nageswaran said.
He said the economic recovery momentum is continuing and GDP is averaging the 2019-20 level.
However, Madhavi Arora, lead economist, at Emkay Global Financial Services said the recovery was yet to become broad-based. "Protracted global drags, shrinking corporate profitability, demand-curbing monetary policies and diminishing global growth prospects weigh on output. This will put pressure on domestic growth, which is yet to be broad-based and still lacks the next lever of secular growth.
"We see downside risks increasing for our 7 per cent growth forecast for FY23." GVA (gross value added) growth in the agriculture sector is 4.6 per cent in the second quarter compared with 3.2 per cent a year ago. Rice production during the quarter fell 20.7 per cent.
However, GVA in the manufacturing sector contracted 4.3 per cent during the quarter from 5.6 per cent growth during the year-ago period.
GVA in mining also declined 2.8 per cent in the quarter compared with 14.5 per cent a year ago. Growth in the construction sector decelerated to 6.6 per cent from 8.1 per cent.
"In the case of manufacturing it has been affected by low growth for the small business sector and fall in profits that has affected value added for the organised sector," said Madan Sabnavis, chief economist at Bank of Baroda.
The NSO stated that nominal GDP or GDP at current prices in the quarter is estimated at Rs 65.31 lakh crore against Rs 56.20 lakh crore a year ago, showing a growth of 16.2 per cent compared with 19 per cent a year ago.
The gross fixed capital formation in the July-September quarter expanded 9.9 per cent to Rs 13.21 lakh crore, while private consumption expenditure grew 9.3 per cent to Rs 22.29 lakh crore.
Aditi Nayar said: "The GDP growth was boosted by the performance of private consumption expenditure and gross fixed capital formation, whereas government expenditure displayed a discouraging contraction in Q2 FY2023, on account of the modest de-growth in the Centre's non-interest revenue expenditure. Additionally, net imports nearly doubled relative to the year-ago period, exerting a drag on the GDP growth."
Economists said the latest data means India's GDP has grown 9.7 per cent in the first half of FY23, down from 13.7 per cent in April-September 2021.
However, growth is expected to slow down in the second half, with the RBI predicting it will come in at 4.6 per cent in both October-December 2022 and January-March 2023. For the full year, the RBI has forecast a growth rate of 7 per cent.