GDP grows 8.7 pc in 2021-22 as against contraction of 6.6 pc in previous fiscal: Govt data
Core sector witnessed an exceptionally high growth rate of 62.6 per cent in April 2021 mainly due to low base effect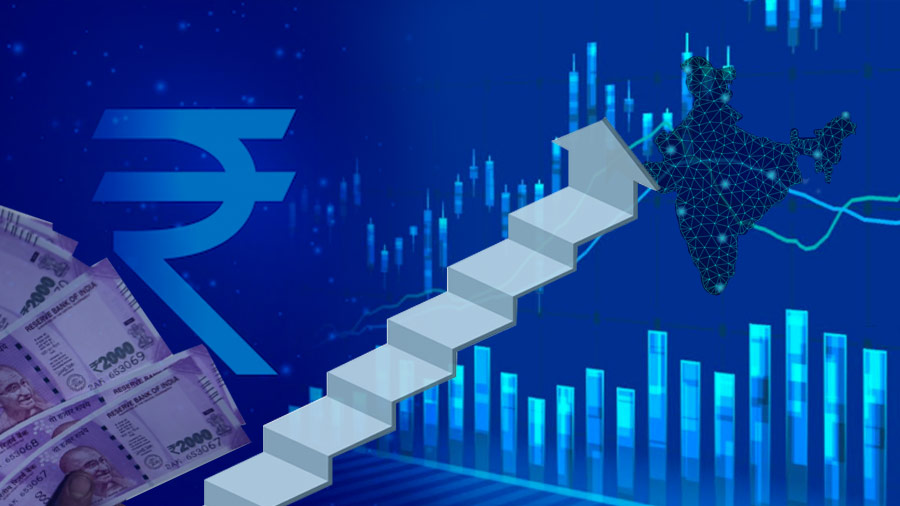 NSO, in its second advance estimate, had projected GDP growth during 2021-22 at 8.9 per cent
Graphics: Telegraph Online
---
New Delhi
|
Published 31.05.22, 05:42 PM
|
---
India's economy grew by 4.1 per cent in the fourth quarter of 2021-22, pushing up the annual growth rate to 8.7 per cent, official data showed on Tuesday.
However, growth in the January-March period was slower than the 5.4 per cent expansion in the previous October-December quarter of 2021-22.
The gross domestic product (GDP) had expanded by 2.5 per cent in the corresponding January-March period of 2020-21, according to data released by the National Statistical Office (NSO).
As per the data, the Indian economy expanded by 8.7 per cent in 2021-22 against a 6.6 per cent contraction in 2020-21.
The NSO, in its second advance estimate, had projected GDP growth during 2021-22 at 8.9 per cent
China had registered an economic growth of 4.8 per cent in the first three months of 2022.
Eight infrastructure sectors grew by 8.4 per cent in April against 62.6 per cent expansion in the year-ago period, according to official data released on Tuesday.
The output of eight infrastructure sectors of coal, crude oil, natural gas, refinery products, fertiliser, steel, cement and electricity had expanded by 4.9 per cent in March 2022.
The core sector had witnessed an exceptionally high growth rate of 62.6 per cent in April 2021 mainly due to the low base effect.
The output of crude oil contracted by 0.9 per cent against a 2.1 per cent decline in April, the data showed.