Gautam Adani, the second richest Asian, is reportedly looking to stitch a partnership with Saudi Aramco, months after rival Reliance Industries led by Mukesh Ambani scrapped a mega deal in the oil-to-chemicals (O2C) business.
A Bloomberg report quoting sources said on Friday that the conglomerate which has market capitalisation of almost $159 billion, is exploring potential partnerships in Saudi Arabia, including the possibility of buying a stake in Saudi Aramco.
It added the group has held preliminary talks on various potential co-operation and joint investment opportunities with the world's largest oil exporter and the country's Public Investment Fund (PIF).
The domestic group is also open to the possibility of buying part of the PIF's stake in Aramco. The sovereign wealth fund holds around 4 per cent in Saudi Aramco which is valued at around $89 billion. According to the report, Adani is unlikely to shell out billions of dollars in cash for the Aramco stock.
But it could initially seek to link an investment to a broader tie-up or an asset swap deal.
The possibility of Adani joining hands with Aramco or subsidiaries such as Sabic (Saudi Basic Industries Corporation) in areas like renewable energy, crop nutrients or chemicals is also not ruled out.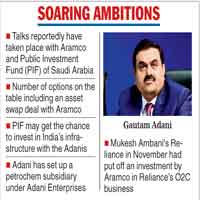 Further, Adani may offer the PIF, the opportunity to invest in infrastructure in India.
Last November, a joint statement from Reliance had said that the proposed mega deal in its O2C business has been put off. RIL had then said that both parties have mutually decided to "re-evaluate'' the proposed investment in the O2C business.
The oil-to-telecom conglomerate had added that due to the evolving nature of its business portfolio, both the companies had mutually determined that it would be beneficial for them to re-evaluate the proposed investment in the O2C business.
RIL had, however, disclosed that it shall continue to be Saudi Aramco's preferred partner for investments in the private sector in India and that it will collaborate with the oil giant and Sabic for investments in Saudi Arabia, thus not ruling out a partnership at a later date.
In August 2019, RIL and Saudi Aramco had signed a non-binding letter of intent for a potential 20 per cent stake acquisition by Aramco in RIL's O2C business.
RIL was then expected to rake in $15 billion for a 20 per cent stake, thus valuing the demerged 02C business at $75 billion.During the third quarter ended December 31, 2021, the O2C business of RIL put in a robust show with a 57 per cent rise in revenues to Rs 1,31,427 crore from Rs 83,838 crore in the same period of the previous year.
The segment earnings before interest, taxes, depreciation and amortisation increased almost 39 per cent to Rs 13,530 crore (Rs 9,756 crore). The jump in revenues came on account of an increase in crude prices and higher volumes.
Following the RIL announcement in November, Saudi Aramco had said that it will continue to look for investment opportunities in India since the country offers tremendous opportunities in the long-term.
While Gautam Adani and Mukesh Ambani are competing in the green energy space, in 2021, the former had formed a wholly-owned petrochemicals subsidiary under Adani Enterprises to "carry on the business of setting up refineries and speciality chemicals units''.