Gautam Adani is now 6th richest in the world, could he go all the way to Number One spot?
Worth just $1.8 billion In 2009, the Gujarat tycoon is riding green energy up the wealth charts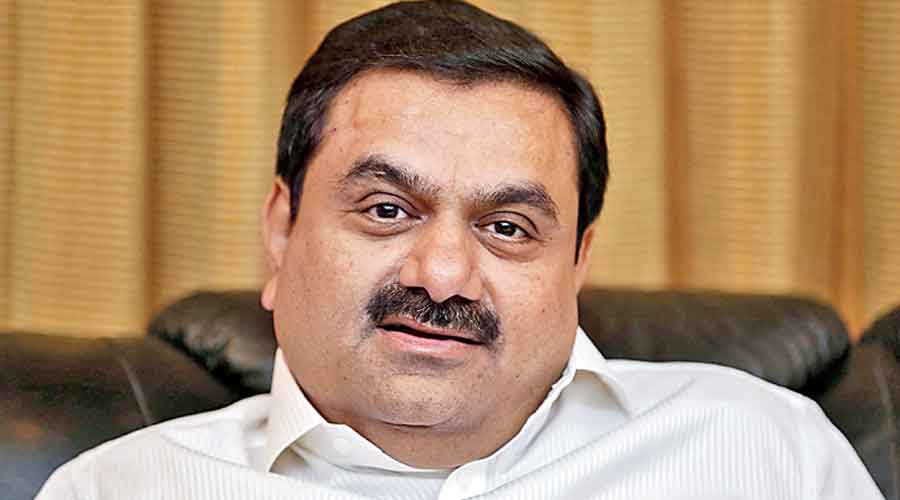 Gautam Adani
File picture
---
Published 14.04.22, 04:18 PM
|
---
Is ports-to-power billionaire Gautam Adani on the way to becoming the world's richest man? The answer is that he's still way behind Elon Musk and Jeff Bezos, the world's two wealthiest men. But at the speed at which he's moving, it isn't impossible to see Adani, who's carved out a pivotal role in India's clean energy transition, rising all the way to the top. 
This week, Adani was reckoned to be worth $122 billion, according to Forbes, making him the world's sixth-richest man, behind global stars like Bill Gates, Warren Buffett, Bernard Arnault, Bezos and Musk. (Buffett is fifth on the list at $127 billion while Gates is fourth at $139). Of course, Musk remains far ahead of the pack at $249 billion). 
Adani, who's a college dropout and first made his fortune in the coal industry, also is now the richest Asian ever and one of eight men worth more than $100 billion, according to the Forbes Real-Time Billionaires Tracker. His wealth has soared by $33 billion in 33 days.
Consider the rate at which Adani's wealth has climbed. On March 11, he was worth $90 billion – still $700 million behind Mukesh Ambani, making him India's second richest man. (March 11 is important because it was the cutoff date for the Forbes Global Richest List which appeared only a few days ago on April 5). Ambani's now reckoned to be worth $99 billion and could ascend into the ranks of centi-billionaires very soon.
Adani's wealth moved into lift-off mode once again after Abu Dhabi's International Holding Co (IHC) invested $2 billion last week in three key green-focused companies that the businessman runs: Adani Green Energy, Adani Transmission and Adani Enterprises. A crucial attraction for IHC is that all three companies have massive plans in the green energy sector and with India aiming to cuts its reliance on fossil fuels and achieve net carbon zero status by 2070, the Adani Group is in pole position.
The Abu Dhabi investments have had a huge knock-on impact on each of the companies. Adani Green Energy is now India's 8th-most valuable company, overtaking HDFC and Bajaj Financial. The company's share price has soared from Rs 2,231 to Rs 2,869 in barely five days. That's added to its already vertiginous climb that took it from Rs 1,822 barely a month ago. In the last year, Adani Green's shares have gained 115 per cent.
Deven Choksey, managing director at KRChoksey Investment Managers, said Adani group's green portfolio as well as India's pledges to use more clean energy makes the deal "a compelling (investment) proposition" for IHC, founded in 1998 as part of an drive to diversify and grow non-oil business sectors in the UAE. IHC, the UAE's second largest company by market value, says the "landmark transaction" marks just the "start of a wider relationship" with the Adani group. For Adani, the tie-up gives him funds to plough into new initiatives such as green hydrogen as well as "tap the solar-rich" Middle East market.
Another fast-riser is Adani Total Gas which hit Rs 2,510 on Wednesday, up from Rs 1,650.35 on March 14. The joint venture between Adani and France's Total Gas has ambitious plans to distribute gas around the country and has already won several contracts to do this.
Similarly, Adani Transmission was trading at Rs 2,779, up from Rs 2,268 just a month ago and its 52-week low of Rs 860. And group flagship Adani Enterprises has moved from Rs 1,129.95 a year ago to Rs 2,196 on Wednesday.
The Adani Group has entered a remarkably wide swathe of sectors in recent years. It's now the country's biggest port and airport operator. Its Mundra Port is now India's largest port. In addition, the group has holdings in power generation and transmission and also gas distribution. Adani Enterprises, established 33 years ago, has become the country's largest solar manufacturing company despite being a relative newcomer to the Indian corporate scene.
It's an extraordinary accumulation of wealth for a group that Forbes reckoned was worth $25.2 billion in 2020. In that same year, Mukesh Ambani was listed as being worth $88.7 billion.
Back in 2008, Forbes calculated Adani was worth $9.3 billion and that plummeted to $1.8 billion the following year, But Adani, who survived the 2008 Mumbai terror attack (he hid in the Taj Hotel basement) as well as an earlier abduction in 1998, quickly recovered his stride and was listed as being worth $10 billion in 2011. 
His wealth, though, sank again and in 2014, when the current government came to power, Forbes reckoned he was worth a measly $2.8 billion. Even in 2018, Forbes placed him 10th on the Rich List with a fortune of $11.9 billion. By 2019, he had climbed to second place behind Ambani and was believed to be worth $15.7 billion. Ambani, at the time, was estimated to be worth $51.7 billion.
Adani is widely regarded to be on good terms with the current government which has strong roots in his home state of Gujarat. In 2019, he paid Rs 2,440 crore after winning the contract to run six airports – Jaipur, Ahmedabad, Lucknow, Thiruvananthapuram, Mangaluru and Guwahati. In 2020, the group took over Mumbai airport from the GVK Group. The Adani Group now controls 25 per cent of the country's air passengers.