Future Retail ready to accept Amazon cash offer
Move to help the Kishore Biyani-run retailer tide over a crisis that threatens to disrupt its operations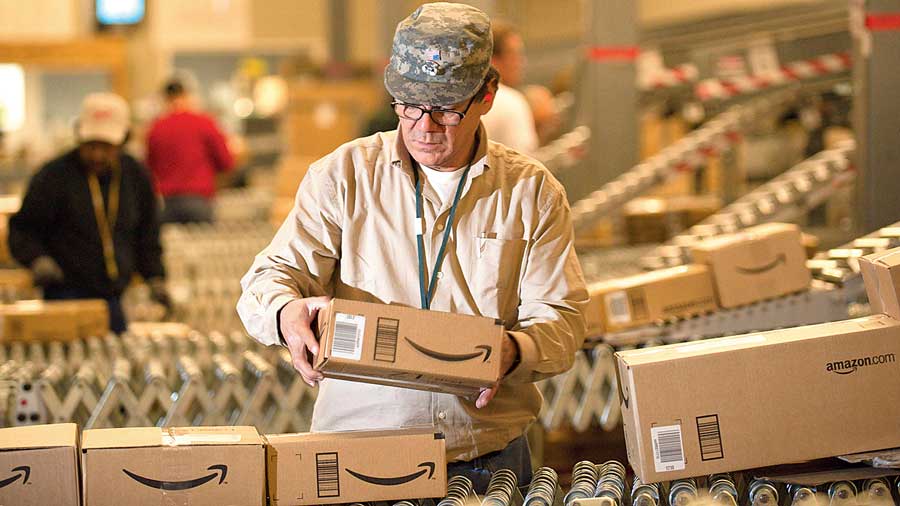 Amazon and Future Retailer have been locked in a furious legal battle over the past two years .
File Photo
---
Mumbai
|
Published 22.01.22, 02:13 AM
|
---
Future Retail Ltd (FRL) sprang a huge surprise on Friday when it said it was prepared to accept Amazon's offer of cash to repay a loan of Rs 3,500 crore that must be paid by January 29 to avoid the stigma of being declared a defaulter -- and snuff out the prospect of lenders adopting coercive steps against the retailer including insolvency proceedings.
The Future group's dramatic move came in response to an offer that Amazon made on Thursday to help the Kishore Biyani-run retailer tide over a crisis that threatens to disrupt its operations.
Amazon and FRL have been locked in a furious legal battle over the past two years after the Jeff Bezos-owned US retailer stymied the Future group from closing a Rs 24,731 crore sale to Reliance Retail under a deal struck in August 2020.
In a letter to Amazon, which was seen by The Telegraph, independent directors of the FRL today said that it was prepared to discuss a "comprehensive solution" to its problems but wanted certain confirmations before the negotiations could begin.
Amazon had cited a potential transaction between Samara Capital and Future Retail as a solution to sort out the mess. Both Samara and FRL had entered into a non-binding term sheet for infusion of Rs 7,000 crore into FRL. However, this occurred in July 2020 before the announcement of the transaction with Reliance Retail.
The Future group first wanted the US retail giant "to confirm if Amazon can act on behalf of Samara Capital and has the authority to negotiate and finalise such transaction on its behalf."
The Biyani outfit also said that any transaction between Samara and FRL would have to be struck within the four corners of Indian law including the regulations governing foreign direct investment in multi-brand retailing. The letter asked Amazon to confirm "that that you are willing to fund this amount by Monday (January 24) through an unsecured, long-term loan, subordinated to FRL's existing lenders or any other mutually suitable and legally acceptable structure."
"If you do so, FRL will use such funds in order to repay FRL's existing lenders. Alternatively, you are also free to engage with the lenders, so that we do not fall foul of our OTR process or obligations," the Future group company letter said.
OTR stands for the one-time debt restructuring scheme under which lenders have been permitted by the Reserve Bank of India (RBI) to help debtors work out a feasible repayment plan.
FRL also said that any negotiation on a deal with Amazon would be without prejudice to its rights under law and "our contentions before the Supreme Court, the Delhi High Court, the National Company Law Tribunal, the Arbitration Tribunal (in Singapore), and any other tribunals, courts or regulatory authorities."
It was not immediately clear how serious the Future group was in pursuing a deal with Amazon - and whether the latest development would force it to abandon the agreement with Reliance Retail. There was no response from the Reliance group to the sudden developments.
According to the letter, the aggregate liabilities of FRL amount to Rs 9119.31 crore including principal and interest dues up to March 2022. It includes the overdue amount of Rs 3494.56 crore and a sum of Rs 2908 crore required to keep operations going up to March 2022.
FRL also asked Amazon to confirm that the structure of the proposed transaction and that the manager of Samara Capital is owned-and-controlled by resident Indians.
"As you know, FRL is in the multi-brand retail sector, and FDI in this sector is restricted. You are also aware that Amazon's transaction in Future Coupons, has resulted in regulatory scrutiny, including by the Competition Commission of India, as well as enquiries by the Enforcement Directorate. It is therefore critical that any investment being proposed is in compliance with all applicable laws, including FDI laws, CCI regulations and SEBI regulations, and that any such transaction should not raise further regulatory scrutiny," the FRL letter said.
It urged Amazon to provide confirmations for the various points by tomorrow. "Once you have provided these confirmations in writing and agree to infuse Rs 3500 crore in order to repay FRL's lenders by January 29, 2022, we would be happy to assess a detailed proposal and meet Abhijeet Muzumdar," it said.

Amazon had appointed Mazumdar, the head of Amazon Smbhav Venture Fund & corporate development, to lead any engagements with decision makers in FRL.
The letter also saw the independent directors asking for more clarity on how FRL would actually service its dues and repay lenders. It said that the timing of such cash infusion is not clear even though FRL's cash requirements are immediate.

"It is not clear on how such infusion will be implemented in a legally-compliant manner," the letter added.

Referring to the scheme of arrangement with the Reliance on August 29, 2020, the letter said that this was the only solution available which would enable the company to monetise its assets and repay lender dues of thousands of crores, and make payments to 30,000 employees, and more than 5000 vendors (including SME vendors).

"It appears that you have made all attempts to block the scheme and are now attempting to block the small-store business monetisation. Your action has prevented FRL, from repaying its lenders and creditors. Your infusion of Rs 3500 crore can however help FRL meet its present OTR obligation," they added.

Future Retail has been planning to repay the overdue sum of Rs 3500 crore by selling its small-format stores comprising the 'Easyday' and 'Heritage Fresh' brands.
Amazon had warned that any such move, without seeking its consent, would be in violation of injunctions. Amazon had also reiterated its willingness to assist the cash-strapped retailer in addressing its financial concerns.

The US-based company had in its recent letter to FRL said: "Amazon reiterates that FRL is bound by valid and subsisting injunctions issued by the Arbitral Tribunal, and enforced by Indian courts. Amongst others, FRL is prohibited from directly or indirectly taking any steps to transfer/dispose/alienate/encumber FRL's Retail Assets without Amazon's consent."