FM Nirmala Sitharaman rules out job loss
'More capital is being given to banks and they will continue to do more of what they were doing earlier'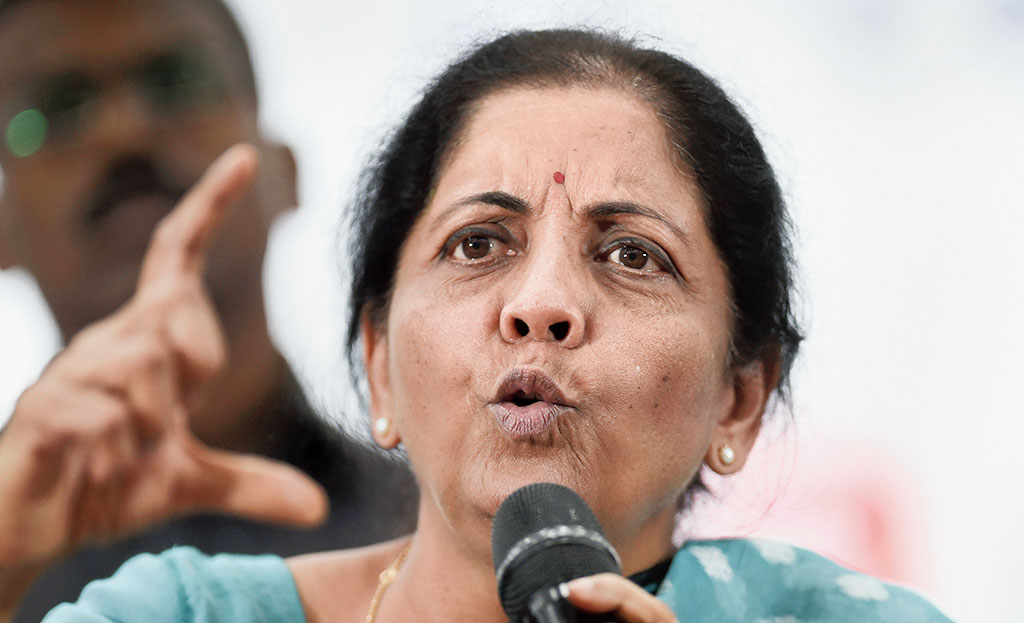 Nirmala Sitharaman in Chennai on Sunday.
PTI
---
Chennai
|
Published 01.09.19, 07:21 PM
|
---
Finance Minister Nirmala Sitharaman on Sunday allayed fears of job losses following the proposed merger of public sector banks, saying not even one employee shall be removed following the amalgamation.
"Absolutely, ill informed. I want to assure every union in every one of these banks to please recall what I have said last Friday. When we spoke about amalgamation of banks, I have clearly underlined the fact that there shall not be one employee removed. Not at all," she told reporters here.
She was replying to a question on the bank unions opposing the merger plan on the grounds of the exercise leading to the loss of jobs.
Sitharaman, who was here to address officers of customs, GST and the income tax departments, said there would not be any closure of banks and no bank was being asked to do something new.
"More capital is being given to banks and they will continue to do more of what they were doing earlier,"she said.
The All India Bank Employees' Union had alleged that Indian Bank may face closure following its merger with Allahabad Bank.
To this, Sitharaman said Indian Bank would be the anchor bank after the merger.
On whether there was any slowdown in the economy, she said the government was responding to it on a sectoral basis.
"Every sector of the Indian economy, when it approaches us, we hear them out for the solutions that they want and we respond to it. I have done (it) twice and I will do so more number of times. Every industry which has approached me I will respond," she said.