Flipkart to use drones to deliver medicines
Ingenuity, a helicopter-like drone that can move 100 kilometres per hour and carry around 5 kilos, on Tuesday delivered medicines from Flipkart Health's warehouse at Baruipur to a pharmacy in Midnapore covering an aerial distance of 104 kilometres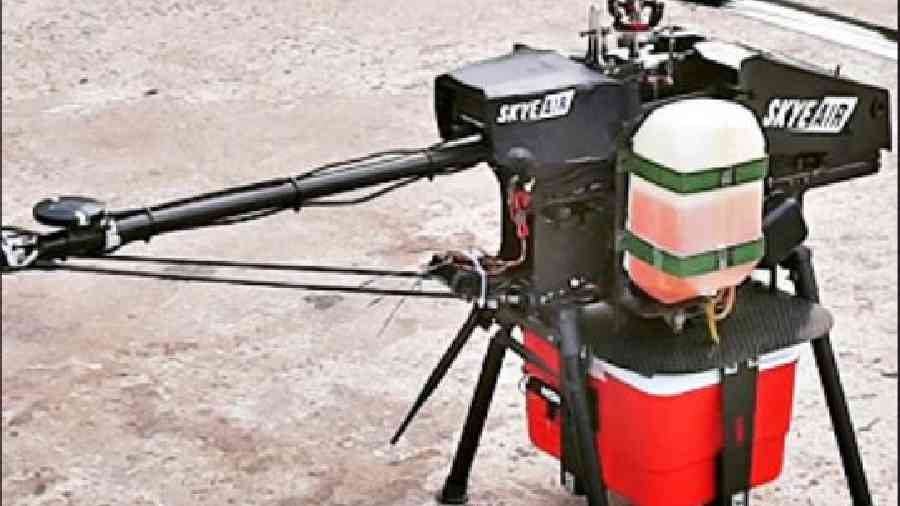 Ingenuity took off from Flipkart Health's warehouse at Baruipur at 4 pm and landed in Midnapore at 5.07pm on Tuesday
Telegraph picture
---
Calcutta
|
Published 07.09.22, 01:17 AM
|
---
E-commerce major Flipkart, which has diversified into healthcare through Flipkart Health+, is exploring the use of drones to transport medicines.
Ingenuity, a helicopter-like drone that can move 100 kilometres per hour and carry around 5 kilos, on Tuesday delivered medicines from Flipkart Health's warehouse at Baruipur to a pharmacy in Midnapore covering an aerial distance of 104 kilometres, the longest flight of the drone.
The drone is operated by Skye Air Delivery, a dronebased logistics company. The flight from Baruipur to Midnapore is part of Flipkart's trials to deliver medicines using drones to cut down on costs and lower the turnaround time.
"The road distance between Baruipur and Midnapore is around 185 km and takes around 5-5.5 hrs by road. The aerial distance covered by the drone is 104 kilometres and the time taken would be around 1 hour. This will bring a drastic reduction in the turnaround time by 80 per cent," Ankit Kumar, CEO, Skye Air Mobility, told The Telegraph.
"From a cost perspective, the drones will be much cheaper. But by how much, we will only get to know after the trial," said Kumar. Kumar said his company was working with Flipkart Health+ over the past 15 days to understand medical delivery and the challenges in the supply chain.
The data from the trial, which has covered around 200 flights, can be used by Flipkart to consider drones as an alternative delivery channel.
"With the successful delivery of pre-packaged prescribed medicines for customers at Healthbuddy Matanginiin Midnapore, we are now confident of delivering pre-prescribed medicines and medical equipment in remote areasof the country," said PranavSaxena, chief technology and product officer, FlipkartHealth+.
Expanding fleet Kumar said that Skye Air Delivery is an end-to-end drone logistics company that utilises its own software and pilots.
The company operates in eight cities and has clients across segments such as diagnostic chains, healthcare, e-commerce and food delivery clients through different models.