Five-hour Jet fuel ordeal
Indian Oil Corporation stopped the supply of fuel until the airline assured the oil firm of the payment of dues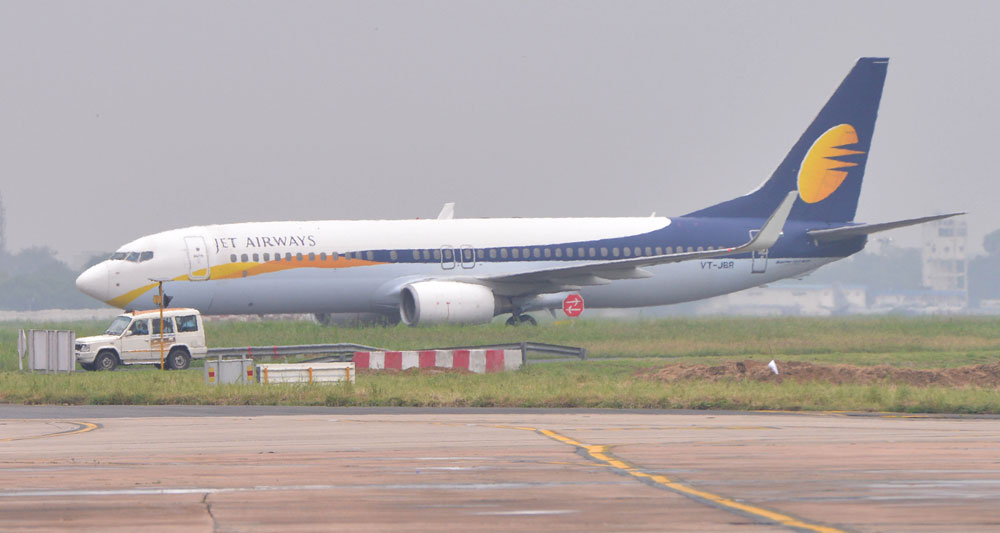 ---
---
Debt-laden Jet Airways lurched from one crisis to another on Friday as doubts intensified over the success of the stake sale process of its lenders, which will formally start from Saturday.
On Friday, state-owned IOC stopped the supply of fuel for as long as five hours even as the queue of lessors looking to deregister their planes with the beleagured carrier lengthened.
IOC officials said the supply was stopped around noon and was restored at around 5 pm after the airline assured the oil firm of the payment of dues.
"Indian Oil Corporation has resumed supply of aviation turbine fuel to Jet Airways following the assurance of payments by the airline," they said.Jet faced operational disruptions across major airports when IOC refused to refuel its planes unless the outstanding amount was cleared.
Planes
About six lessors are expected to apply to the Directorate-General of Civil Aviation (DGCA) in the next 10 days to de-register up to 15 planes that have already been grounded, Reuters reported.
This is in addition to the five planes that MC Aviation Partners, a subsidiary of Mitsubishi Corp, sought to de-register on Friday, it added.
For the past few weeks, the airline has been grounding its aircraft in tranches because of the non-payment of dues to lessors. Avolon, one of the world's biggest lessors, applied to de-register two planes it had placed with Jet , making it the first lessor to do so on a non-consensual basis with the struggling airline. The airline is operating only 26 planes of its fleet of 124. If more planes deregister, planes available could fall to less than 20, which could raise a question mark on its international operations.
Civil aviation secretary Pradeep Singh Kharola on Thursday said international operations of an airline depends on the number of aircraft and seating capacity and Jet Airways "right now fulfils this" criteria.
The lenders will call for expression of interests (LoI) to sell their stakes from Saturday. However, they too are apprehensive of the exercise. Friday's events seem to lend credence to their fears.
The lenders, while announcing the EoIs on Thursday, said that they were open to other options should the exercise fail.
The aviation secretary said that Jet Airways reiterated on Thursday that it will fly 75 aircraft by the end of April.
Slots shared
Meanwhile, the authorities have started allotting unused slots of Jet Airways to other carriers, including Indigo, SpiceJet and Vistara, who have announced new routes in their summer schedule. The move could help reduce pressure on airfare.
In all, Jet is estimated to have close to 400 unused departure slots across the country and with its fleet reduced substantially most of these slots are unused.