Finance minister Nirmala Sitharaman allays Bengal Inc fears
She assured full cooperation to industry to meet challenges emanating from the second wave of Covid-19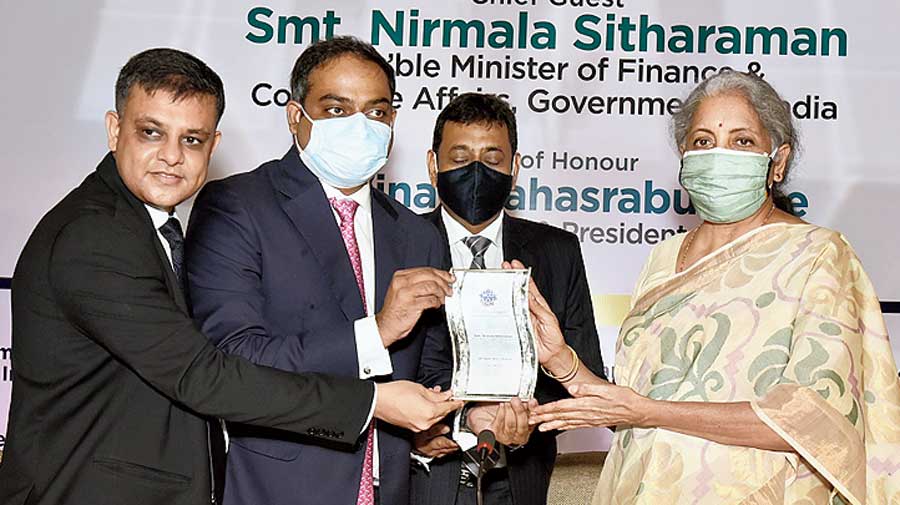 ---
|
Calcutta
|
Published 21.04.21, 04:12 AM
---
Union finance minister Nirmala Sitharaman on Tuesday met Bengal -based industrialists in the midst of the ongoing assembly elections in the state and assured full cooperation to industry to meet challenges emanating from the second wave of Covid-19.
She asked industry to have confidence in the Modi government but did not make any specific commitment to allay apprehensions raised by different sectors.
"Year 2019 was about liquidity, 2020 was about Covid. 2021 shall not be about Covid in spite of the second wave. Look at the various steps the government has taken. Revival was happening and it will continue to happen," said Sitharaman during a session organised by MCCI.
Members of industry associations in Bengal made representations before the finance minister.
A delegation of the Consultative Committee of Plantation Association, an apex body of tea associations in India, led by Indian Tea Association chairman Vivek Goenka, Tea Association of India president Raj Bansal and other members of the industry told the minister of the need to digitise of wage payments of tea garden workers and sought exemption from tax deducted at source under section 194N of the Income Tax Act till the time of banking infrastructure in tea gardens is improved.
A delegation of Indian Jute Mills Association, led by deputy chairman Rishav Kajaria and other members of the association, flagged off the need to persist with anti dumping duty on imported jute, particularly from Bangladesh with the duty soon to come up for review.
Realtors expressed their concerns that the second wave of Covid may affect demand and requested the government to boost buyers confidence. "We requested that there should be more income tax breaks for a home buyer. We also said stamp duty should be subsumed in GST and tax burden on consumers should come down," said Harsh Patodia, president, Credai (national).
However the timing of the meeting has not escaped the attention of the members present. "It appeared that she wanted to have a public relation exercise with industry leaders in the midst of election. Many of whom were present today are voters in Calcutta, which will go to the polls later this month," an industrialist present in the meeting later said.
At the end of the meeting with MCCI, Rajya Sabha member and ICCR president Vinay Sahasrabuddhe, stunned the gathering by parading three BJP candidates from Calcutta, ostensibly to make the audience aware of the choice they would have in the poll.
"We have never seen something like this where a non partisan chamber meeting turned into a political one," said an attendee.