EU to tighten Russia sanctions
Group of Seven last month already committed to a gold ban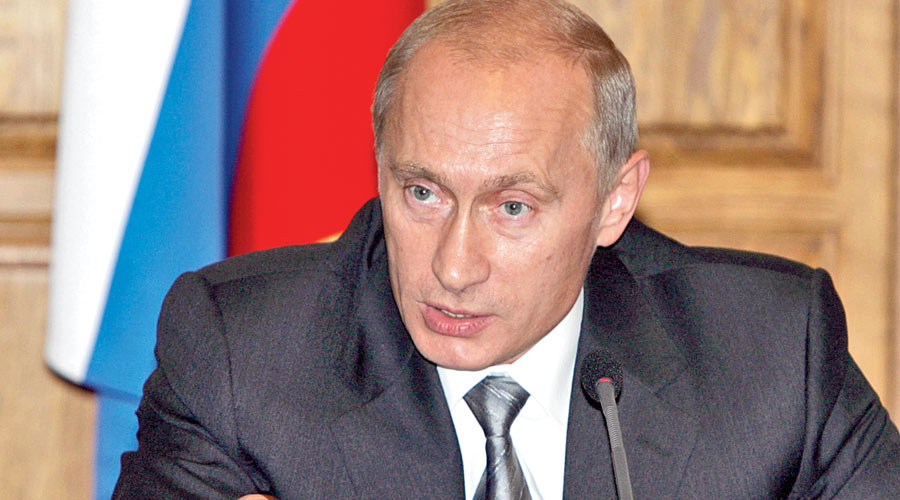 Russian President Vladimir Putin
File Picture
---
Brussels
|
Published 19.07.22, 01:27 AM
|
---
European Union foreign ministers are zooming in Monday on tightening the extensive package of sanctions on Russia and looking at ways to add a ban on gold exports in hopes that the measures might finally start to have a decisive impact on the war in Ukraine. The EU ministers also made a commitment to add another 500 million euros in military aid to Ukraine's war chest to beef up the defence of the nation.
EU foreign affairs chief Josep Borrell said at the moment "the most important thing is a ban on Russian gold", which is Moscow's second-largest export industry after energy.
The Group of Seven leading industrial nations last month already committed to a gold ban, arguing that Russia has used its gold to back up its currency to circumvent the impact of several rounds of sanctions that nations around the world had already imposed on Moscow after its February 24 invasion of Ukraine. The 27 EU ministers will also assess how they can tighten controls on exports of high technology to Russia for a possible decision later in the week.
Russia payment
Russia is seeking payment in United Arab Emirates dir-hams for oil exports to some Indian customers, three sources said and a document showed, as Moscow moves away from the US dollar to insulate itself from the effects of Western sanctions.
Russia has been hit by a slew of sanctions from the United States and its allies over its invasion of Ukraine in late February, which it terms a "special military operation."
An invoice seen by Reuters shows the bill for supplying oil to one refiner is calculated in dollars while the payment is requested in dirhams. Russian oil major Rosneft is pushing crude through trading firms, including Everest Energy and Coral Energy into India, now its second-biggest oil buyer after China.
Western sanctions have prompted many oil importers to shun Moscow, pushing spot prices for Russian crude to re-cord discounts against other grades. That provided Indian refiners, which rarely bought Russian oil due to high freight costs, an opportunity to snap up exports at hefty discounts to Brent and West Asian staples.
Moscow replaced Saudi Arabia as the second biggest oil supplier to India after Iraq for the second month in a row in June. read more. At least two Indian refiners have already settled some payments in dirhams, the sources said, adding more would make such payments in the coming days.