Economic revival: Hole in all-is-well claim
The July report released by the economic affairs department says high-frequency indicators showed an improvement from the unprecedented situation the economy had witnessed in April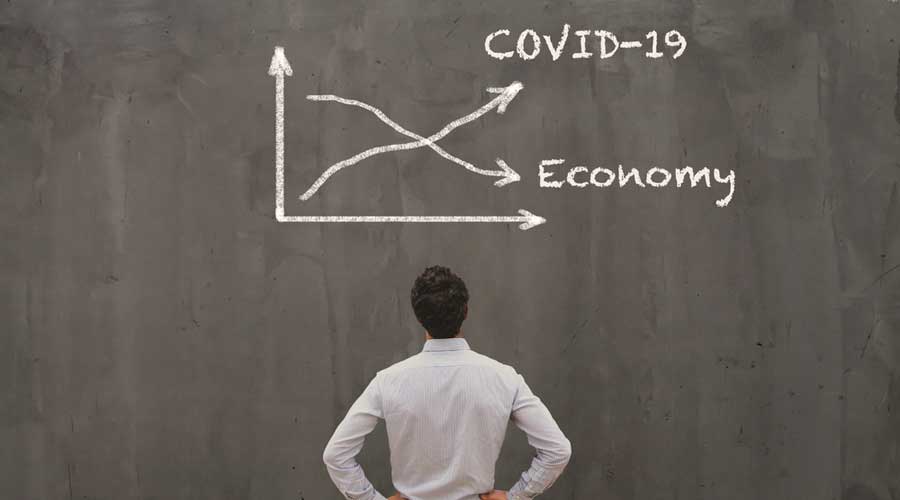 ---
---
The finance ministry on Tuesday said the economy seems to be past the worst impact of the coronavirus but the country is still not out of the woods as intermittent state lockdowns and the rising number of cases are denting prospects of revival.
The macro economic report for July released by the economic affairs department said high-frequency indicators showed an improvement from the unprecedented situation the economy had witnessed in April 2020.
Data points such as index of industrial production (IIP), purchasing managers Index (PMI), power generation, production of steel and cement, railway freight, traffic at major ports, air cargo and passenger traffic, e-way bill generation all showed improvements.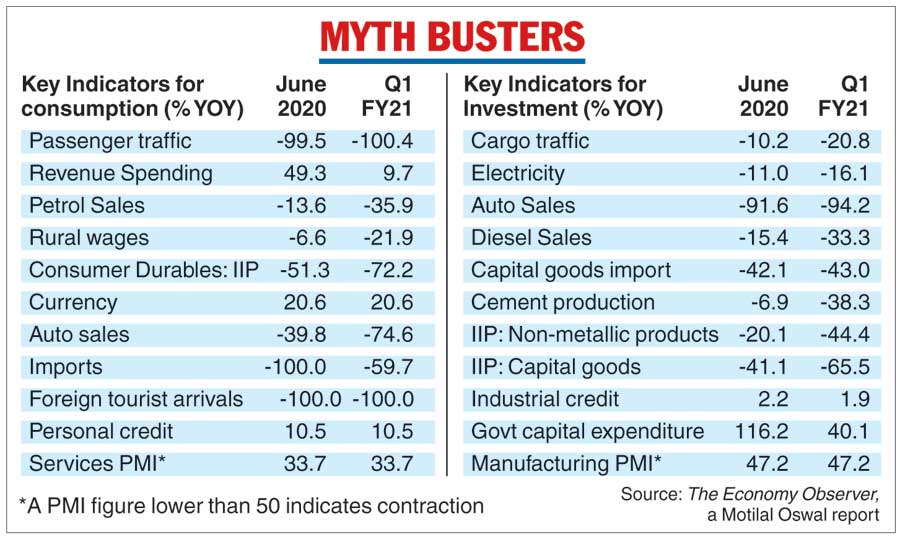 The government also said the agriculture sector is likely to cushion the shock of the Covid pandemic on the Indian economy in 2020-21, helped by expected normal monsoon this year and a number of reforms undertaken by the government.
Timely and proactive exemptions from Covid-induced lockdowns to the sector facilitated uninterrupted harvesting of rabi crops and enhanced sowing of kharif crops, the report said. The finance ministry says that the future economic recovery is crucially linked to how the Covid-19 infection evolves across the various states in the country.
Contrary picture
The Modi government may want the world to believe that the economy is on the mend but a couple of brokerages are busting its mythification around the economic data. A Motilal Oswal report — The Economy Observer — paints a completely different picture.
Motilal Oswal estimates that India's real GDP may have contracted 18-20 per cent during the first quarter. The brokerage expects another decline of 2-3 per cent in the second quarter of the current fiscal, before real GDP posts growth in the subsequent period.
"Some data available for July also suggest that real GDP most likely shrank around 5 per cent year on year. An important point to ponder over is whether economic activity will pick up from August-September 2020 and continue to grow post the festive season, the brokerage said.
As the Covid-19 pandemic is still not contained in India and partial lockdowns have been re-introduced, continuation of stronger GDP growth is still not a given. "Therefore, its progress needs to be closely watched," the brokerage said.
The Motilal Oswal report showed that key elements such as passenger traffic, petrol sales, rural wages, auto sales, production of consumer durables all showed a decline in the first quarter of this fiscal.
Key indicators for investment also fell both in June and the quarter over the year-ago periods, which analysed key leading indicators for consumption