E-rupee transactions will not be tracked
Many experts, including former RBI governor D Subbarao, have flagged concerns over the privacy aspect of CBDC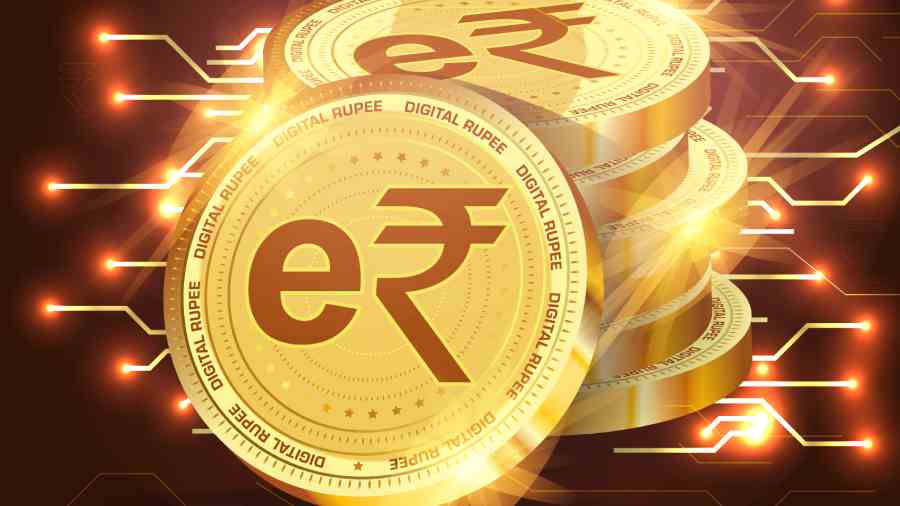 ---
Mumbai
|
Published 08.12.22, 03:00 AM
|
---
The RBI on Wednesday said the central bank digital currency (CBDC) will remain anonymous and regulations that are applicable to paper currency will prevail on the e-rupee.
Earlier this month, the RBI had begun a pilot for the retail digital rupee after it launched another project for wholesale digital rupee among financial institutions.
Many experts, including former RBI governor D Subbarao, have flagged concerns over the privacy aspect of CBDC even as others have questioned whether it will be as useful as the popular unified payment interface (UPI).
There are also worries that agencies such as the income tax or the enforcement directorate may look into some of these transactions since they are not anonymous.
Replying to a question on digital currency at the post policy press conference, RBI deputy-governor T. Rabi Sankar said the central bank was looking at solutions to make CBDC at par with paper currency when it comes to having the key feature of anonymity which has ensured that cash is still used in the developed world.
``The challenge is to ensure the anonymity because the normal understanding is that anything digital leaves a footprint. This can have various solutions," Sankar said.
Tech answers
The RBI is looking at a technological solution and also a legal solution to help assuage the concerns on this problem. Sankar said the start-up or the fintech ecosystem would have to innovate and launch various use cases for the new currency.
RBI governor Shaktikanta Das said the rules governing deposits and withdrawal of paper cash will also apply to digital currency.
``The Income Tax department has certain limits for cash payments... (for) withdrawals beyond a certain limit, you have to give your PAN card number. The same rules will apply in the case of CBDC also because both are currency," he said.
Both Das and also Sankar said the CBDC is different from the Unified Payments Interface (UPI), which operates through a link to a person's bank account.
KYC norms
The RBI on Wednesday said banks should not ask for verifications/updates at the branch level in case a customer has done e-KYC or those who have completed the KYC (know-your-customer) process on C-KYC portal.
Customers who've completed their KYC verifications online can do the annual updates as well as changes if any in their personal details online. A bank should not be demanding from a customer to walk into the branch for verification/updates, RBI governor Shaktikanta Das said.
Similarly, customers who have uploaded their KYC details on the central-KYC (C-KYC) portal should not be asked for verification by any bank. In such case, the customer can just mail or message from the registered email ID or mobile to the bank to access the KYC details from the C-KYC portal.