Dr. Anil Kumar accelerating the growth in International Agro- Market via 'Ankita Overseas'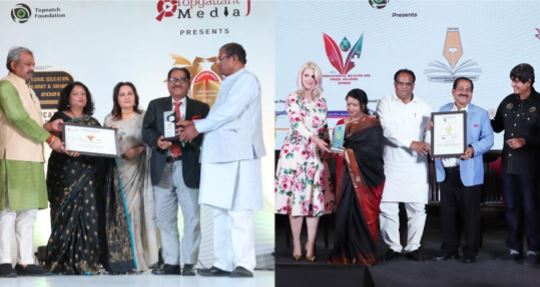 ---
Published 17.05.22, 05:54 PM
|
---
Startups have gotten a lot of attention in India, as well as many other regions of the world, in recent years. Their numbers are growing, and they are increasingly being recognised as major engines of economic growth and employment creation. Startups can generate meaningful solutions and hence operate as vehicles for socioeconomic development and transformation through innovation and scalable technology. Over the previous two decades, the Indian startup ecosystem has changed dramatically. Although few firms were formed in the 2000s, the ecosystem was still in its infancy, with only a few active investors and a small number of companies making it to a big level. One such company that was among the few who made it big was Ankita Overseas and all this under the able guidance of Dr. Anil Kumar, a self-made millionaire.
Dr. Anil Kumar is an example of a successful entrepreneur whose story inspires others. He has risen from humble beginnings to become the CEO and Chairman of the Ankita Group of Companies. The company has made a reputation for itself in the market because of its high-quality products and exceptional services. He has come a long way from being a middle-class person to being the CEO and Chairman of the Ankita Group of Companies.
Dr. Anil Kumar's accomplishment in the corporate realm is undeniably admirable, but his philanthropic efforts are something which should be recognised and appreciated by everyone who wants to bring a change in the society.
The entrepreneur, in his best capacities, tries to help everyone who is in need because of his kind personality. He never refuses assistance, whether it is money or otherwise. With the goal of helping those in need, Dr. Anil has taken care of numerous war widows, disabled individuals, and retired defence professionals by providing them with necessities for a happy life. He has also aided a number of people financially, as well as others who were stranded away from their houses during the Covid-19 Pandemic's lockdown.
When asked what he would suggest to aspiring entrepreneurs, the prodigy stated, "Entrepreneurs in emerging countries must completely comprehend the market's complexity in order to construct successful enterprises. Because these markets are not like Silicon Valley and hence the way you create, launch, and fund businesses must be different. The desire to imitate business strategies that previously worked in rich countries is a prevalent tactic that we see in emerging markets. Innovators, entrepreneurs, and investors frequently feel that a company's success in a given demography will translate to the developing globe if some cultural and organisational changes are made to accommodate the limits of underdeveloped markets."
Today, the Ankita Group of Companies operates in the international market, manufacturing, exporting, and importing various agro, healthcare, and grocery items under Dr. Anil Kumar's capable and active leadership. To assist a large number of farmers, he decided to help them and founded Ankita Overseas, a company that buys items from farmers at a fair price and then sells them on the global market. The company sells a variety of high-quality agricultural products, including foxnuts, lychee, and rice. All of these goods are available in about 43 different variants all around the world. Customers in various nations and continents, such as Africa and the Middle East, use the products.
Many people appreciate his work, and the National Education and Human Resource Development Organization awarded him the Rashtriya Udyog Ratha Award in 2011. Dr. Anil's contribution, hard work, and sacrifices are a lesson for everybody who wants to live a happy life. The virtuoso's efforts, hardships, and contributions are a lesson for everyone who wants to make a name for themselves and also at the same time, wants to contribute to the upliftment of the society.