Digital strike bluster on ban
Prasad becomes the first minister to articulate real intent of govt to use economic sanctions to extract revenge for the outbreak of hostilities in the Galwan Valley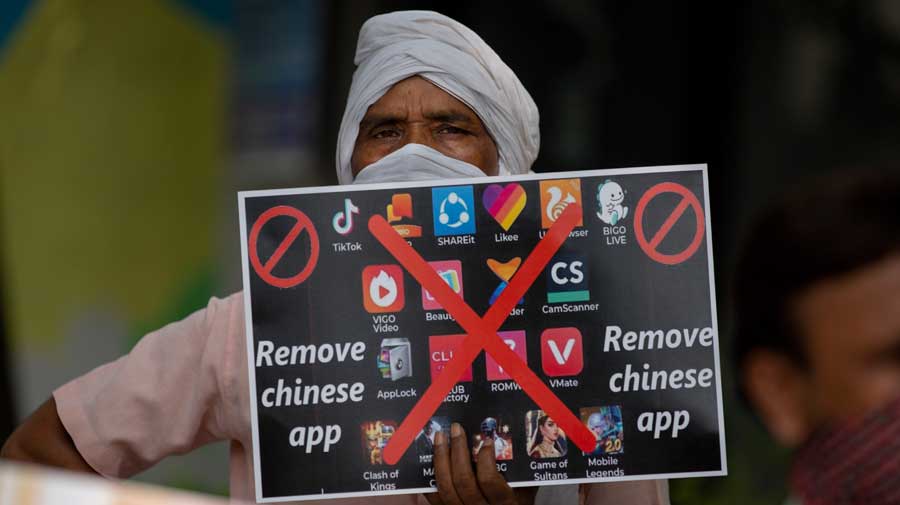 A man holds a placard with logos of Chinese apps during a protest against China in New Delhi on Tuesday.
AP
---
New Delhi
|
Published 03.07.20, 12:48 AM
|
---
Union IT minister Ravi Shankar Prasad on Thursday described the ban on 59 Chinese apps as a "digital strike" — thereby becoming the first minister to articulate the real intent of the government to use economic sanctions to extract revenge for the outbreak of hostilities in the Galwan Valley in which 20 Indian troops lost their lives.
Prasad was addressing a virtual BJP rally in Bengal, where the assembly polls are to be held in April next, with the polls in Bihar due in October. "We won't compromise on the issue of data security and national integration. India knows how to protect its borders and also knows how to carry out a digital strike," the minister said.
Meanwhile, a government panel set up to inquire into the data sharing practices of the 59 Chinese apps have formally approved the interim ban on the apps.
Representatives of the banned apps will be called before the committee over the next one week to explain their stand, officials said.
TikTok had ruled out legal action against the government. "There have been statements in the press concerning the possibility that TikTok might pursue legal action regarding the directive by the government of India. We have no plans to pursue such action," a TikTok spokesperson said.
According to a report published by China's state-run media The Global Times, ByteDance — the parent company of the TikTok and Helo apps — could lose up to $6 billion after the decision of the Modi government to ban the apps over security issues.
The report said ByteDance  could lose up to $6 billion. "A source close to ByteDance said that in the past few years, the company had invested more than $1 billion in the Indian market, and the ban could virtually halt ByteDance's business there, causing a loss as high as $6 billion.
"That figure would exceed the potential losses of all the other apps combined," the report said.
Foxconn supplies hit
India's additional scrutiny of imports from China has disrupted operations at plants owned by Apple supplier Foxconn in southern India, sources said, and other foreign firms are also facing delays as tensions between the two countries build.
Customs officers at Indian ports have held back shipments from China and sought additional clearances after deadly clashes at the disputed Himalayan border last month. The checks have been imposed without any formal order.
Meanwhile, India's trade deficit with China fell to $48.66 billion in 2019-20 on account of a decline in imports from the neighbouring country. Reuters