DGCA slaps showcause notice on Spicejet
The airline has failed to establish safe, efficient and reliable air services, says aviation regulator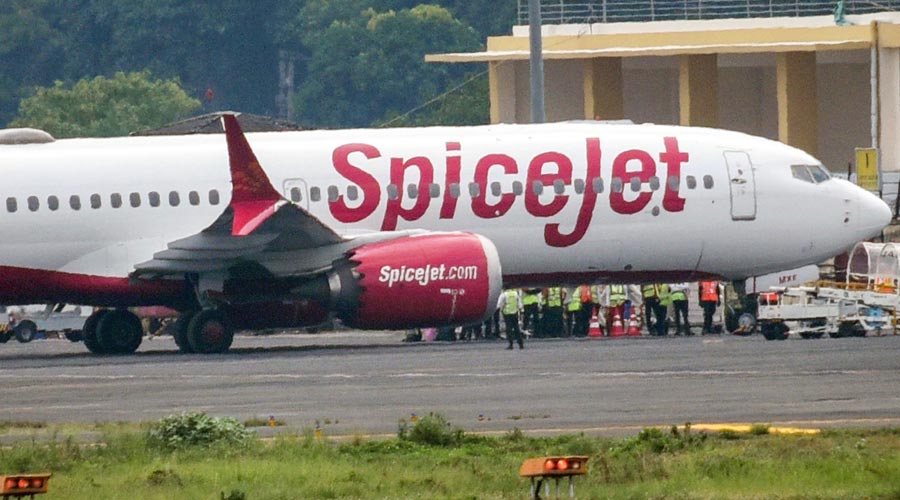 The DGCA has given the airline three weeks to respond to the notice.
Representational picture
---
New Delhi
|
Published 07.07.22, 01:11 AM
|
---
Aviation regulator DGCA has issued a showcause notice to SpiceJet on Wednesday following eight technical malfunction incidents in the last 18 days.
SpiceJet has failed to "establish safe, efficient and reliable air services" under the terms of Rule 134 and Schedule XI of the Aircraft Rules, 1937, the notice issued by the Directorate General of Civil Aviation (DGCA) stated.
"The review (of the incidents) transpires that poor internal safety oversight and inadequate maintenance actions (as most of the incidents were related to either component failure or system-related failure) have resulted in degradation of the safety margins," it added.
The DGCA has given the airline three weeks to respond to the notice. "Financial assessment carried out by the DGCA in September 2021 has also revealed that the airline is operating on 'cash-and-carry' (model) and suppliers/approved vendors are not being paid on a regular basis, leading to shortage of spares and frequent invoking of MELs (minimum equipment lists)," the notice read.
The airline chief Ajay Singh said a lot of these incidents are "minor" in nature but assured the carrier will be "doubly careful" and strengthen aircraft inspection. He told PTI that none of the incidents that have happened in the last few weeks have anything to do with shortage of parts.
A lot of these incidents that are being reported are relatively minor in nature and happen to every airline. This is nothing unique, he said.
Mark Martin of Martin Consulting said, "The financials of the airlines have been badly hit by the Covid-19 and the carrier needs at least Rs 4,000 crore in the next three weeks for the necessary safety measures, which seems like a daunting task….Would not be surprised if the airline is sold off in an overnight deal to Rakesh Jhunjhunwala, which is starting its own Akasa Air. The two carriers have lot of similarity."
Meanwhile, an engine of a Vistara aircraft on way from Bangkok failed after it landed at the Delhi airport on Tuesday but all passengers disembarked safely, officials of the aviation regulator DGCA said on Wednesday.
When approached for comments, the airline said the integrated drive generator (IDG) on the engine developed a "minor" electrical malfunction after it landed at the Delhi airport on Tuesday