Department of public enterprises brought under ministry of finance
Earlier, the DPE was part of the ministry of heavy industries and public enterprises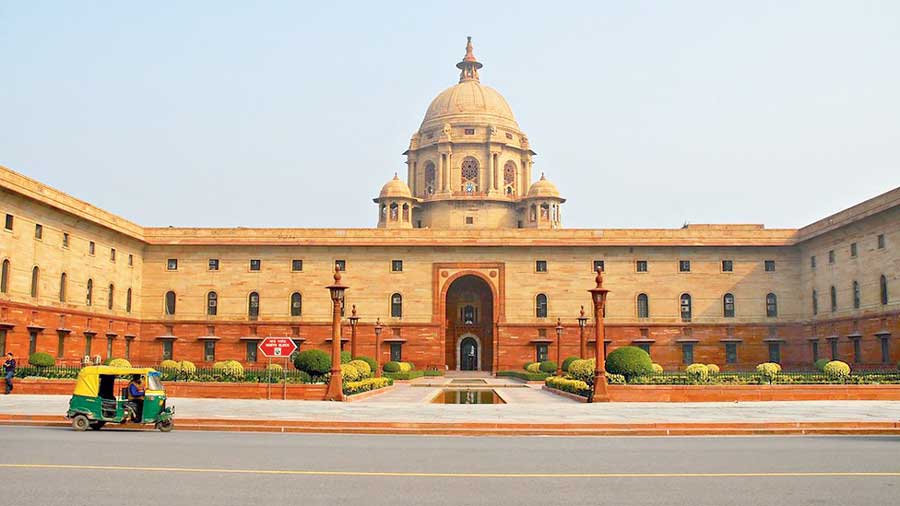 North Block.
File picture
---
New Delhi
|
Published 08.07.21, 01:35 AM
|
---
The department of public enterprises (DPE) has been brought under the ministry of finance ahead of Wednesday's mega cabinet reshuffle to enable North Block get a firmer grip on the government's privatisation process.
A new department called the department of public enterprises (or Lok Udyam Vibhag) has been created and parcelled out to the finance ministry. Earlier, the DPE was part of the ministry of heavy industries and public enterprises.
Many companies under the heavy industries ministry are sick and up for sale under the disinvestment programme of the government.
As many as 44 PSUs, including Maruti Udyog and the ailing Scooters India, will be shifted to finance from the heavy industries ministry, which will now have oversight only on capital goods PSUs. 
PSUs from  Bengal — Andrew Yule, Braithwaite, Burn Standard, Bengal Chemicals & Pharmaceuticals Limited and Hooghly Dock and Port Engineers Limited — also figure in this list.
According to experts, this move will help the government to speed up the privatisation of PSUs which have been in a slow lane because of several inter-ministerial consultations.
The expansion of the finance ministry's domain signals the growing importance of Nirmala Sitharaman.
In the budget, finance minister Sitharaman had unveiled an ambitious privatisation road map that envisaged a "bare minimum" of PSUs in four strategic sectors and 
privatisation or closure of 
the rest. 
A government notification provided the details of the 
role of the department of public enterprises, which will now be under the control of the 
finance ministry.
These include co-ordination of matters of general policies affecting all PSUs, evaluation and monitoring their performance, including the memorandum of understanding mechanism. It is the finance ministry which will now review the capital projects and expenditure of PSUs.
The ministry will also now take up issues relating to the revival, restructuring and the closure of sick PSUs, including the rehabilitation of the employees and offering them VRS. 
Besides the DPE, the finance ministry has five existing departments: economic affairs, revenue, expenditure, investment & public asset management and financial services. It is believed that as one department of the finance ministry is dealing with PSUs, bringing the DPE under the ministry would make co-ordination easier.
Earlier, the disinvestment ministry — created under the Atal Bihari Vajpayee government — was merged with the finance ministry and is now a department under it. The Foreign Investment Promotion Board (FIPB) was also abolished and administration of foreign investments was given to the finance ministry. 
Sitharaman in her Budget 2021-22 had announced a big-ticket privatisation agenda, including the privatisation of two public sector banks and one general insurance company.
As part of the disinvestment strategy for the financial sector, the government has decided to go for a mega initial public offering (IPO) of Life Insurance Corporation of India (LIC) and a residual stake sale in IDBI Bank during the current financial year.