Mistry family stake in Tata sons now at 18.6%
Cyrus Mistry vs Ratan Tata: Now we'll never know what really went wrong
Mystery of what led precisely to the boardroom coup that ousted him as Tata boss may remain unsolved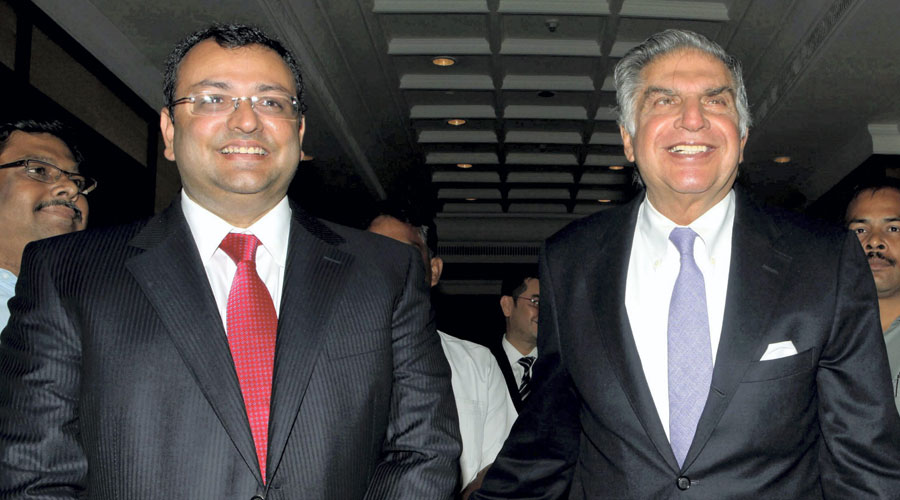 In this file photo, businessman and former Chairman of TATA Group Cyrus Mistry with industrialist Ratan Tata in Calcutta. Mistry died in a road accident in Palghar district on Sunday.
PTI
---
Published 05.09.22, 10:34 AM
|
---
What precisely went wrong between Tata Sons' chairman emeritus Ratan Tata and his chosen successor Cyrus Mistry that led to one of the biggest boardroom bust-ups in India's corporate history now will likely never be known following the tycoon's death at the weekend in a road accident at the age of 54.
Mistry, the scion of one of India's best-known business families, was catapulted into the limelight when he became the surprise successor to then group chairman Ratan Tata. It was particularly unexpected because Mistry had been a part of the headhunting committee searching for the autos-to-steel group's next chief. But Ratan Tata justified the pick, saying: "I have been impressed with the quality and calibre of his participation, his astute observations and his humility." Ratan's warm feelings toward Mistry, though, very swiftly began cooling.
Mistry started out as the Tata Sons deputy chairman with Ratan as his mentor. He was only the second top official not to carry the Tata family name. He became chairman in 2012. Four years later it all ended with one of the most public bust-ups in Indian corporate history. Mistry was sacked with seven of nine Tata Sons board members voting against him. Ratan Tata insisted Mistry had been asked to resign but refused.
Mistry, who was 54, leaves behind his wife Rohiqa and two sons, Firoz and Zahan. His father Pallonji Mistry died, aged 93, in June. Two generations of the Mistry family had built up their Shapoorji Pallonji Group into a giant globe-spanning construction giant with multifarious other business interests. At the time of his death, Pallonji Mistry was worth $29 billion, according to the Bloomberg Billionaire Index. Cyrus has an elder brother Shapoor. Cyrus oversaw the company's shift from pure construction to projects involving oil and gas and the marine and rail sectors.
Crucially, Palloonji Mistry's father had bought a stake in Tata Group holding company Tata Sons in the 1930s. That's currently an 18.6 per cent stake, making the Mistry family the largest single shareholder in Tata Sons apart from the Tata Trusts, charities that own 66 per cent of Tata Sons. A second Tata connection was via Cyrus's sister, Aloo, who is married to Noel Tata, Ratan's half-brother.
Cyrus Mistry was angered by his dismissal and alleged serious governance breaches that Ratan denied. He took the dispute to court where the National Company Law Appellate Tribunal ruled in his favour in March. But that decision was overturned by the Supreme Court which ruled his dismissal was legal.
What soured exactly between Cyrus and Ratan will probably remain buried by many layers of secrecy. Before he took over, one member of the selection committee was quoted as describing him as having a "stable head and good vision. He doesn't just jump up and down and he has a long-term view of investment."
After taking over, Cyrus had moved decisively to assert his control over the group amid the expectation that he would put order into the sprawling empire's finances. Besides being Tata Sons chairman, he also installed himself as the chairman of all the key group companies including Tata Steel, TCS, Tata Motors, Tata Power, Indian Hotels and Tata Global Beverages. In addition, he had brought in his own team of advisors and managers including top management consultant Nirmalya Kumar and N. S. Rajan, who became the head of human resources which may have also caused friction with the older players in the Tata Group.
By and large, Cyrus kept a very low profile, hardly ever meeting the press, during his time as chairman of Tata Sons. But under Cyrus's leadership, problems, largely stemming from earlier years before he took over, started emerging.
When Ratan Tata and Mistry fell out, Mistry was moving to divest some of the lossmaking foreign steel plants that Ratan had been pivotal in acquiring for the group that had turned into expensive albatross. There may also have been differences about the Tata Group's aviation interests. What is certain is that the Tata Group was still heavily dependent on TCS which has steadily generated huge profits. And there were also differences about future investments in Tata Teleservices.
Also, while Ratan had announced he was retiring, he kept a foot in the door as the chairman of the Tata Trusts and Mistry complained that he was interfering with his plans.  
What is certain is that Ratan was reluctant to move away totally from the group. After his exit, Tata Sons issued a statement justifying his sacking by saying the group's performance under Cyrus had been weak and that he had been seeking to "consciously dismantle" the group's traditional structure. Ratan resumed his role as head of Tata Sons on an interim basis while a successor to Cyrus was found. After leaving the Tata Group, Cyrus had returned to the Pallonji Mistry group which was facing its own problems.
Cyrus attended Cathedral & John Connon School in Mumbai and after graduating from there earned an undergraduate degree in civil engineering from Imperial College, London, and a master's degree in management from the London Business School. He became director of the family's flagship construction company in 1991, Shapoorji Pallonji & Co. Three years later, he became the company's managing director. Under his watch, the company's turnover grew from a mere $20 million to nearly $1.5 billion. The Mistry family were members of Mumbai's Parsi community.
He and his older brother Shapoor Mistry set up a venture capital firm Mistry Ventures LLP in 2018 after his Tata ouster.