In fourth tranche of economic package, FM opens up mining, defence, aerospace to private players
Cong attacks govt for not addressing demand slump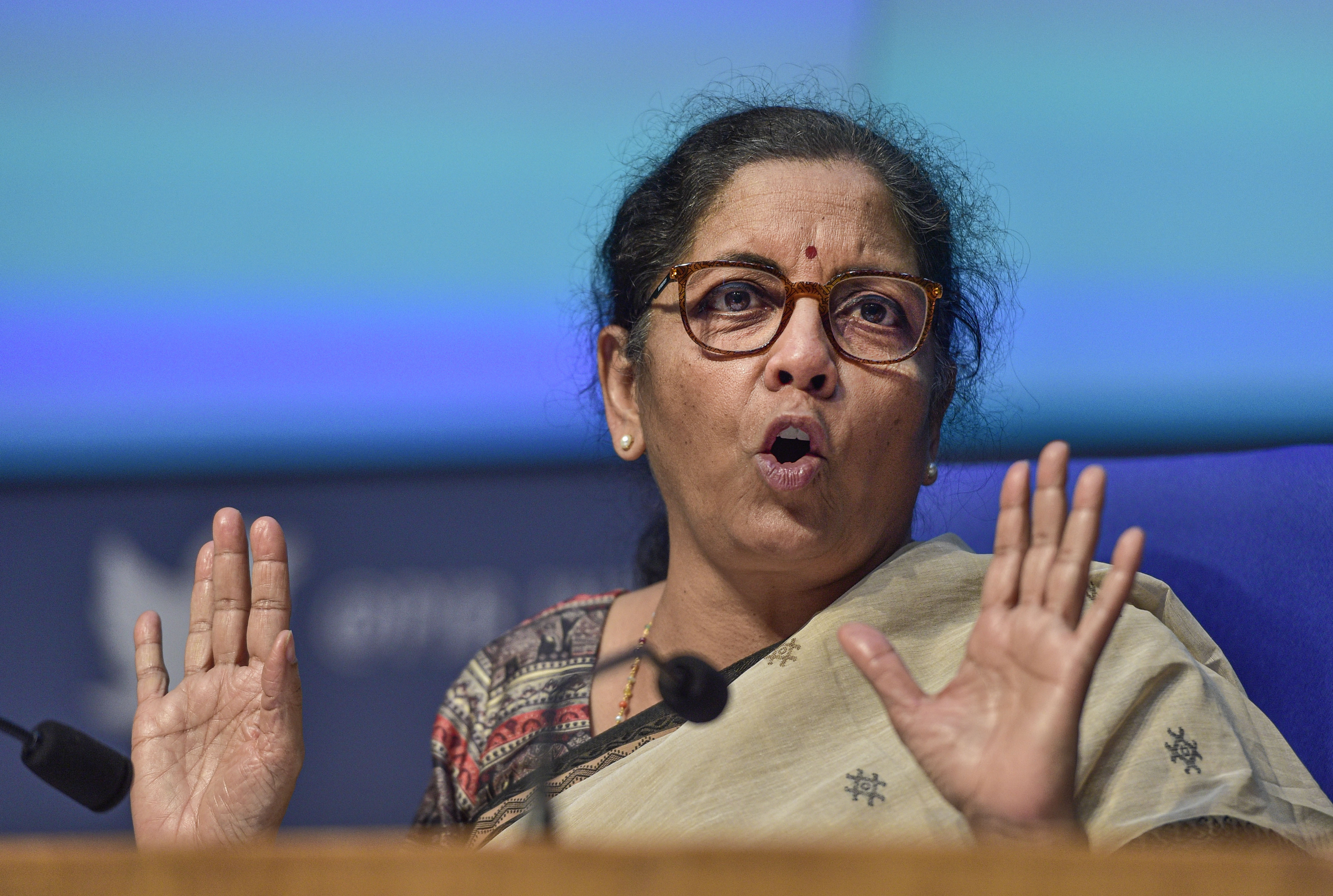 Union Finance Minister Nirmala Sitharaman addresses the fourth part of her press conference on the economic stimulus package announced by Prime Minister Narendra Modi, at the National Media Centre, in New Delhi, Saturday, May 16, 2020.
PTI
---
New Delhi
|
Published 16.05.20, 04:10 PM
|
---
The government will end its monopoly in mining and open a range of other sectors including aerospace, defence, power and atomic energy to private players as part of its Rs 20-lakh-crore effort to give the economy a kickstart in the wake of the Covid-19 slowdown.
Finance minister Nirmala Sitharaman, announcing the fourth in a series of five economic stimulus packages, said on Saturday: "The structural reforms being announced today will impact those sectors which are the new horizons of growth."
The measures included raising the foreign direct investment cap in the defence sector through the automatic route to 74 per cent from 49 per cent, offering more airports on a PPP model and a drive to boost private sector investment in social infrastructure projects.
But critics said that while economic reforms are welcome, the government's stimulus plan lacks one key element -- boosting demand in the economy that has cratered on the back of the coronavirus pandemic. About half of the bailout is comprised of monetary measures announced by the Reserve Bank of India since February while other government announcements have involved offering credit lines to small business and other entities.
"Will a single measure announced today address the single biggest problem facing Indian industry today -- the slump in demand? No," senior opposition Congress leader Jairam Ramesh tweeted.
The latest measures announced by the government came as India overtook China in the number of Covid-19 cases, making it Asia's leading coronavirus hotspot.
Airport auction
Sitharaman proposed opening up more air space for civil aviation, auctioning of six additional airports utilising the private-public partnership (PPP) model and bolstering aircraft maintenance infrastructure to reduce airlines' upkeep costs.
She estimated reducing curbs on Indian air space use will generate Rs 1,000 crore annually in benefits for the civil aviation sector. Right now, she said, just 60 per cent of India's airspace is open to civil aviation and boosting that figure would cut travel time as well as fuel costs.
'Not just civil aircraft but defence aircraft can also benefit from the MRO if we make India a huge hub," Sitharaman said. "Maintenance costs for all airlines will come down and that again will have a ripple effect on passengers. Travellers can probably pay less after that,' she said. The Economic Survey has calculated the annual import of MRO services by Indian carriers at Rs 9,700 crore rupees.
End of monopoly
In the energy area, the government will end its monopoly on the coal sector and allow commercial coal mining by the private sector on a revenue-sharing basis in a move aimed at reducing coal imports and make India more self-reliant in coal production. In addition, nearly 50 coal blocks will be offered for bidding.
Lower defence import bill
Aside from raising the FDI cap through the automatic route in defence, some weaponry now will only be allowed to be purchased locally in a move that will lower the vast import defence bill.
To speed slow-moving defence decision-making and procurement, a time-bound process will be instituted that will involve setting up a project management unit to oversee contract management. Ordnance Factory Boards will be "corporatised" for better management and eventually be listed on the stock market, she said.
Space programme
The government also plans to allow the private sector to play a role in India's space programme in such areas as satellites, launches and space-based services. The private sector will be allowed to use ISRO facilities to improve their capacities. Also, the private sector will be able to take part in planetary exploration and outer space travel.
Also, electricity distribution firms in Union Territories will be privatised and a tariff policy will be guaranteed that will not make consumers pay for distribution companies' operating inefficiencies.
To help tackle the Covid-19 pandemic, Sitharaman said the government will supply Rs 8,100 crore in funding for social infrastructure development. Also, the government will invest Rs 50,000 crore for building evacuation infrastructure.
Sitharaman plans to unveil the fifth and final tranche of the Central government's proposals for galvanising the economy on Sunday.