Govt plans 'coherent' PSU policy to involve more private players
Boost for e-learning, Rs 40,000 cr more for MGNREGS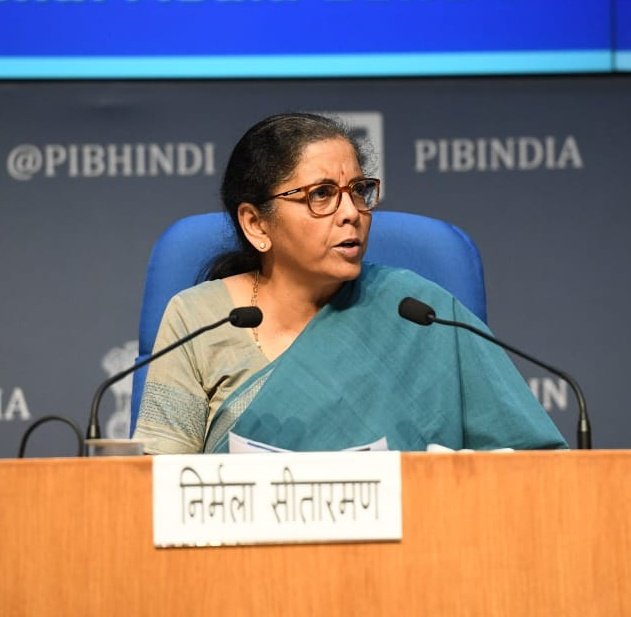 Finance minister Nirmala Sitharaman at a presee briefing to announce the fifth tranche of economic package provided by the government, in New Delhi, Sunday, May 17, 2020.
Twitter/@PIB_India
---
New Delhi
|
Published 17.05.20, 07:45 AM
|
---
The fifth and final tranche of the economic stimulus package to deal with the economic fallout of the Covid-19 pandemic, announced by the finance minister Nirmala Sitharaman on Sunday, focuses on reforms in businesses, MGNREGA, healthcare and education and the Companies Act.
She said a new 'coherent' public sector enterprises policy will be formulated that will define strategic sectors which will have not more than four PSUs.
List of strategic sectors requiring presence of public sector undertakings (PSUs) in public interest will be notified, she said while announcing her fifth and final economic stimulus package at a time when the country is about to enter the phase 4 of lockdown and the number of coronavirus cases has crossed 90,000.
In strategic sectors, at least one enterprise will remain in the public sector but private sector will also be allowed. In other sectors, PSUs will be privatised.
'To minimise wasteful administrative costs, number of enterprises in strategic sectors will ordinarily be only one to four; others will be privatised/merged/brought under holding companies,' she said.
On the rural job scheme, Sitharaman said that Rs 40,000 crore would be spent in addition to the Rs 61,000 cr budgeted earlier.
Also, public expenditure on health will be increased, she said without giving details while investments in grassroots health institutions would be ramped up.
She said a programme for multi-mode access to digital or online education would be launched immediately.
Also, one earmarked TV channel per class from 1 to 12 (one class, one channel) would be part of this, she said.
Top-100 universities will be permitted to automatically start online courses by May 30, 2020, she said.
Highlights of Sunday's announcements:
'Lots of migrant workers are going back to their states. Additional Rs 40,000 crore to this scheme for migrants who have gone back to their home states. This is to ensure that these workers find jobs in their home-states,' Nirmala Sitharaman said, according to PTI and NDTV.com.
Infectious diseases block will be built in all district hospitals. Laboratory networks in rural area not being adequate, public health labs will be built at block levels. Investments in grass-root level will be ramped up in terms of both clinics and wellness centres. The emphasis will be on hospitals and labs - both private and publicly funded, the minister said
Learning from pandemic, the country's top 100 universities will be automatically start online courses by 30 May 2020 as part of the Prime Minister's e-vidya programme.
There will also be extensive use of radio and podcasts and special e-content will be generated for visually and hearing impaired children.
With many students suffering from stress and needing psychological support during this lockdown, an initiative for psychological support of students, teachers and families is being launched immediately. This will be called Manodarpan.
With many businesses being severely affected due to the pandemic, Debts due to Covid-19 will not be included in defaults. No insolvency proceedings will be initiated against firms in such cases for up to one year, the government said.
On MSMEs (Micro, Small and Medium Industries), a special insolvency framework will be notified under Section 240 A of the Insolvency and Bankruptcy laws. From Rs 1 lakh, the insolvency proceedings limit has been raised to Rs 1 crore. This will be in the form of an ordinance, to be passed in Parliament once it is in session.
On measures already taken, Sitharaman said during the coronavirus-induced lockdown, Rs 16,394 crore had been paid to 8.19 crore farmers under the Rs 2,000 free cash dole scheme of PM Kisan.
Old-age beneficiaries and others had been paid first instalment of Rs 1,405 crore and a second one of Rs 1,402 crore.
She also said that as much as Rs 10,025 crore has been transferred to 20 crore women Jan Dhan account holders. Also, 6.81 free LPG cylinders have been given to poor.
Last week, the government pledged a Rs 20 lakh crore (nearly 10 per cent of GDP) package to support the economy headed for its first full-year contraction in more than four decades.
This included March 27 announcement of Rs 1.7 lakh crore package of free foodgrain and cash to poor for three months and the Reserve Bank of India's Rs 5.6 lakh crore worth of liquidity measures since March.
Further to this, the government last week announced a cumulative package of Rs 10.73 lakh crore, mostly in liquidity measures with negligible extra-budget spending. The measures included a variety of steps for small businesses, street vendors, farmers and poor migrants as well as shadow banks and electricity distributors, but they have largely been either credit guarantee schemes or new fund creations to be shouldered by banks and financial institutions.
The government's cash outgo is limited to a maximum of Rs 18,500 crore on free foodgrain and affordable housing to migrant workers as well as limited tax relief and marginal dole to some companies on employee retiral benefits.
On Saturday, the government announced a hike in foreign investment limit in defence manufacturing and opened up space facilities while giving a new push to reforms of commercial coal mining, mineral block auction and privatisation of power distribution as it sought new investments to help shore up an economy hit by the coronavirus pandemic