Auctions vault coal ambition
Modi launches bid for 41 mines for commercial mining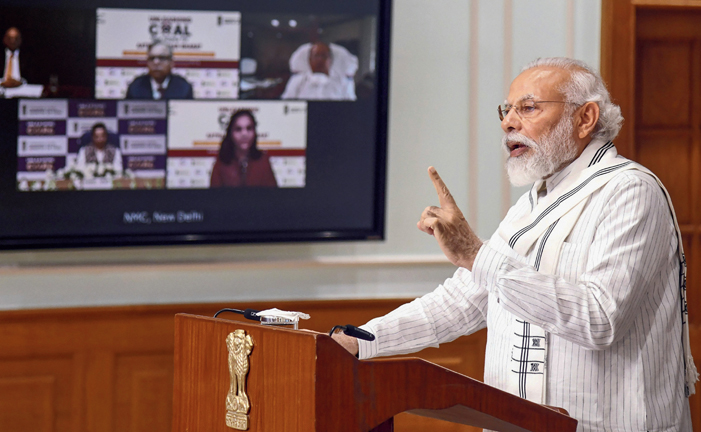 ---
---
Prime Minister Narendra Modi on Thursday launched the auction of 41 coal mines for commercial mining.
Launching the virtual auction which expected to garner Rs 33,000 crore of capital investment over the next 5-7 years, the Prime Minister said it is a major step in achieving "self-reliance" and added that the coronavirus pandemic has taught India to be self-reliant.
The launch of the auction process not only marks the unlocking of the country's coal sector from the "lockdown of decades", but also aims at making India the largest exporter of coal, Modi said.
Despite being the world's fourth-largest producer at present, he said India is the second-largest importer of the dry-fuel.
India should be the world's biggest coal exporter considering the size of the reserves, Modi said lambasting past policies of keeping the sector closed.
"For decades, the coal sector was entangled in a web of captive and non-captive. It was excluded from competition, there was a big problem of transparency," he said.
"After 2014, several steps were taken to change this situation. Coal sector got strengthened due to steps taken," he said.
The Prime Minister also said that the government has set an aim of gasification of 100 million tonnes of coal by 2030 with an investment of Rs 20,000 crore.
"We have kept an aim that by the year 2030, which means in this decade, around 100 million tonnes of coal should be gasified.... For this, four projects have been identified and in them around Rs 20,000 crore would be invested," he said.
Reforms done will have a positive impact on power, steel, fertiliser, aluminium and cement sectors, he said and added reforms in the coal sector will benefit the eastern and central India, the regions rich in coal and minerals which houses many aspirational districts.
"Several coal blocks put up for auction today fall in dense forest areas classified as 'no-go' jointly by the environment ministry and Coal India in 2010. A doubly disastrous decision from an ecological point of view with terrible public health impacts," Jairam Ramesh, senior Congress leader and former environment minister, said.
Ramanuj Kumar, partner, Cyril Amarchand Mangaldas, said: "Launch of auction process for commercial coal mining is a transformative reform in the energy sector. However, environmental concerns on coal projects and permitting delays are likely to result in muted interest from international investors. We are expecting strong interest from domestic mining and power companies since bid terms are attractive as compared to other mining auctions."
The PM said that this auction process will result in major revenues to states and create employment.
"The coal blocks that are getting auctioned will provide lakhs of jobs in these areas. The government will spend Rs 50,000 crore for creating infrastructure around coal mining. In a way poor and underprivileged will be served through coal," he said.
Coal and mines minister Pralhad Joshi, who was also present during the launch, said Rs 50,000 crore is being invested in the sector to jack up India's coal output to 1 billion tonnes.
Upon attainment of peak rated capacity of production of 225 million tonnes (MT), the government said, these mines will contribute about 15 per cent of the country's projected total coal production in 2025-26.
It will also lead to employment generation for more than 2.8 lakh people — direct employment to approximately 70,000 people and indirect employment to approximately 2,10,000 people, according to the government.
Of the 41 blocks put on sale, 34 are fully explored, four are partly explored and three are regionally explored. Eleven of these mines are in Madhya Pradesh, followed by nine each in Chhattisgarh, Odisha and Jharkhand and three in Maharashtra.
The mines include Bander (Maharashtra), Brahmadiha (Jharkhand), Chendipada (Odisha), Fatehpur East (Chhattisgarh), Gotitoria East (Madhya Pradhesh).
All types of coal blocks are available for bidding as there are 37 non-coking, two coking and two combo mines i.e. coking plus non-coking, the coal ministry said. Similarly, choice of all categories of mines was available to opt from the basket of 26 opencast, seven underground and eight underground-cum-opencast mines, it added.
Mines with varied sizes of coal reserves have been put for auction with 31 mines having up to 500 million tonnes (MT), four mines over 500 MT to up to 1,000 MT, three mines over 1,000 mt to 1,500 mt and remaining three mines having over 1,500 mt to 2,000 mt geological coal reserves.
The coal ministry said that 27 mines have peak rated capacity up to five million tonnes per annum (MTPA), nine over five MTPA up to 10 MTPA and remaining five mines having more than 10 MTPA capacity.
The methodology approved by CCEA provides that the bid parameter will be revenue share, the government had said adding that bidders would be required to bid for a percentage share of revenue payable to the government.
"The floor price shall be four per cent of the revenue share. Bids would be accepted in multiples of 0.5 per cent of the revenue share till the percentage of revenue share is up to 10 per cent and thereafter bids would be accepted in multiples of 0.25 per cent of the revenue share," the coal ministry had said. There will be no restriction on the sale and/or utilisation of coal from the coal mine.