Coronavirus crisis: Indian electronics, medicine industries hit, but hope for turnaround
Apple may have to push back low-cost phone launch, Tata-owned Jaguar fighting to keep shop floor running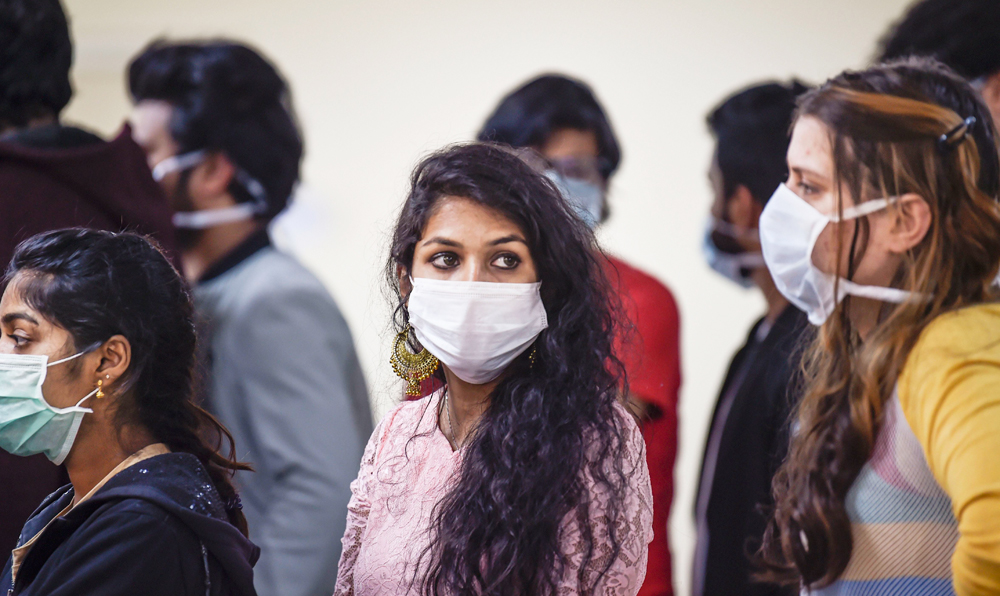 Indians who were air-lifted from Wuhan following the out-break of the deadly novel cornavirus, prepare to leave following their release from the ITBP quarantine facility, at Chhawla, in New Delhi, Monday, February 17,2020.
(PTI)
---
New Delhi
|
Published 19.02.20, 10:02 AM
|
---
India's tourism is taking to its bed and the pharmaceuticals industry faces being laid low by China's fast-spreading coronavirus epidemic. Cancellations are coming in from tourist groups both from China and South East Asia and European travellers are scrapping planned jaunts to Kerala where three coronavirus cases have emerged.
Indian pharmaceutical companies risk fallout from the fast-spreading virus because nearly 70 per cent of bulk drugs from which formulations are made come from China. And for many crucial antibiotics and anti-fever medications, Indian firms are almost totally dependent on Chinese active pharmaceutical ingredients, otherwise known as APIs, which are the substances that go into drug formulations.
China has cornered the market for APIs as they produce them at prices cheaper than anywhere else in the world. Years ago, Indian companies found themselves unable to compete with the state-supported Chinese API firms, and gave up the battle to produce them. Prices of some antibiotics have already risen by 15 per cent to 50 per cent.
Is there a lesson to be learnt for Indian companies? Definitely, and the word is diversify. They can't hope to compete with China on costs, but they need to ensure they don't rely on one country as the source of their supplies.
Finance minister Nirmala Sitharaman met industry representatives on Tuesday and said afterwards there were no shortages but industries like pharmaceuticals and chemicals had been strongly impacted.
Also in the high-risk category is the electronics industry – everything from mobile phones, to white goods like TVs and air-conditioners and PCs and other tech products – that depends on China both for components and finished products.
On the hopeful side, industry experts say they're getting reports from China that their suppliers are slowly starting up and hope to be back at near full production soon.
"We hear that things are fast coming back to normal. Many companies say that over the next two weeks all the workforce should be back," says George Paul, CEO, MAIT, which represents the tech industry.
Paul reckons that some Indian electronics companies will lose a total of up six weeks of production and that Chinese companies should be back to full swing in March. Ironically, Indian firms -- at least for now -- have been saved from heavier losses because they keep stocks for one to three months because of logistics challenges.
In Korea, companies that work according on a just-in-time basis, have had to shut production. He, however, adds that Indian companies may have lost production if they've run short of key high value components.
A study by the Financial Times says that in 2018 India's electrical and electronics industries got around 45 per cent of parts and components from China. Also, Apple has indicated its production schedules could be hit and that it will probably have to push back the launch of its low-cost phone, which could have implications for markets like India.
Tata-owned Jaguar Land Rover (JLR) is another Indian company that's battling to keep production going by flying in parts in suitcases from China. The BBC reported JLR chief Ralf Speth told an event in Coventry: "We are safe for this week and we are safe for next week and in the third week we have... parts missing."
Tata Motors chief Guenter Butschek also added: "We are safe for the month of February and a good part of March."
Paul adds globally, large corporations and their financial-sector backers have taken note that this is the third epidemic to emerge from China in the last quarter-century and they're increasingly coming to the conclusion that companies should find other venues to base production.
India, he says, should seek to seize the opportunities when they present themselves.
'Emergency far from over'
The medical emergency that's shut down much of the world's most-populated country is far from over and the latest reports are that over 150 million people are in a state of lockdown, not allowed to move around freely. Deaths this week have included the medical director of a hospital in Wuhan.
The SARS epidemic in 2003 also had a strong impact on Chinese industry but it came at a time when China was not such a vital player in the global economy. Today, China is the world's second-largest economy and part of the global supply chain for any number of finished products and components. It accounts for 13 per cent of global exports and 11 per cent of imports.
Global growth to take 0.5 per cent hit
Economists and governments reckon that the current health crisis could knock 0.5 per cent off global growth for this financial year.
Demand for crude oil is also expected to fall by around 30 per cent. A worst-case scenario outlined by economic forecaster Oxford Economics is that coronavirus could turn into a pandemic and knock 1.3 per cent or $1.1 trillion off global growth.
Also, China is now a key player in India's industry, exporting everything from solar panels to fertilisers, chemicals and textiles. And while China has muscled India out of many higher-value sectors, India supplies it with fabric, yarn and other raw materials. Cotton yarn exports are expected to plunge by up to 50 per cent, this year according to a CII report.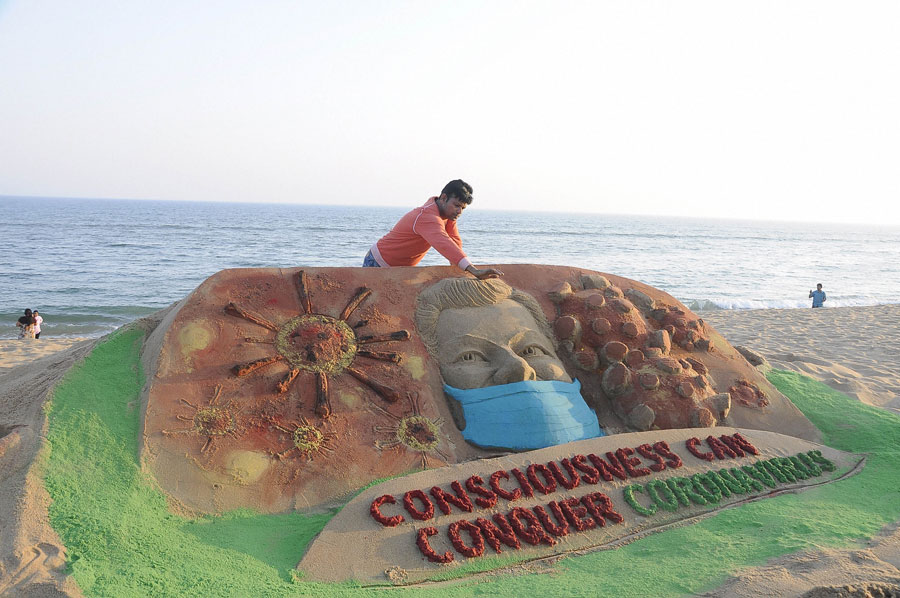 Bad news for solar power
The solar power sector could also be hit badly by the health crisis because work by the government has stalled in eight provinces where key manufacturers are located. Companies that make photovoltaic cells for the industry are also heavily present in provinces like Guangdong and Anhui which have been impacted by shutdowns.
Transportation in China, too, has been particularly badly hit by the shutdown. The trucking industry is making fewer trips and even those vehicles that are on the road have been slowed by officials demanding health certificates from drivers.
In addition, China's aviation industry has taken a huge hit with almost 80 per cent of domestic flights being cancelled as the number of domestic travellers monthly has nose-dived to four million from 14 million. Japanese, Taiwanese and Thai airlines have also been heavily impacted.
The shipping industry, too, has almost come to a stop because ships are avoiding Chinese ports or being prevented from docking. This has also affected Indian ships which are facing lower returns with freight rates on the Baltic Freight Index have fallen to an all-time low.
Ships in deep water
Says CII: "There are serious concerns regarding the overall earnings of Indian shipping companies in the first quarter of 2020. There has been a sharp drop in the dry bulk cargo movement since the third week of January 2020, as the shutdown in China has meant ships cannot enter Chinese ports. Further, as per our members, realisation per day per vessel has declined by more than 75 per cent to 80 per cent in dry bulk trade."
One of the heavily impacted companies is Oyo, the hi-tech hotel chain which has 19,000 units in China. Oyo has reported heavy losses for the year but hasn't detailed specifically how it has been hit.
The Hilton chain has, however, said 150 of its hotels in China are closed and earnings could be hit by up to $50 million.
Opportunity for India?
One upside for commodity-deficit India is that items like copper have also been impacted globally and seen prices fall. This is because the Chinese real-estate industry has almost ground to a halt and players in the sector have been told not to hold meetings with clients to prevent the spread of the virus.
Global corporations had been moving out of China to other countries like Vietnam and Indonesia even before the US-China trade war turned ugly. The coronavirus could speed up that movement and India should be ready to offer attractive conditions and terms for multinationals scouting for new production centres.
For now, companies and governments can only cross their fingers and hope that the epidemic peters out in the coming weeks. Otherwise, there could be shortages of all kinds of products on a global scale.
(An earlier version of the story was published on February 19)