Coal India in venture with NLC for power projects
Aim is to produce 3000MW of solar and 2000MW of thermal power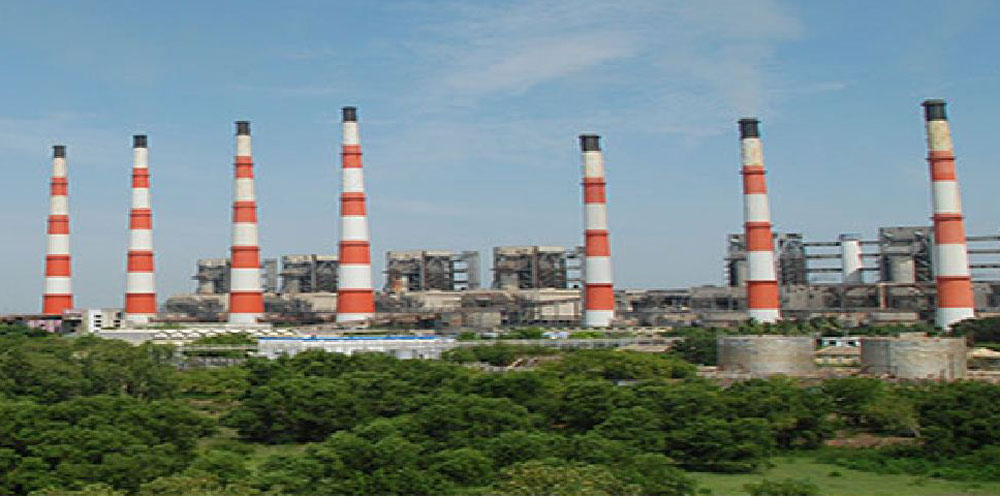 ---
|
Calcutta
|
Published 08.10.18, 07:53 PM
---
Coal India has inked a pact with NLC India Limited (formerly Neyveli Lignite Corporation) to generate power from both conventional and renewable sources.
The public sector miner in a statement to stock exchanges said a memorandum of understanding has been signed with NLC India here on Monday to form a joint venture company for 3000MW of solar power and 2000MW of thermal power projects. The cumulative investment in the projects is estimated at Rs 12,000 crore, sources said.
Coal India sources said there were two reasons for the joint venture. First, the PSU is looking to increase its own consumption of renewable power and second, it is exploring the possibility of power plants at pitheads where costs will be low.
The joint venture would have equal equity participation and has set a deadline of 15 months to complete the solar power project and four years for the thermal power project.
The projects would be financed through a debt equity ratio of 70:30, according to Central Electricity Regulatory Commission norms.
The companies are working on a concept paper that will be submitted to their boards for a clearance.
The solar power projects will be set up in identified barren and reclaimed free land of Coal India and also across the country where land is available. The cumulative land required is estimated at around 15,000 acres. The memorandum also extends to thermal power generation across CIL's subsidiaries.
"This is a synergistic step, combining the resources of both the companies for a common goal. Coal India will be riding the core technical expertise of NLC in thermal power generation and solar PV power," a CIL official said.
At its AGM last month, Coal India chairman Anil Kumar Jha had said steps were being taken to build a capacity of 3000MW in solar power.
The PSU has already submitted a green energy commitment letter to the ministry of new and renewable energy to develop 1000 MW solar power projects. It has also signed a memorandum of understanding with the Solar Energy Corporation of India.
In the first phase, Coal India had floated a tender for two solar PV project in Madhya Pradesh of 100MW each.
However, the tender was cancelled because of the falling price of solar power and problems of land availability in Madhya Pradesh.
The PSU has floated the tender once again.
"The company is aware of the importance of environmental issues and ties to the extent possible to restore the environment and nature to its original pristine condition," Jha said in his AGM speech.
Coal India has also planned a 1600MW thermal power project at Sundergarh district in Odisha that will be implemented through its subsidiary Mahanadi Coalfields.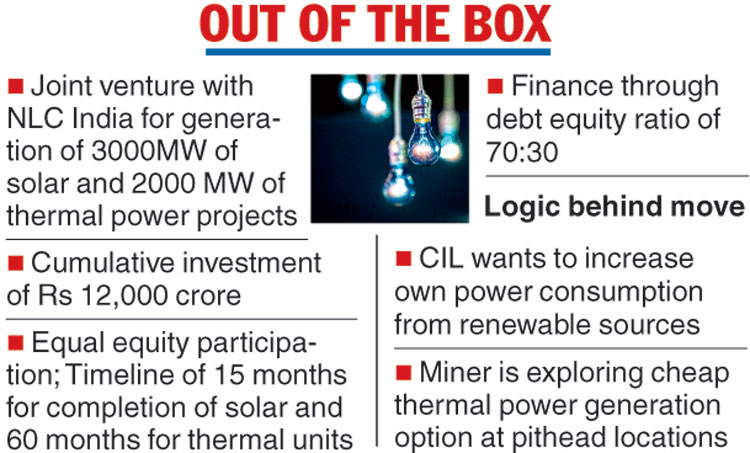 Alternative energy
The PSU is also exploring alternative energy such as coal bed methane extraction and has planned a coal based methanol plant at Dankuni Coal Complex of South Eastern Coalfields Limited.
Binay Dayal, director technical, Coal India, has signed the memorandum on behalf of the company, while Nadella Naga Maheswar Rao, director (projects and planning) signed on behalf of NLC.