Capesize vessel from Australia anchored off Sagar Island
If the one-off movement can be made a regular affair during the rainy season, it may extend a new lease of life for Calcutta and Haldia's riverine port system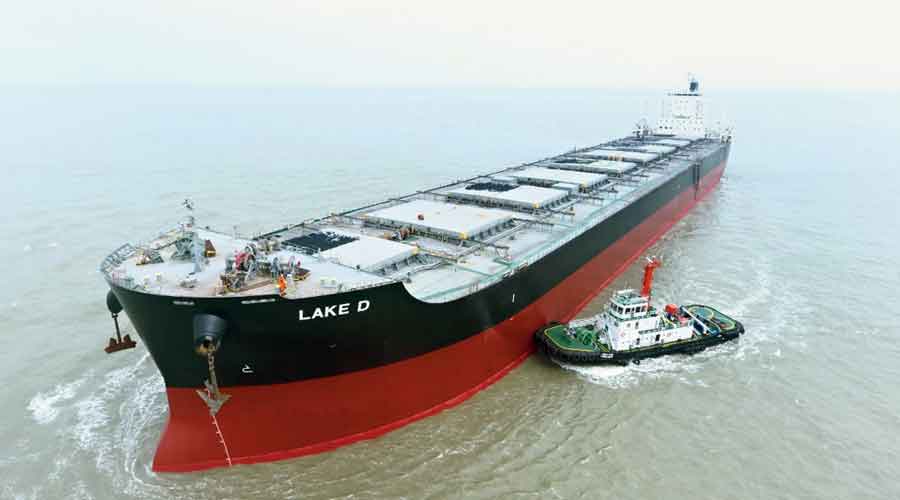 ---
Calcutta
|
Published 09.06.21, 03:39 AM
|
---
A ship nearly twice the size of a standard football pitch has anchored off the Sagar Island, bringing thermal coal from Australia for the cement plants in Nepal.
The capesize vessel, the jumbo class of ships which rule the seaborne movement of bulk cargo across the globe, has come to the port at Calcutta for the first time during the monsoon season, bringing significant advantage for trade in the eastern region.
If the one-off movement can be made a regular affair during the rainy season when the sea gets rough, it
may extend a new lease of life for the riverine port system around Calcutta and Haldia, which has been struggling to find a way to accommodate big ships.
Industry expects a 10-15 per cent benefit in the overall cost to move cargo from Sagar to Haldia in comparison to bringing smaller ships with lower parcel loads (average 18,000-20,000 tonnes).
"We have been handling cape vessels during winter at sandheads where the river draft is higher. But the operation can not be done between April and September. If the operation at Sagar becomes regular, the port can now handle such large vessels round the year," Vinit Kumar, chairman of Syama Prasad Mukherjee Port, Calcutta (SMP), explained.
Three out of 10 ships sailing globally are capesize, which can carry 180,000 tonnes of cargo in a single voyage.
The marine industry trend is rapidly gravitating towards bigger ships to drive down logistic costs.
"If we have to be future ready, then the port must find a way to handle capesize vessels round the year. Hopefully, this exercise will encourage trade to get such ships at regular intervals," Kumar added.
Alip Dutta, shipping agent for M.V. Lake D, which carries the Panama flag, said the end user benefits both on account of marine charges as well as cargo handling charges.
"We are getting discounts for handling large volumes which we are passing on to the trade," he explained.
The ship, manned by a 20-member Filipino crew, has carried 66,000 tonnes of steam coal, after discharging 95,810 tonnes at Vizag. It sailed from Abbot Point in Australia on May 10 before calling at Vizag before refuelling at Singapore.
Coal will be discharged from the ship by a crane to smaller barges of 5,000 tonne capacities, which will come to Haldia. It will then be put in freight trains that will go to Raxaul in Nepal.