The government's much vaunted capital expenditure figure for the next fiscal has been inflated by a number of off-budget expenses, analysts said. Finance minister Nirmala Sitharaman on Tuesday said the capital expenditure next fiscal would be higher by Rs 2 lakh crore that led to the Sensex rising almost 1,500 points in two sessions on budget day and Wednesday.
But an estimate by a top analyst of brokerage Credit Suisse puts the figure at just Rs 65,000 crore.
Although analysts have differed over the actual hike in capex, there is a broad consensus that the payment of past liabilities of central government entities — or off-budget expenses — has crept into the capex figures.
"Amongst other issues, part of this difference is on account of the central government absorbing some hitherto off-balance sheet exposures on to its books. For 2021-22, the government has counted capital infusion and loans of Rs 50,000 crore to Air India for the settlement of past liabilities, prior to its sale to the Tata group, as capital expenditure," senior India analyst Ananth Narayan said in a note to Observatory Group.
"Likewise, in 2022-23, Rs 80,000 crore of prior off-balance sheet government liabilities with NHAI and telecom firm BSNL are likely being absorbed as capital expenditure on government books,'' Ananth Narayan said.
Giving a break-up of the Rs 2 lakh crore excess sum, Credit Suisse's Neelkanth Mishra said of this amount, Rs 1 lakh crore is the 50-year interest free loan for assisting the states in catalysing investments.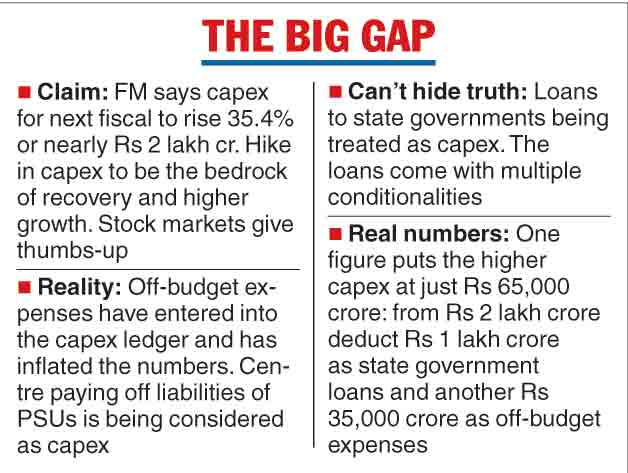 On Tuesday, Amit Mitra, the former West Bengal finance minister, said these loans came with five conditionalities. He said another Rs 20,000 crore comes from the Pradhan Mantri Awas Yogana, which was off-budget this year and now being included in the capex.
The additional amount also comprises some amount of liabilities with NHAI. Mishra is of the view that the actual increase in capex comes to around Rs 65,000 crore.
Announcing the budget, Sitharaman had said that the outlay for capital expenditure for the next fiscal is once again being stepped up sharply by 35.4 per cent from Rs 5.54 lakh crore in 2021-22 to Rs 7.50 lakh crore. As per the revised estimates for the current fiscal, the capex has been pegged at Rs 6.02 lakh crore.
Madhavi Arora and Hitesh Suvarna, economists at Emkay, here averred that while the government's capex is expected to grow by 24 per cent including internal and extra budgetary resources (IEBR), the capex numbers look less robust with 7 per cent growth from 22 per cent in 2021-22 (revised estimate).
Execution is the key
On the other hand, economists at Nomura said that the ability of the government – both central and states — to spend 2.9 per cent of GDP on capex will face execution hurdles.
"Identification of projects, on-the-ground implementation, co-ordination with different agencies – all typically lead to a smaller amount being spent than allocated," the note by Nomura said.
Second, if revenues disappoint or other expenses rise (higher subsidies or more allocation towards rural employment, for example), then there is a risk of the capex amount being pruned,'' they added.