Boeing grounding triggers fare hike fears
Spot airfares saw a steep rise even as the DCGA said it would monitor airfares from Thursday to prevent predatory pricing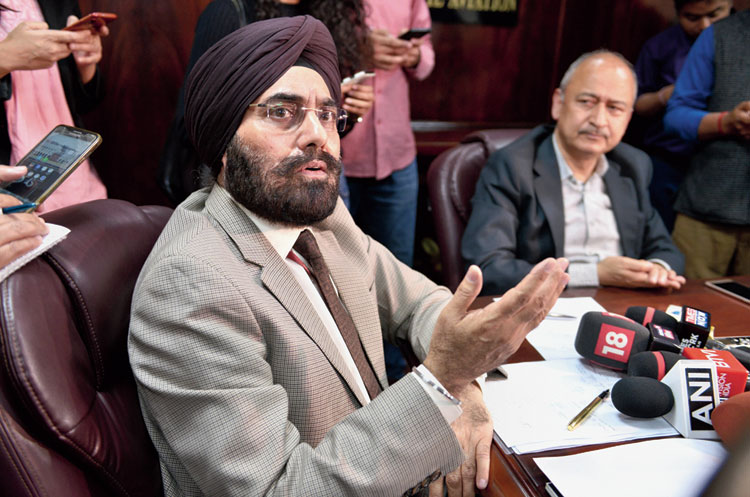 DGCA chief B.S. Bhullar with civil aviation secretary Pradeep Singh Kharola in New Delhi on Wednesday.
(PTI)
---
New Delhi
|
Published 13.03.19, 07:13 PM
|
---
The Centre has grounded Boeing 737 MAX 8 aircraft from flying in Indian skies and will not take any deliveries of the narrowbody jet until safety concerns are cleared, an official from the Directorate General of Civil Aviation (DGCA) said.
Spot airfares, meanwhile, saw a steep rise across important routes on Wednesday and Thursday, according to Yatra.com, even as the aviation regulator said it would start monitoring airfares from Thursday to prevent "predatory pricing" by airlines.
Boeing's 737 MAX would not be allowed to enter or transit Indian airspace after 4pm on Wednesday, the civil aviation ministry said, following the fatal crash of a plane of the same type in Ethiopia on Sunday.
"All Boeing 737 Max 8 aircraft being operated by Indian airlines have been grounded," civil aviation secretary P.S. Kharola said on Wednesday after a review meeting with the aviation regulator and airlines. DGCA chief B.S. Bhullar said operators had agreed not to indulge in "predatory pricing". The regulator said it would set up a special cell to monitor complaints because of the disruption of several flights. It will also review fares over the next two days to check predatory pricing in the sector. Meanwhile, airlines have assured the authorities there would not be any predatory pricing.
Kharola said Thursday would be a "challenging" day as "out of 520 odd flights that SpiceJet flies every day, about 30-35 flights will have to be cancelled". SpiceJet has been most affected by the grounding of 737 Max 8 aircraft as it has 12 of them in its fleet. SpiceJet cancelled 14 flights on Wednesday and have accommodated the passengers affected by the cancelled flights. The airline said it would operating additional flights from Thursday. The SpiceJet stock fell 2.09 per cent to Rs 77.15 on Wednesday.
Lifting the ban on the aircraft will be based on inputs from various agencies and it will not happen soon, Bhullar said.
He said the government had asked the airline manufacturer and the Federal Aviation Administration (FAA) of the US for further details on the B737 Max as the details shared by them are not satisfactory. The European Union and most countries across the world have decided to ban the use of Boeing 737 Max 8 aircraft. The US has also grounded the aircraft.
The FAA, which regulates the aviation industry in the US, said in a tweet Wednesday that it "continues to review extensively all available data and aggregate safety performance from operators and pilots of the Boeing 737 MAX".
"Thus far, our review shows no systematic performance issues and provides no basis to order grounding the aircraft. Nor have other civil aviation authorities provided data to us that would warrant action," it said.